Shipping Containers Insulation
Super Therm® ceramic insulation on shipping containers offer:
95% solar heat block
99.5% infrared BTU block
Money savings
Outstanding insulation
Mould/mildew resistance
Water resistance
No additional building required
Convenient
Personal comfort
Shipping containers are rapidly becoming an alternative living option. Super Therm® as the base is the perfect option to affordable insulation options. Condensation control.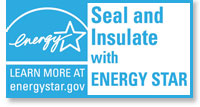 Super Therm® weather resistive barrier, solves many of the challenges facing traditional house wrap and building paper. A fully-adhered system is the best insurance against water and air intrusion. Super Therm® is a fluid-applied, seamless protection for moisture sensitive structures in the event of a breach in exterior wall coverings. Super Therm® protects against ingress of incidental water such as that caused by severe weather, vapour or condensation (shipping container condensation), into the building or facility.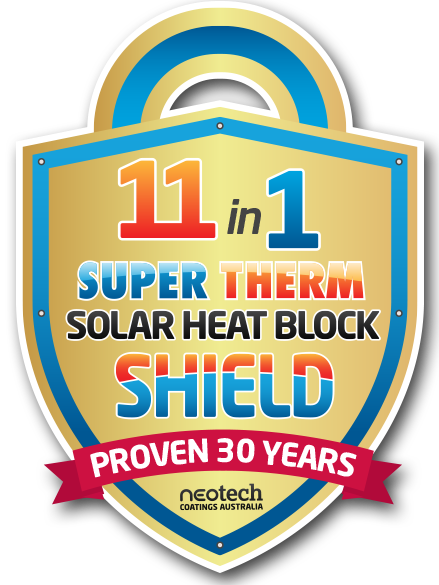 Class A fire resistance for all walls or roofing it covers. ASTM E-84 is "0" flame spread and "0" smoke.
Sound reduction through walls or roofing where Super Therm® is applied. ASTM E90 "Standard Method for Laboratory measurement of Airborne Sound Transmission Loss of building Partitions", and ASTM E413 "Standard Classification for Determination of sound Transmission Class". Sound Transmission Coefficient up to 50%.
Water Barrier protection to a 88km/ph (55mph) wind driven rain. ASTM D 6904
Resistance to Wind Driven Rain for Exterior Coatings. ASTM D7088, Resistance to hydrostatic Pressure for Coatings.
Mould/Mildew Resistance. ASTM D3273-82T tested for severe mould environment – temperature 90°F (32°C) and RH of 95%-98% for 5 1/2 weeks. Rated 9 out of 10.
Insulation in terms of blocking heat load. In the field of insulation, the standard "R" (resistance) value is a measurement of how fast the heat will conduct or travel through the material…mostly fibreglass. Fibreglass insulation doesn't block the heat. Once it is full it releases the heat into the structure. Super Therm® Insulation coating blocks 95% of solar heat and 99% of infra red heat therefore does not utilise the R value as there is no resistance.
Building with Steel Shipping Containers and Super Therm®
Tampa Armature Works uses Super Therm® insulation coating, which is sprayed on both sides of the remaining container walls to prepare the house for heating and cooling loads. Super Therm® is a high-performance, four-part ceramic coating that adheres to the steel surface of the shipping containers. "It really worked," says Shannon Locklair, project superintendent for the North Charleston house. "We had an open house one day when it was 85 or 90 degrees F out and the air was at least 10 to 20 degrees F cooler inside. This was before we had even installed the windows."
"The true key to insulation is preventing heat load. Super Therm® is a 21st century ceramic insulation coating. The concept is simple: Why slow the transfer of heat into a building when you can just prevent that heat from ever loading onto the building in the first place? If heat is kept off the structure to begin with, that fiberglass insulation becomes more efficient. It's a change in the way we think about insulating our homes against energy lost "Emissivity is 21st century."
Consumers should be careful to distinguish between purely reflective coatings and true insulating coatings. Reflective coatings only perform when clean and will not block all forms of heat, but a coating with insulative and reflective qualities will block more than one form of heat." Super Therm® uses four ceramic compounds to block short-wave radiation, IR, and to block the conductivity of heat through the surface," claims Pritchett. "It's not just a reflective coating." > Read the full article pdf
Super Therm® Coverage for a shipping container
Each container has 2 sides / 2 ends and the roof
Standard 20' x 8' x 8' = total area to cover 56.5m2 – 608 f2 (60m2 approx.) 2 pails needed
Hi cube 20' x 9.6' x 8' = total area to cover 68m2 – 729.6 f2 (70m2 approx.) 2 pail needed
Standard 40' x 8' x 8' = total area to cover 101m2 – 1088 f2 (102m2 approx.) 3 pails needed
Hi cube 40' x 9.6' x 8' total area to cover 122m2 – 1305 f2 (122m2 approx.) 3 pails needed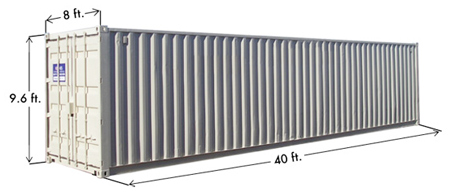 Currently we sell full 5 gallon US (18.9 litres) pails. We recommend using Super Therm® on the floor internally as this neutralises any contaminants in the timber and provides additional floor insulation. Super Therm® has a coverage of 40-45 m2 per pail depending on application. Note: if container has rust it needs to be thoroughly cleaned and we suggest a coat of Rust Grip® before you apply Super Therm®. For the ultimate protection then apply Enamo Grip over the top as the perfect protection against the elements. Contact us below if you wish to purchase Super Therm® for your shipping container project.
Recommended coating system for shipping containers
The SPI Coating System applied to the shipping containers consists of the following: After thorough pressure clean and drying, Super Therm® is applied directly to the exterior walls and roof of the container, and HSC® Coating (recommended) and Super Therm® applied directly to the interior walls and ceiling of the container.
In the real world environment with factors of condensation, air infiltration, moisture absorption, and thermal bridges, the SPI Coating System provides an insulation benefit for the shipping containers in cool to hot environments.
The SPI Coating System provides insulation against radiation heat transfer and conductive heat transfer, blocks the absorption of moisture, air infiltration, condensation, and mould and mildew, and is a fire resistant coating with zero flame spread and zero smoke.
NEOtech Coatings Australia are pleased to be a part of and to support your efforts to develop energy efficient and affordable structural systems for use in home and commercial construction using shipping containers.
---
Container Condensation Control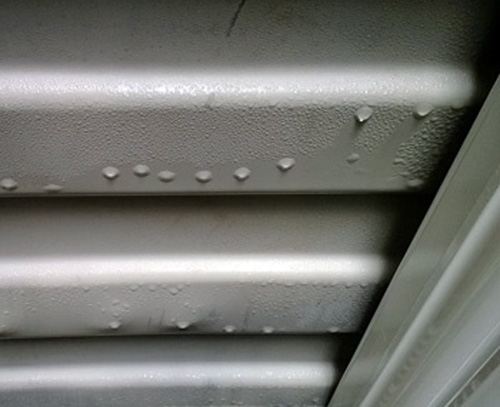 Condensation on a container roof and walls is due to the fact the underside of the roof's substrate becomes colder than the opposite surface. If SUPER THERM® Ceramic Insulation Coating is applied on top of a container or verandah, facing the sun and blocking any heat load into the metal this solves one part of the challenge.
The other part is also using SUPER THERM® or HSC on the underside to stabilise ambient temperatures on the inside of the substrate as well.
In airflow environments or locations where the underside remains near ambient the better the position to control condensation. When the warm air hits the substrate and sets, it cools and when it cools, it cannot hold the moisture and it shows as condensation on the side of the warm air.
As warm air cools, it drops out it's moisture. Because the heat has transferred through the substrate it presents as moisture on the cool side. Heat is drawn to cool.
In all situations, if there is a 5 degree difference between ambient and a surface with the surface being cooler, you will have condensation.
So, it is a situation where you check the temperatures of ambient and the surface to see if you have a problem with condensation.
Then if the difference between the ambient and the surface is wide you have to start using a product like Hot Pipe Coating or Hot Surface Coating to help control the condensation because you need thickness to keep the ambient (hot/humid) temp away from the surface temp of the unit, roof or wall.
When you get over a 20 degree difference between the interior and exterior of a wall, you may need some thickness of insulation to prevent condensation like HSC.
The goal is to block the warm air from setting on the surface of anything cool, SUPER THERM® helps to throw off the radiation during the day by using emissivity to release the warmth off the surface and heat load. It also slows down the escape of heat during the night. Application on the opposite surface wth SUPER THERM® prevents the substrate being extremely cool which therefore prevents the large temperature differences that convert into moisture and condensation.
SUPER THERM® sandwiches the metal to keep the sheet ambient and also provides future proofing with tough protection.
Block the heat load; stops the heat headache.
Super Therm® covers Brooklyn Shipping Container
A couple in Brooklyn build their dream home from shipping containers. Shipping containers are commonly seen carry goods all over the world, but one couple in New York calls them 'home.' Michele Bertomen and David Boyle have built their home after purchasing a small plot of land in the trendy Brooklyn neighborhood of Williamsburg. Super Therm® insulation coating was used on the interior to help insulate the home, and concrete radiant floors help to heat.
Sardinia has a typical mediterranean climate. During the year there are approximately 300 days of sunshine, the average temperature is between 11 to 17°C (52° to 63°F), but in summer the extreme temperature gets up to 36°C (97°F), effectively a desert environment.
Two of the 3 corrugated-steel exteriors of the containers were painted with Super Therm®, a ceramic coating that insulates the structure to reduce heating and cooling loads. Super Therm® ceramic coating is a paint mixed with 4 ceramic compounds for application via spray or roller to exterior and interior surfaces. Ceramic coatings are measured by their emissivity – it measures both the ability to reflect heat and the amount of heat that is loaded onto a surface.
Although they installed air conditioning, they have never used it thanks to the Super Therm® insulation, if anything, the paint works almost too well, making the containers feel almost like refrigerators at night!
They bought 3 containers – 2 of them they painted with Super Therm®, they finished the paint and could not buy it on this island, so they used normal paint for the third container. The exposure to wind and sun has been the same for all three, all three had the same amount of doors for ventilation, but the 'normal' one which we used as bathroom, has been terribly hot by day and by night. The clients said this research might be too spontaneous and empirical, but this was what they have experienced so far.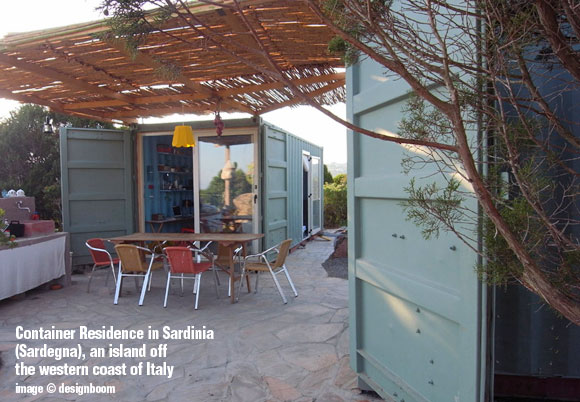 Redondo Beach Shipping Container House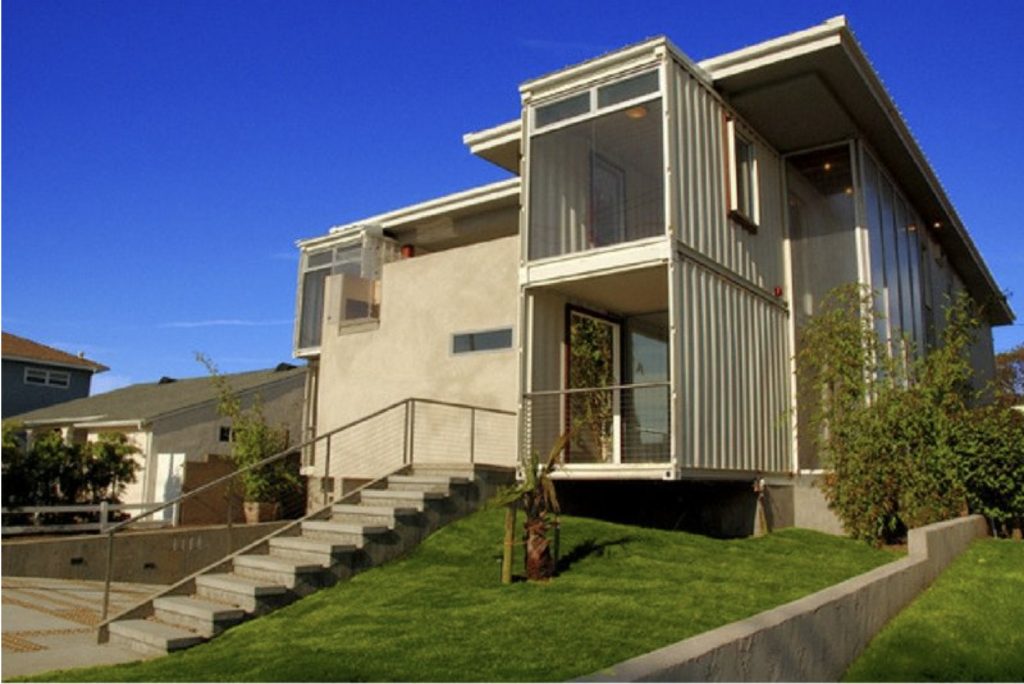 California seems like THE place to be if you want to have a shipping container home! This is the fourth shipping container home that I have showcased from California. Wow!
The Redondo Beach container home is owned by Sven and Anna Pirkl. "They not only wanted a residence made out of containers but they were creative and bold enough to push the envelope with me," notes DeMaria. "It was a match made in heaven," concurs Sven Pirkl, who along with his wife, an artist, envisioned a modern, loft-style house that was both eco-friendly and budget-minded." Super Therm® insulation coating was used on the exterior to help insulate the container from the heat.