Enamo Grip
The Ultimate Protection Coating

---
---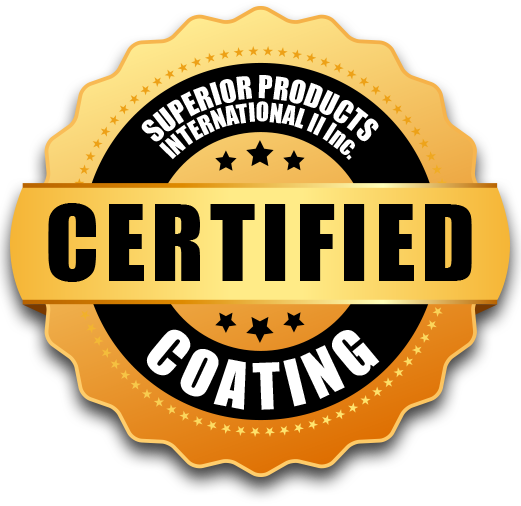 Enamo Grip is a tough, medium speed, moisture curing, two component polyurethane enamel, which will provide outstanding resistance to water and humidity, stains, chemicals, and solvents, as well as tremendous scuff, mark and impact resistance.
Enamo Grip is used as a top coat for colour, UV protection and industrial strength to guard against chemical splash and acid rain. Resembles a car finish with self leveling properties. Available in clear and custom colours.
It's also used for lining swimming pools with the "Pool" clear finish coat. Ship hulls and other underwater uses. Ideal for use on bridges applied over Rust Grip®, Moist Metal Grip or by itself for complete encapsulation of the metal, providing protection from rust and corrosion for a minimum of 20 years in normal circumstances. Resistant to hail damage and similar abuses that create opportunities for rust and corrosion.
Completely UV-controlled and weather resistant. Enamo Grip can be used on flooring for a tough, long wearing surface. In summary, the overall toughness, durability, of Enamo Grip makes it the ideal choice for architectural maintenance situations that require the utmost in exterior durability – Learn More SPI >
Additional benefits include:
Long Lasting Resistance: Resists the attachment of barnacles, seaweed and algae for 3x longer.
Improves Efficiency: Improves fuel efficiency for any coated vessel.
Saves money: Lengthens the time-of-service in the water before a vessel must be placed in dry dock to clean and recoat the hull.
Perfect for salt environments: Used in locks and dams to prevent the attachment of Zebra mussels to equipment and panels, allowing them to operate at full function.
Self-leveling when applied, gives a glossy, smooth-finished surface appearance
Applied as a clear coat or white standard, or is tintable to any colour desired (minimum orders 20 pails – 100 gallons)
Extremely tough, Enamo Grip makes an excellent floor coating
Easily applied to steel, aluminum, concrete or wood
Exceptional graffiti-resistance
Submergible – water resistant
20+ year lifespan on roofing under normal conditions.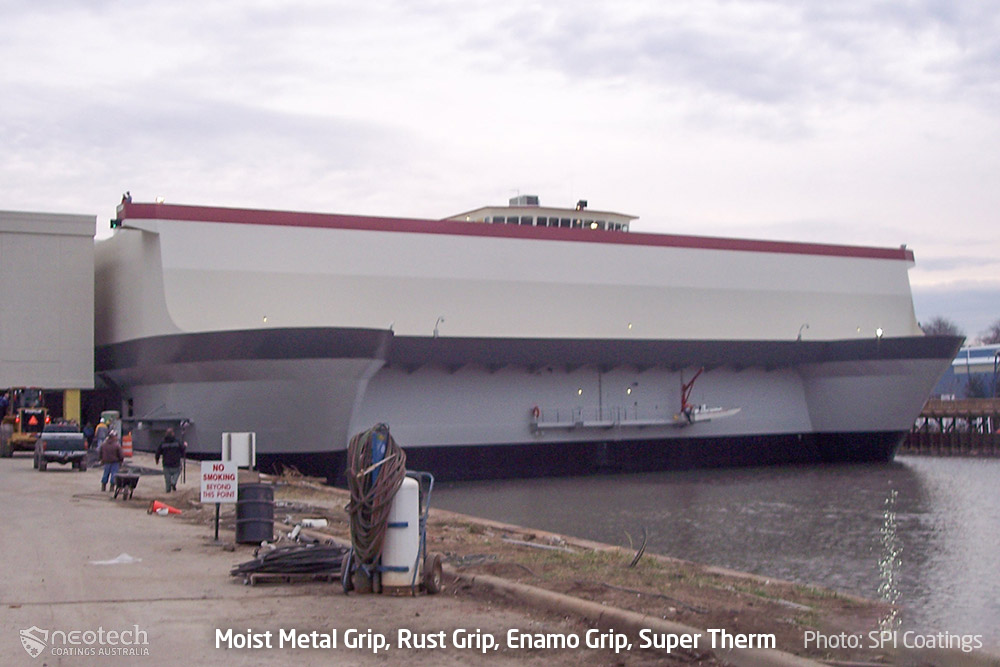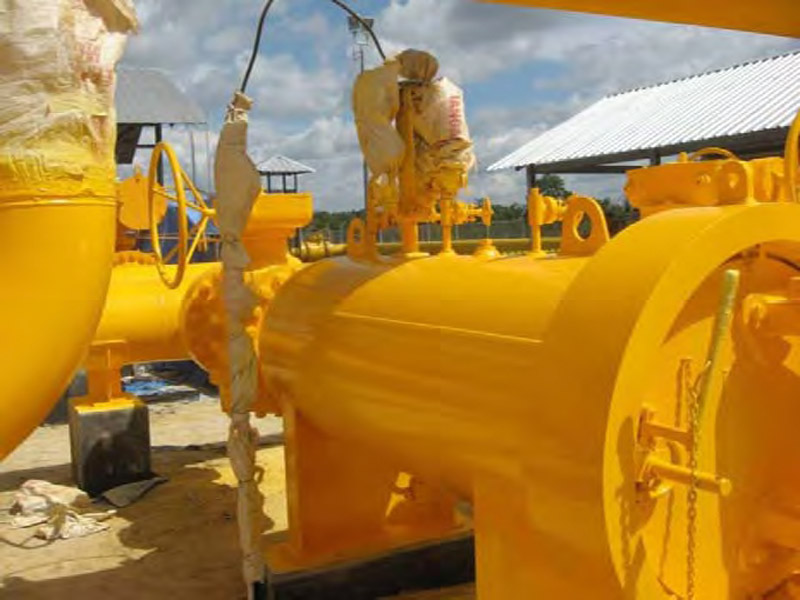 What surfaces can Enamo Grip be applied to?
Enamo Grip can be applied to concrete, wood, metal and any other product Superior Products International II, Inc. carries.
How is Enamo Grip sold?
Enamo Grip is available in 1 gallon and 4 gallon kits.
How do I remove graffiti from a surface coated with Enamo Grip?
Graffiti Cleaner, a special cleaning solution, is the best way to remove graffiti from surfaces coated with Enamo Grip. Graffiti Cleaner is non-flammable and environmentally friendly.
Does Enamo Grip wear down after repeated cleanings?
No. Enamo Grip is resistant to wear for long life as a non-sacrificial coating and will remain intact for many years of service.
Does Enamo Grip allow the surface beneath it to breathe?
No. Enamo Grip completely seals the surfaces against moisture penetration and contaminants.
How do I clean Enamo Grip off of equipments?
Enamo Grip can be cleaned immediately after application with xylene or MEK. There is no way to clean once Enamo Grip has set.
Does Enamo Grip provide a no-slip surface?
No, but anti-slip elements can easily be added to Enamo Grip to provide increased traction. We can custom order Non-skid (customised according to slip resistance requirement). Contact us for more information.
What about salt based environments?
Yes Enamo Grip works in the toughest environments. Surface preparation is important. Pressure the surface clean prior with Chlor Rid. This removes the salts in the substrate. The surface has to be 100% dry before Enamo Grip or Rust Grip application. Water blasting alone may not remove the salts.
Uses:
Topcoat over Rust Grip® when specific colour is needed, to give a long life to the surface, or to protect against water ponding
Applied over Super Therm® to give the best possible protection for a substrate, or to protect against water ponding
Seals against breathing moisture/gases and protect against weathering and acid/solvent contact
Anti-graffiti protection for surfaces. Applied and cured, Enamo Grip clear can resist the permanent damage of vandalism
Vehicle and equipment finishes
Protects against UV, wear, weathering, and moisture penetration
Flooring, especially when combined with anti-slip elements
Colour Matching Enamo Grip:
Enamo Grip is colour matched to volume orders of 20 pails (100 gallons) and above. Manufacturer SPI Coatings can only tint Enamo Grip due to its formulation. It comes in clear or white as standard. However contact us for both custom tinting and safety colours for Enamo Grip. Custom colours will require approval from SPI before formalising quotations.
Application:
Although Enamo Grip can be applied by non-professionals, SPI Coatings recommends using a certified applicator.
Preparation:
Surface must be clean and completely dry, with no loose debris or particles, rust, dirt, oil, films or residues of any kind. Enamo Grip will cover previous coatings if they are fully adhered to the surface
Mechanically stir base
Application methods:
Airless or pot sprayed: tip size .024; apply in two coats
Roller: use 1/4″ nap commercial roller; apply in two coats using an added bubble breaker in formula
Brush: apply in two coats
Add an additional coat for vertical surfaces
Product
% solids by volume
Surface Profile Microns
Microns DFT
Spread m2/litre
Spread m2/gal
Spread ft2/gal
Enamo Grip White
49.0
Three coats with Enamo Grip 200 x 3 coats (600)
294
4.91
18.6
200
49.0
Two coats with Rust Grip primer 200 x 2 (400)
196
4.91
18.6
200
49.0
Non-porous One coat with Rust Grip primer 200 x 1 (200)
95
4.91
18.6
200
Enamo Grip White: Porous surfaces: Three applications at 200 microns WFT / 98 microns DFT for a total of 600 microns WFT / 294 microns DFT. Rust Grip can be applied as a Primer and two coats of Enamo Grip.
Non porous surfaces: Rust Grip as a primer then 1 coat of Enamo Grip.
| Product | % solids by volume | Microns WFT | Microns DFT | Spread m2/litre | Spread m2/gal | Spread ft2/gal |
| --- | --- | --- | --- | --- | --- | --- |
| High Gloss | 38.0 | 99 x Two Coats | 37 (2 Coats) | 9.96 | 37.7 | 406.0 |
| Semi-Gloss | 39.5 | 102 x Two Coats | 40 (2 Coats) | 9.69 | 36.7 | 395.0 |
| Matt | 41.0 | 104 x Two Coats | 43 (2 Coats) | 9.47 | 35.9 | 386.0 |
Size of Product
Enamo Grip 5 Gal (18.9 litres) Two Part
Weight: 25kg
Pail Spread Rate Matt: 178m2 / High Gloss: 188m2
Drum Size: 31 x 31 x 34cm
Shelf Life: 3 years when unopened
Curing 2nd Part – Tin
Applied rate:
Metal: 250 sq. ft./gal
Concrete or wood: 200 sq. ft./gal
Film thickness:
Wet: Metal – 165 microns (6.5 mils)
Concrete – 200 microns (8 mils)
Dry: Metal – 75 microns (3 mils)
Concrete – 100 microns (4 mils)
Application Temperature:
10°C (50°F) – 38°C (100°F)
Colder temperatures will increase dry time
Dry times:
1 hour to touch
4 hours to handle
2 hours to recoat
Full cure:
4-5 days in warm temps
7-10 days in cool temps
Precautions:
4 hour pot life at 21°C (70°F)
1 hour pot life at 32°C (90°F)
Strong odour during application and initial curing
Limitations:
Not intended for use on food preparation surfaces that are in direct contact with foodstuffs
Do not apply over wet or moist surfaces. Surfaces must be completely dry
Enamo Grip 5000
Enamo Grip 5000 is a two component polyester high solids coating for protection against vapours, acid rain, and other harsh chemical environments while giving a car-like finish and UV protection. Can withstand Skydrol® hydraulic fluids used in aircraft when applied to flooring. Available in clear and custom colours. Not for underwater use. SDS, Tech, Application Sheets.
Typical Uses:
Outstanding alkali resistance and very good acid resistance;
For architectural and maintenance solutions;
Hardwoods, pretreated metals, primed metals and concrete;
Anywhere an acid and alkali resistant topcoat is required.
Application tip
Enamo Grip is a very thin coating. It needs to be applied by 'feeling the coating go to heavy' and it runs easily. If it does run the whole area needs to be wiped off with acetone as the coating has trouble taking to the area smoothly.
Fire Rating
Enamo Grip is Class A. CONCLUSIONS: Based on one test, the flame spread, calculated according to ASTM E-84, meets Class A (class 1) – 25 or under flame spread. Test Report pdf