Omega Fire
Omega Fire™ is a single component coating designed to withstand 1200°C (2000°F) direct flame and resist heat transfer to backside.

---
---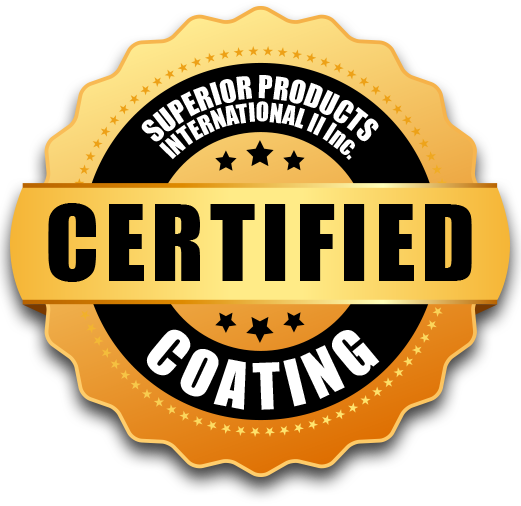 Omega Fire™ is a blend of eight ceramics, combined together to create a heat block (firewall) that resists heat migration and fire. Omega Fire™ is a water-based coating that dries tough and is designed to withstand temperatures of 1200°C (2000°F) without collapse or failure.
During a fire, the ceramics in Omega Fire™ will cause the sub-surface to harden and block the flame and repel the heat transfer. Because the heat is controlled, the adhesion side of the coating will remain flexible and the coating will not crack or fall off when the structure expands or contracts.
Omega Fire™ is fungus and mildew resistant. It offers a resin blend to form a tight surface. It stops the corrosive effect of moisture and air from penetrating a coated surface.
Omega Fire™ can be applied to any clean, dry interior surfaces that are free of wax, grease and oil. Omega Fire™ can be used on metal, concrete, stucco, plasterboard, wood, plastic and composite surfaces and on ceilings and walls for fire protection.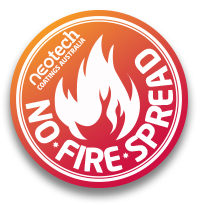 Omega Fire™ has been tested for fire endurance under UL testing for 165 minutes and ASTM E119 testing for 185+ minutes (over metal plate – test was stopped without failure of coating).
The combination of HPC® and Omega Fire™ gave a result of 7+ hour rating.
This coating has not obtained UL certification as yet, but has performed many of the UL testing profiles to verify its' capabilities. Adjustments have been made after all the initial testing to perfect its performance, and initial beam testing is scheduled for August 2019.
Some initial testing along the way have given up to 7-hour fire rating performance and passed the NYC 2-hour support beam testing as well as fire protection for shipping containers. Learn More SPI >
OMEGA FIRE's story not on UL…yet!
Our OMEGA FIRE outperforms all the other coatings in the market, even up to 7 hours – which is excellent. The thickness to achieve this was 31mm / 1250 mils or 1 1/4″ (750 mils of HPC and 500 mils of OMEGA FIRE). This priced us out of the market per sq metre area.
Traditionally clients would use the Intumescent coatings applied at .7mm / 30 mils and that could form a char and puff up to do the job. In fire testing, all the code inspectors want to see was a verified test and listed in the book. Which they had and could do because the test was a static (without pressures to knock off the char) test and easy for them to pass.
This caused SPI to have to keep reformulating to find less thickness but keep the performance. The effort to get a thinner application with higher performance so that our pricing is more in line is just now coming along and we have gotten it down to 11mm / 450 mils to achieve the same results as the 31mm / 1250 mils.
We are doing some preliminary test burns at the lab to make sure we are correct and matches our testing. If it is good, we will begin the UL approval process as per the video above. Currently we're achieving 4 hours at 120°C on the surface underside.
Intumescent is accepted as an ASTM test procedure (without wind and pressures) giving them a 2 hour rating. SPI are on the verge of revolutionary fire coating that will have exceptional high performance and withstand wind and pressure. Our time is coming!
Characteristics
| | |
| --- | --- |
| Product Chemistry | Ceramic & water based |
| Volume Solids by Volume | 65% |
| VOC Level | 76 g/L |
| Dry Time (at 70˚F) | 4-6 hours to tack free |
Typical Uses
As fire protection for:
Strategic locations on warfare ships
Engine rooms and galleys on commercial ships
Corner beams, elevator shafts, and stairwells
Walls, ceilings, and boiler rooms
To control and contain fires in high-rise buildings; prevent the spread and collapse of support structures.
NYC approval for two hours on support beams
Additional tests continuing (I beam)
Over high-rise cladding to prevent fire spread
Application Method
Omega Fire can be applied to metal, concrete, masonry, and composite surfaces. The application can be by spray or trowel.
For application by airless, use a Graco TexSpray 2000, with the large tip that comes with the machine
Apply multiple coats and build up for optimal results
Never apply this coating when there is a threat of rain on the day of application
Hopper Gun is good for small jobs
For specific instructions on surface preparation, mixing and application, please refer to the SPI Application Instruction sheet.
NOTE: A prescribed thickness is required for specific temperature and duration of protection. 2-hour protection = 670 mils wet/500 mils dry. Apply in three (3) coats.
Testing and Certifications
USDA Approved
Marine Approvals for Salt Water/Maritime Use (renewals pending):

ABS (American Bureau of Shipping)
IMO (International Marine Organization)

Fire Endurance Testing (UL 1709/ASTM E119)-pending UL
Flame Spread/Smoke (ASTM E84) Class A Fire Rated
Minimum Spread Rates Guidelines
| Product | % solids by volume | Microns DFT | mm DFT | Mils DFT | Spread m2/litre | Spread m2/gal | Spread ft2/gal |
| --- | --- | --- | --- | --- | --- | --- | --- |
| Omega Fire | 65.0 | 12700 | 12.7 | 500 | 0.052 | 0.20 | 2.1 |
| | 65.0 | 25400 | 25.4 | 1000 | 0.026 | 0.10 | 1.04 |
| | 65.0 | 38100 | 38.1 | 1500 | 0.017 | 0.07 | 0.7 |
Temperature
Apply between 50°F and 150°F
Store between 40°F and 100°F
Cure Time
4 hours to touch
Re-coat window is 12 hours at 70°F or longer
Fully cures in twenty-one days
Clean Up
After completion, spray system should be cleaned with soap and water.
After completion, trowels can be cleaned with soap and water, stored and reused.
Physical Data
Solids: By weight: 69.0% By volume: 65.0%
Dry Time: 4-6 hours to tack free. Overcoat and cure window is according to humidity and temperature.
Cures by evaporation (water-based) and affected by temperature and humidity
Weight: 6.19 lbs per gallon
Vehicle Type: Water-based resin system of acrylic and silicone
Shelf Life: Up to 6 years unopened under appropriate storage conditions (See MSDS)
VOC Level: 76 grams/litre (Low)
Viscosity: 90,000 centipoise
UV resistant
Mold and mildew resistant
Lead and Chromate Free
Note: If Omega Fire is applied on the exterior, it must be top-coated with Enamo Grip or Super Therm® for UV protection, weathering and durability.
Safety
Do not use this product without first taking all appropriate safety measures to prevent property damage and injuries. These measures may include, without limitation: proper ventilation, use of proper lamps, wearing of protective clothing and masks, tenting, and proper separation of application areas. For more specific safety procedures, please refer to the Omega Fire Safety Data Sheet. KEEP OUT OF REACH OF CHILDREN.
Resources