Residential
Florida Test Project
This 2003 video produced by the Florida Office of Energy showing a very scientific comparison in Dade County Florida. Test of Super Therm® on a residential home. Great outcomes included:
Pay back of approximately 2.2 years in power savings
Savings from Super Therm® insulation coating: 133,100 BTU's per hour
Super Therm® reduced total Roof Solar Gain Loads by 20 to 30%.
See the Department of Energy report >
Reduces energy and maintenance costs while increasing comfort in buildings
Reduces energy costs and increases comfort by coating roofing and interior/exterior walls to keep heat in during winter or heat out during the summer.
Insulates concrete swimming pool decks to provide a cool surface.
Reduces fuel consumption and improves performance and comfort of motor homes.
Reduces risk of condensation on cold water pipes and of resulting mold and mildew.
Insulates air conditioning unit outer casings to prevent reductions in efficiency from heat build up inside the housing.
Provides a fire-resistant coating for substrates. Super Therm® has a "0" fire and smoke spread and will not contribute to flame spread.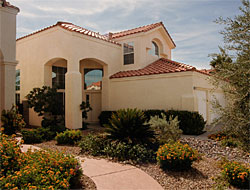 Imagine an exterior paint that saves you money. It's true. It's called Super Therm® and this ceramic coating has the consistency of a thicker paint, which repels 95% of heat by deflecting three radiation sources from the sun–ultraviolet, visual light and infra red rays.
Super Therm® creates an envelope of heat protection on the outside of a home, translating to not only a cooler house, but saving between 40 to 60 percent on your next power bill. Ron Randazzo has seen 50% reduction on his total utility bill and this includes running his pool and other electrical outlets. Read article – pdf | Read More >
Solutions for: