Rust Grip Case Studies
RUST GRIP® – Encapsulation Coating for Corrosion, Lead Paint & Bio-hazards
Rust Grip has a been extensively tested both in the lab and in the field. It has a long track record of success over a wide range of industrial and commercial applications around the world.

RUST GRIP® is a one-coat, patented encapsulation—interior and exterior—surface protection coating that also acts as a full containment covering single component urethane formula applied directly to rust or blasted metal surfaces. 6780 psi surface tensile strength. Pull test results in the field and lab average 1200 psi and in the field over blasted surface at 2200 psi. Extremely tough, anchors itself inside the pores of the metal surface or surface rust to block moisture and air from developing corrosion. Simple to use and extremely effective against all corrosive environments. Applied only to completely dry surfaces.
RUST GRIP® is a patented, unique aluminium nanoparticle galvanic protection and substrate encapsulation coating…not a surface glue. It's second to none which means you're protected for a very long time!
Rust Grip® Rated No. 1 by the Society of Petroleum Engineers
A long-term lab and field study by Chevron published by the Society of Petroleum Engineers, tested 18 different coatings on drill pipes for eight years. Drill pipes are the toughest environment anyone can ever imagine and RUST GRIP® was the top performer. In that paper they highlight the cascading benefits that came from solving the corrosion problem. You solve the corrosion problem, that's already millions of dollars in savings and then because you're not having to swap out these drill pipes so often, you're saving millions in logistics. Read more >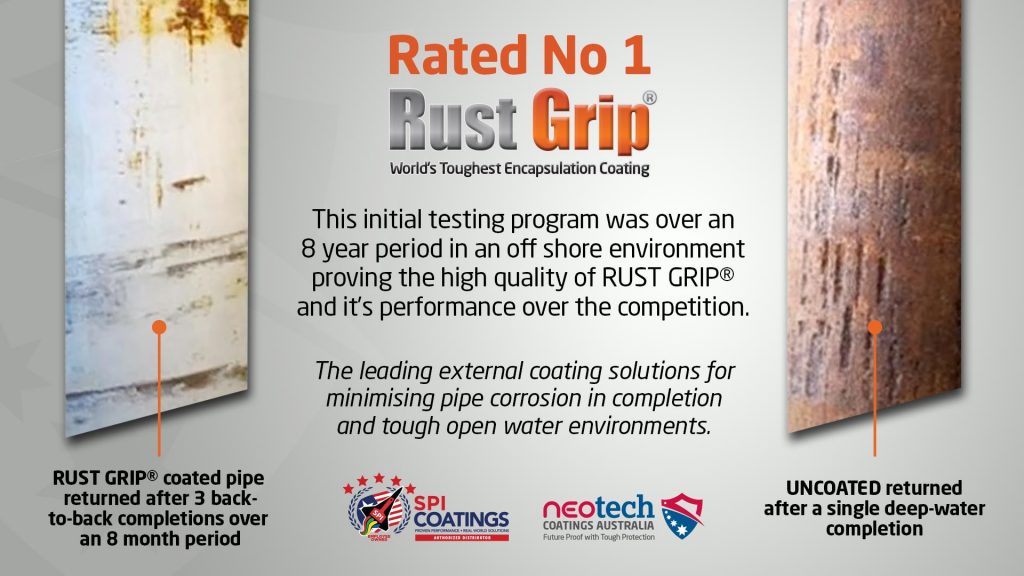 Chevron is facing various problems at one of their oil and gas refinery locations in Indonesia. Due to high temperatures, high humidity and lack of consistent maintenance, most of the pipelines and storage tanks are affected by corrosion problems. The location needs to be in operation for at least 10 more years and rebuilding the site is far too expensive. The site is also located at a remote area where structural maintenance is expensive and not a real option. Besides this, all surfaces are being affected by sunlight, heat, chemical substances, humidity and dirt – more >
---
Vessel was heavily corroded due to a very common problem in traditional insulation materials and systems, named corrosion under insulation (CUI). Besides this, traditional insulation materials tend to absorb moisture and lose their insulation value gradually. The HSC system that will be applied directly on to the surface will make sure this problem will not occur anymore in the future – more >
---
The client ADNATCO is owned by Abu Dhabi National Oil Company (ADNOC's) marine transportation company for crude and gas shipments, primarily sent to Asia. The application took place last week in Dubai Dry Docks on two separate vessels, on the monkey islands. We are expecting a large order this year from ADNATCO to paint the entire decks of 2 vessels with Rust Grip & Enamo Grip. The parent company ADNOC conducted detailed laboratory testing confirmed that Rust Grip & Enamo Grip can outperform the traditional 3 coat system, even when Rust Grip is applied WITHOUT SANDBLASTING at around 400 micron DFT. The report is very convincing – more >
---
SPI Coating System Application procedures for insulation and corrosion protection systems for hot pipes and vessels prepared for BHP Billiton – more >
---
Pemex Off-shore rig, Gulf of Mexico the 1.5 year inspection on the West Courageous Jack up drilling Rig from Seadrill. The side hull of the rig only, bottom hull has not been done yet. System used was Rust Grip E at 6 mils and Enamo Grip Gray at 6 mils. Can still see the brightness on the top coat as shown – more >
---
Photos of tanks coated with Rust Grip at 4 dry film thickness and then top coat of Enamo Grip at 4 dry film thickness – more >
---
---
Rust Grip application pictures on filtration ducts in an incineration plant. Previously, Rust Grip and Lining Kote (red) was applied in the same facility. Oxidation level was not as high as initially thought, Rust Grip was applied twice without using Lining Kote as the top coat – more >
---
Rust Grip is a 0.24 permeability coating which means that it is exceptionally tight and rigid. Rust Grip dries to a 6780 psi surface tensile strength in only three weeks which again shows its' ability to tighten across, secure and strengthen a surface. With this type of strength and tight bonding, Rust Grip does not offer any elongation found in flexible coatings as to stretch. Rust Grip can bend 180° without cracking, but in no way can it elongate without tearing or cracking open. This would mean that Rust Grip will show any developing cracks in a surface that it is applied over – more >
---
Chevron Pacific Indonesia, PT faced various problems at one of their oil- and gas refinery locations in Indonesia. Because of high temperatures, high humidity, and lack of consistent maintenance, most of the pipelines and storage tanks were affected by severe corrosion problems. The location needed to be in operation for at least 10 more years and rebuilding the site was far too expensive. The site was also located at a remote area where structural maintenance was expensive and not a real option. Besides this, all surfaces were being affected by sunlight, heat, chemical substances, humidity, and dirt – more >
---
In order to stop further damage by severe corrosion to the metal underground structure of the Metro in Baku, a first test project was set up by Superior Products Caspian during first week of April 2014. The purpose of this pilot test application was to verify the durability and corrosion encapsulation ability of Rust Grip® on non-sandblasted heavy corroded dry metal parts in the underground tunnel complex – more >
Contact NEOtech Coatings regarding RUST GRIP®