Moist Metal Grip
The ideal protection in harsh, wet environments

---
---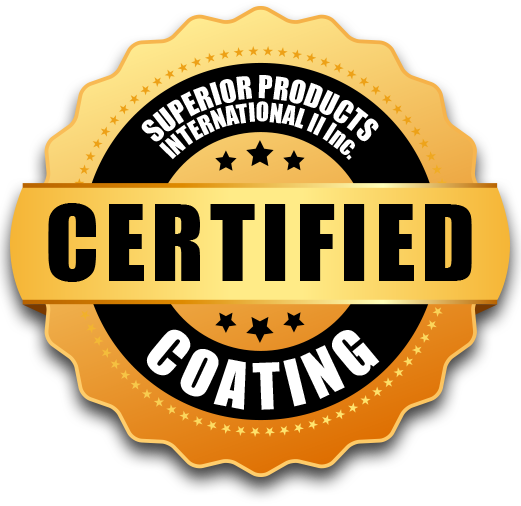 Moist Metal Grip is a two-part (2 component), touch adherent, epoxy coating which produces a hard, yet flexible coating film designed for application on dry, moist, wet or submerged surfaces for protection against corrosion and chemicals. Moist Metal Grip was developed to be applied to metal surfaces that cannot be dry enough to use Rust Grip® or already experiencing moisture or condensation that cannot be stopped and dried.
Moist Metal Grip, the waterproof paint for metal, can be applied to dry or wet metal surfaces to protect against corrosion and chemicals in a two-part waterproof – water repelling epoxy coating. It was designed to be applied to surfaces that are not dry enough for other waterproof paints and coatings.
It can be applied by spray, brush or roller, even while the surface is wet to force the coating into the surface pores, to replace the moisture or water, and to lock down and prevent the combination of moisture and air to allow corrosion to exist or continue. It demonstrates excellent chemical and solvent resistance when utilised in harsh atmospheres, and will also provide outstanding water and humidity resistance.
Moist Metal Grip is ideally suited for surfaces that will be submerged or subjected to constant water pooling or condensation. Moist Metal Grip is ideally suited for metal or steel surfaces that will be underwater or subjected to constant water pooling, condensation, high humidity, or steam. It can be applied directly over flash or surface rust without loss of adhesion.
Moist Metal Grip passes 5000 hours corrosion resistance
The testing data and results with Moist Metal Grip® coating after 1000, 2000, and 5000 hours of exposure. The average dry film thickness of the coating on the coupons was 6 mils (150 microns). The coated coupons have been exposed to the ultraviolet (UV) radiation and a salt solution for up to 5000 hours (30 weeks).
The coating shows no signs of rusting even after 5000 hours of exposure. It was also determined that corrosion did not occur even at the coating defect locations. All three coupons are rated 10 as per ASTM D610-08. This indicates that the coating has excellent corrosion resistance characteristics. Testing results pdf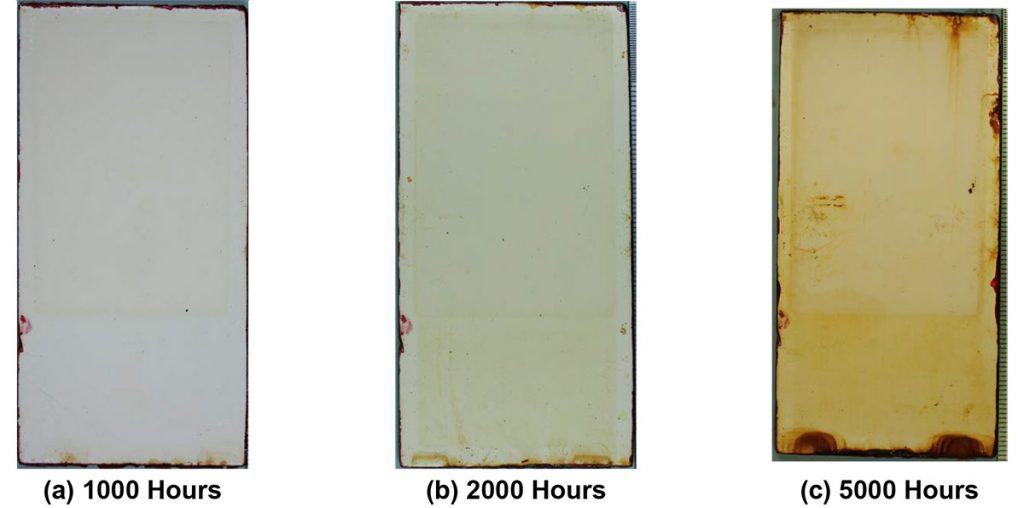 This coating will adhere tenaciously to a variety of substrates, such as carbon steel (phosphated or non-phosphated), wood and concrete. These products can be utilised in DTM (direct-to-metal) applications, with excellent success, as they have been fortified with a very efficient, non-toxic, rust inhibitive pigment.
Enamo Grip® can be applied as the top coat to stop condensation and is available in clear, white, and custom colours. It is designed to be applied directly to metal, concrete, masonry, and wood. Moist Metal Grip is a perfect solution for protecting corroded, wet, or condensating cold water pipes. It can also be used to coat re-bars for concrete, buried I-beams, water tanks, cooling towers, submerged structures, car wash equipment, boats, and more.
Moist Metal Grip is resistant to water, solvents and humidity. To apply, remove algae and residues from wet surfaces, then apply Moist Metal Grip directly to the surface, with firm pressure to force the coating into pores. Moist Metal Grip can be applied directly over flash or surface rust without loss of adhesion.
Moist Metal Grip is EU certified for potable water usage and approved by European standards. Approved for indoor use in water storage tanks (American Water Works Association). It is tested to withstand temperatures up to 176°C (350°F) and for 450 hours of salt spray exposure.
---
Moist Metal Grip USDA Test Report
Moist Metal Grip® USDA letter safe use around food – (385kb – pdf)
---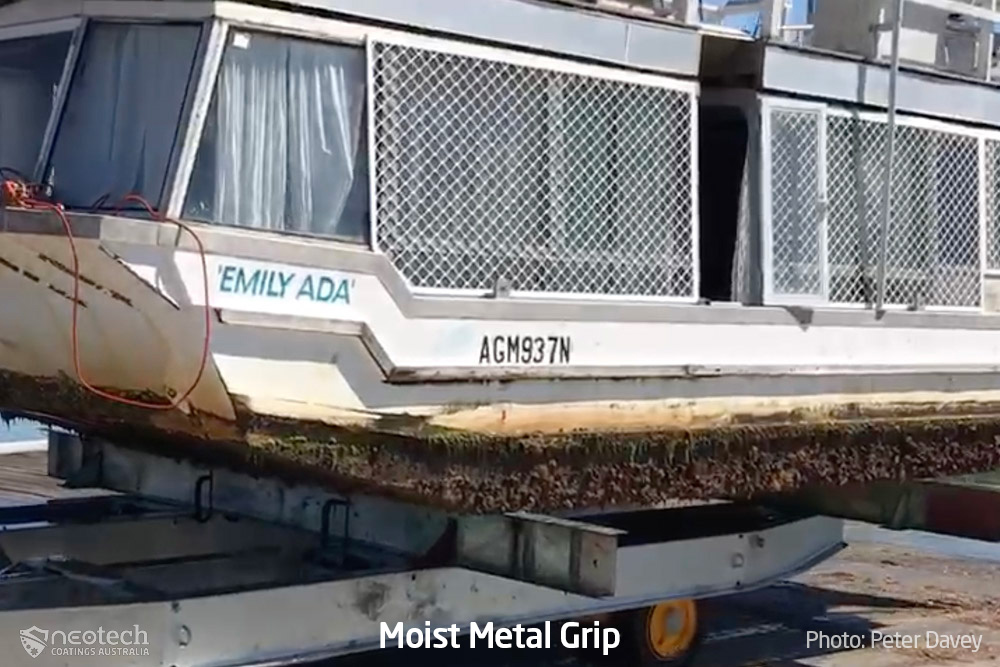 Transformation of a fouled Australian houseboat into….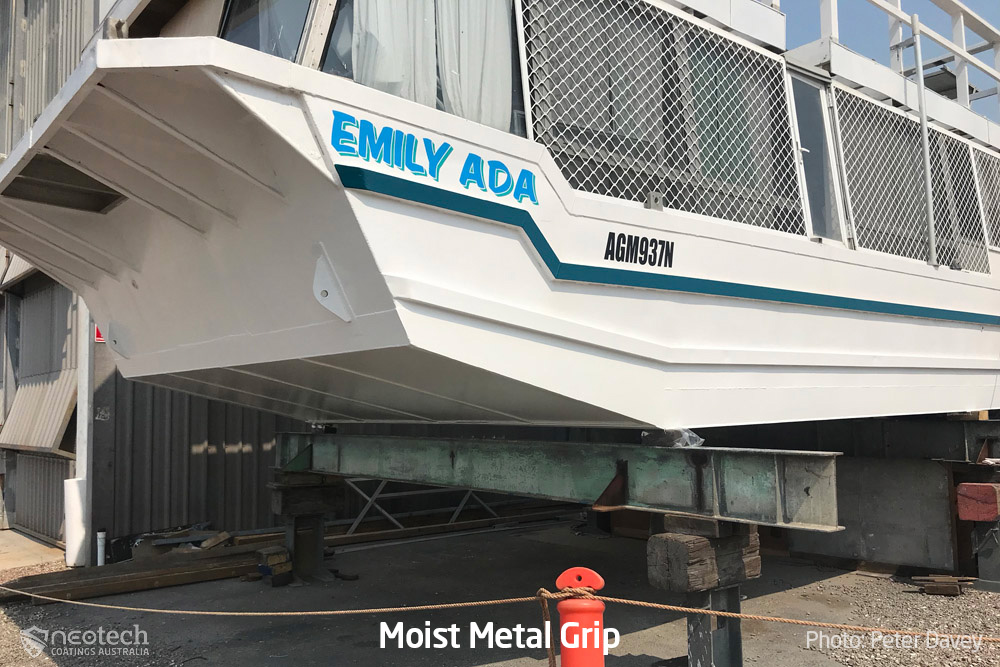 …a low maintenance, low cost and great for the environment solution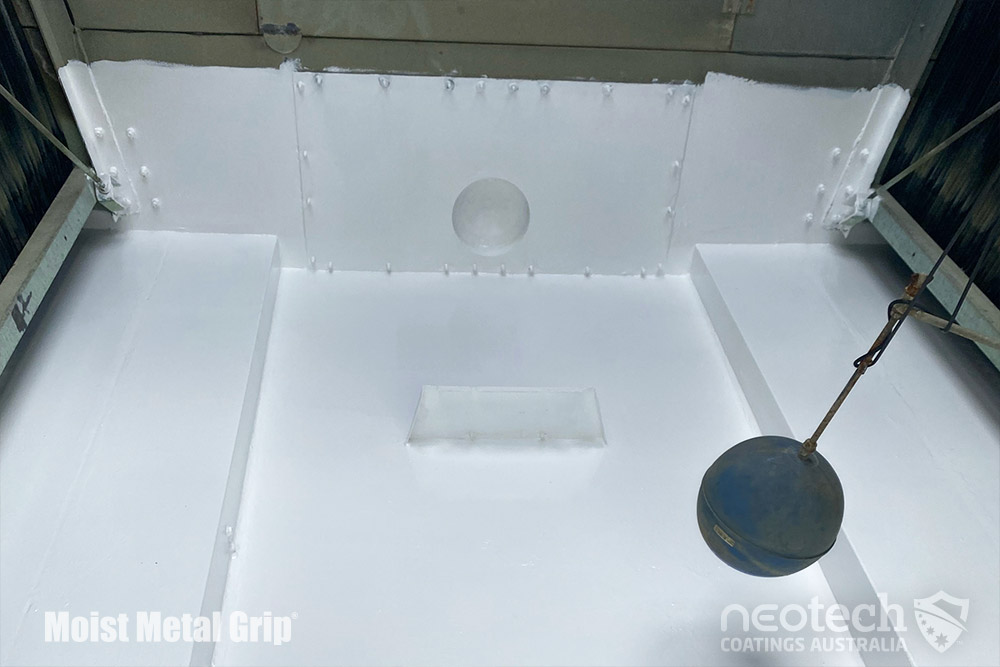 Coolblue Airconditioning in Yallah, New South Wales were looking for a solution to corrosion in a water cooling tower's air-conditioning system.
The cost of maintenance to remove the tower with a new structure was prohibitive for the client's budget and Moist Metal Grip® was introduced as the best solution…find out more >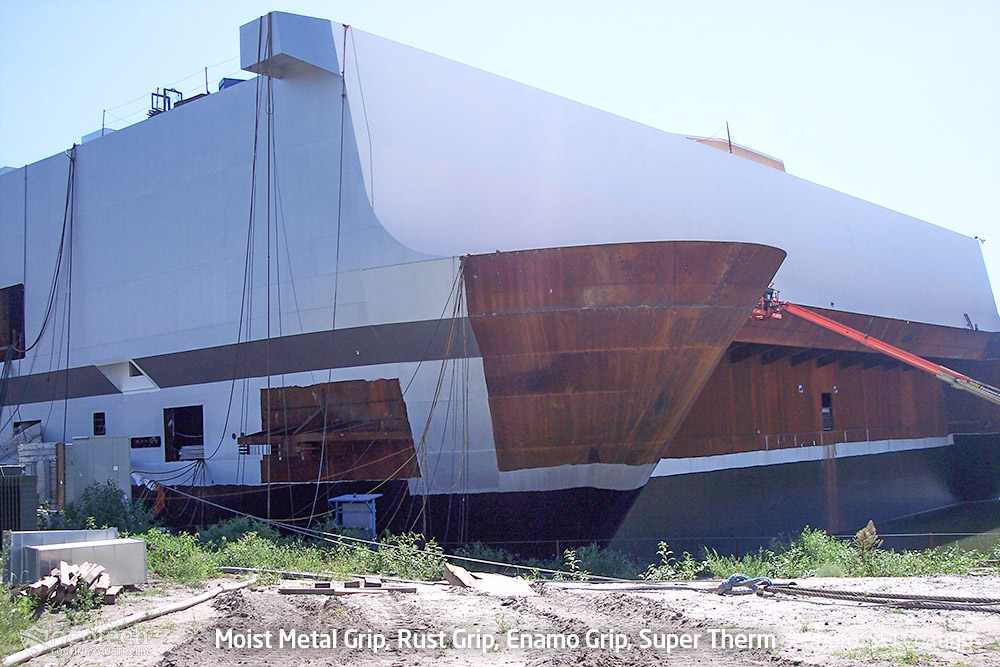 The three-story Blue Chip Casino located in Michigan City, Indiana, is the largest US Coast Guard approved casino vessel ever built in USA at a cost of construction was budgeted at $163 million.
The new metal used to construct the Blue Chip II casino vessel was primed with Rust Grip®. The only heat block coating on the entire boat is Super Therm®. Enamo Grip tinted was used as the finish coat. Lining Kote coated the ballast tanks. Moist Metal Grip was applied to the submerged section of the hull. Read more >
Safer and Effective Antifouling Coating Solution
Moist Metal Grip is a great solution alternative to managing boat hulls that require easy and safe biofoul removal. Working with Enamo Grip you'll have the ideal antifouling combination for years to come. Slip…Clean…Go!
Club Marine describe antifouling as objects left in the water are soon coated by algae (slime) and will eventually be colonised by larger organisms such as barnacles, mussels and seaweeds. This is called biofouling. How quickly and to what extent this happens depends on whether the object is stationary or mobile, as well as the local conditions, which include tidal strength, water temperature, salinity, quality of nutrients and amount of light filtering into the water.
Biofouling on a hull forms a rough surface, which creates drag that slows the boat down, reduces manoeuvrability and impacts fuel efficiency. If the growth infiltrates moving parts and hull openings, these can seize up or block, potentially causing all sorts of trouble.
Antifouling is the ability of specifically designed devices and coatings to remove or prevent biofouling. Antifoul paint is a chemical treatment that's applied to a hull to make the surface uninhabitable (or at least very undesirable) for aquatic organisms. Antifouling is necessary on boats that are on the water for any length of time, especially if they're kept there while not in use. By definition, that's all boats. Read this article from Club Marine regarding hull fouling > more
Negatives to traditional antifouling paints:
Ablative paints erode over time and effect the waters and local marine environment
Antifouling paints contain harsh, active chemicals
Extra maintenance and time
Extra ongoing costs
Benefits for SPI Coatings antifouling paint alternative coatings:
Better fuel efficiency
Save money
Easier maintenance
Less slip time
Better for the environment
Stronger impact resistance
3 times longer resistance to biofouling
No more reapplication of paints
Superior to current antifouling solutions and processes
Changes to legislation
The boating population is growing worldwide and with it the environmental impacts. The US Environmental Protection Agency wants to limit the paints used on recreational vessels. The State of California already has. Washington State was due to ban copper in bottom paints in 2018. The ban has been delayed, but only because the alternatives were found to be toxic as well. More research is being done on the alternatives but restrictions on copper leach rates are under consideration. European Union authorities are also concerned and Sweden and the Netherlands have partial bans (Source).
Due to Moist Metal Grip's tough, no grip exterior it makes cleaning of a boat's hull simple and no need to reapply any antifouling paints therefore saving you money. To make it even better apply Enamo Grip® over Moist Metal Grip and you'll create a permanent non-stick barrier to those slow growth biocides.
Benefits
Fast Acting: Submergible after only 48 hours of cure time; will finish curing while submerged.
Durable: Acid and chemical resistant.
Versatile: Can be applied to steel, aluminium, wood and concrete.
Easy to Apply: Semi-self-leveling formula with a smooth finish that can be tinted to any colour. Can be applied directly to a wet surface using spray, roller or brush.
Convenient: Can be applied to moist, wet, or condensating metal surfaces that cannot be dried before applying a corrosion paint or coating.
Protective: Prevents corrosion of coated surfaces due to the damaging effects of submersion, constant pooling, or moisture exposure.
Additional Benefits
Very resistant to splashes and spills of acids and solvents.
Very resistant to impact.
Can withstand subsea pressures for pipelines along the seabed
Useful life of 10-20 years in the most aggressive environments.
Can be applied over existing PRE coatings that are firmly adhered to the substrate.
Withstands temperatures up to 176°C.
Withstands traffic, ideal for floor application.
Pot life is after the Base and Cure are mixed and you have 4-6 hours (according to ambient heat). If you open a pail and are not using all, then simply reseal the lid with plastic sheet and tape down the lid and seal or put into another can and seal with lid.
The BASE will lose some solvents if left open but nothing sets up because no Curing Agent was blended into it. Same goes with Curing Agent. Just get the amount not being used into a can and sealed so that you don't lose solvents.
| Product | % solids by volume | Microns WFT | Microns DFT | Spread m2/litre | Spread m2/gal | Spread ft2/gal |
| --- | --- | --- | --- | --- | --- | --- |
| Moist Metal Grip | 80.0 | 200 x Two to Three Coats (600) | 300 (3 Coats) | 4.91 | 18.6 | 200 |
Applications
As a one-coating system for metal that is moist, in high humidity or submerged surfaces
As a one-coating system to encapsulate existing rusted surfaces
As a one-coating system to protect metal with condensation issues
As a one-coating system to line tanks
As the only protective coating against corrosion in buried pipes. As an internal lining for drinking water tanks
Very good acid and good alkali resistance
As a metal or concrete floor covering
As a primer before Enamo Grip is applied in wet or splash zone locations
Application
Moist Metal Grip can be applied to metal, as well as concrete or masonry substrates. The coating can be applied by spray, brush or roller. For specific instructions on surface preparation, mixing and application, please refer to the SPI's application instructions for Moist Metal Grip
Marine Application Combination Solutions
Steel or Aluminium boats
When working in any marine environments apply Chlor Rid® to remove salts and contaminants before applying any coatings.
Applying Moist Metal Grip follow the application instructions. When applying multiple coats of Moist Metal Grip it is critical that each coat firmly adheres to the substrate before the next coat is applied. Depending on the ambient and surface temperatures, it may take longer than a 24 hour recoat application window.
Give a minimum of 6 hours in full sun before applying Enamo Grip over the top. Enamo Grip needs 6 hours in the sun, not submerged in water so it can bind to the Moist Metal Grip. If submerged to early it will chalk and remain soft. Once Enamo Grip is cured (about 3 days) it will be clear (if not coloured product).
Enamo Grip won't chalk if it's given 5-6 hours in the sun or heat applied.
When applying Enamo Grip make sure the surface is completely dry. If bubbles appear apply a second coat of Enamo Grip clear the next day to soften the surface film and allow the bubbles to escape.
Enamo Grip can go over Moist Metal Grip with a window before three days. The Moist Metal Grip epoxy starts to set up and tighten closing the pores that the Enamo Grip can glue to. If longer than 3 days you will need to sand the surface to remove all gloss.
Fibreglass boats
When applying over fibreglass for hull of a boat use Chlor Rid® to remove all salts and then apply Enamo Grip making sure the surface is dry. Allow 5-6 hours in the sun then return the boat to the water. Will continue curing 2 days after while submerged.
Moist Metal Grip and Rust Grip
Heat always accelerates drying or curing. Moist Metal Grip normally takes 3 days to start a surface tightening in the curing process. Overcoat with Rust Grip after 2 days to lock the solvent resins together.
Application example
Challenge: Client was hoping to seal the inside of a water feature/pool made of corten steel to stop the fine rust particles (almost like dust) from making the water cloudy/dirty. What product was recommended? Also what types of colour mixes can be added to the Moist Metal Grip and how's the final texture/appearance it leaves.
Answer: As the corten steel has constant water against it Moist Metal Grip would be the best coating. Do not use Rust Grip underwater. As to UV, all epoxies are subject to chalking or fade with UV. If you are more than 5 feet below the surface, then UV will not reach down far enough to cause a problem. We suggest Enamo Grip on surfaces facing UV to spot rust and it will not fade or chalk. Final texture is smooth.
White Moist Metal Grip can be tinted only slightly. The white pigment overpowers any tint. If you added more than 10% by volume tint, it changes the ratio of the Base-to-Curing Agent and it creates curing out problems. In tinting – do not put water-based tint in a solvent Base and it does not blend. Use water with water and solvent with solvent. Best tinted in the factory.