HPC® Coating
Block Heat! 7 Ceramics Thermal Insulation Coatings!
The Original & Proven Hot Pipe Multi-ceramics Closed Film Coating. Get "high" heat protection that surpasses conventional insulation with HPC® Standard, HPC® Intermediate and HPC® HT Coating.
HPC® (Hot Pipe Coating) is a ceramic based, water-borne insulating coating designed to insulate in high temperature situations from 100° to 650°C. Use HPC® as an insulation to block heat loss, save energy, reduce maintenance, stop CUI (Corrosion Under Insulation), reduce landfill and personnel protection.

---
---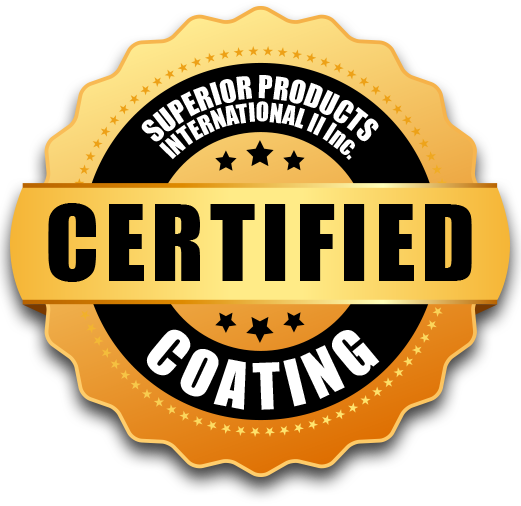 Maximum energy efficiency with a high temperature coating designed to insulate every surface
Eliminates CUI – Corrosion Under Insulation
Replaces wraps and jacketing
Save money and reduce energy
Personnel protection below 50°C
Easy to repair and easy to maintain
Water based and safe application
No shut down required
Long lasting
HPC® Standard – Ambient up to 204°C / 400°F
It is water-borne and extremely lightweight in appearance. HPC® Coating uses a special acrylic resin blend with specific ceramic compounds added to provide a non-conductive block against heat transfer.
HPC Intermediate – 200°C / 400°F up to 538°C / 1000°
HPC Intermediate (HPCI) Coating is designed to control heat transfer on surface. It is a water-borne and extremely lightweight in appearance. HPCI Coating uses a special acrylic/silicone resin blend with specific ceramic compounds added to provide a nonconductive block against heat transfer.
HPC® HT – 538°C / 1000°F up to 650°C / 1200°F
HPC® HT is a two-part hybrid silicone/solvent resin (Part B is flammable) and (Part A is water-based resins) using specific ceramic compound loads for application directly over surface temps of 538°C (1000°F) and up to 650°C (1200°F). It is designed to block and hold the interior temperature on the surface and reduce heat transfer loss to ambient.
Georgia-Pacific Receives EPA ENERGY STAR for HPC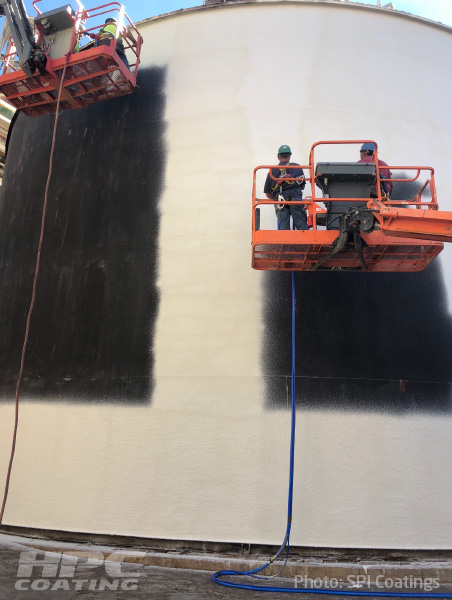 Outstanding NEWS: Georgia-Pacific Receives US Environmental Protection Agency (EPA) ENERGY STAR. The recognition comes for their efforts to improve energy efficiency and reduce corrosion in Koch manufacturing assets with HPC (Hot Pipe Coating).

Together with FHR, GP tested a wide range of insulation options to protect manufacturing equipment and found a solution: HPC® ceramic insulation spray. HPC reduces heat loss, prevents corrosion, and can be applied to equipment that operates at temperatures up to 1,200°F or 650°C.

The fully insulated digester reduced heat loss by 49% and saved Naheola an estimated $332,000 in energy costs annually. It also improved the quality of the cooking process by allowing the digester to better maintain its internal temperature.

Manufactured by SPI Coatings, HPC based on ceramics formulations is without doubt the leader in its field for performance, durability, energy savings and experience. Read the article >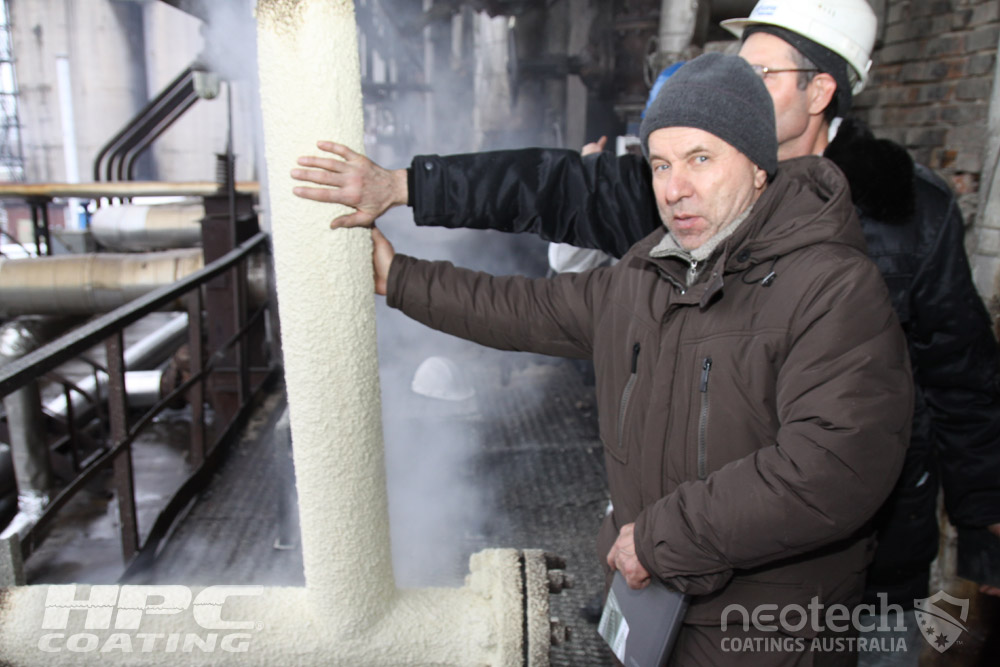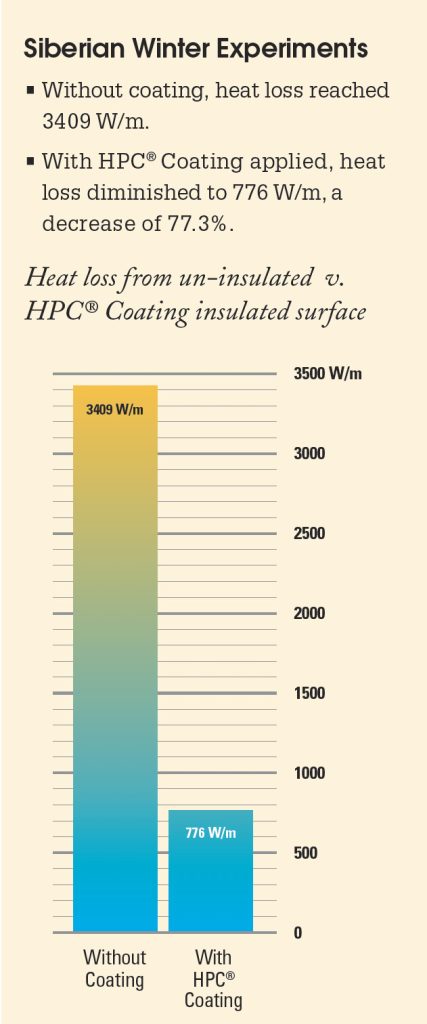 In today's age of increasing energy demands, industries need innovative, high-heat solutions that will stand the test of time and delivery proven efficiency. The performance capabilities of HPC® Standard / HPC® Intermediate and HPC® HT Coating are why so many industries are choosing to switch to reduce energy demands and costs, reduce maintenance costs and reduce the risks of CUI.
When we designed the HPC® coatings, our goal was to address the concerns of insulation, energy reduction, CUI and personnel protection, without shutting down equipment (and costing millions of dollars in the process). With HPC® we've done just that!
Our aim was to produce measurable insulation performance in the field. HPC® are insulators that cover every centimetre, every surface including elbows and valves etc. to give 100% coverage for optimum insulative benefits. Many coatings insulate under 160°C, but with the HPC® we take insulation from 100° to 650°C, and can apply while operating, with measurable and immediate results.
HPC® Coating was designed with lightweight, low-density ceramics developed in cooperation with NASA in the early 1990s. These unique materials give HPC® the ability to reduce heat loss in a variety of industries that depend on high-heat efficiency including:
Energy
Mining
Aluminum
Bitumen
Pulp and Paper
Refining
Iron and Steel
Gas
HPC® Coating provides a "true insulation benefit" by holding the heat inside of the coated vessel and increasing the internal temperature/pressure if the energy source is not changed. Energy costs can be saved by reducing the energy requirement to maintain the original temperature or the manufacturing process can be improved by increasing the internal temperature of the vessel to achieve a more efficient and effective process.
HPC® does not degrade when exposed to environmental factors and maintains a constant level of performance throughout the lifespan of the coating/project – no decrease in effectiveness or efficiency. For additional protection a top coat of Enamo Grip, Super Therm, Rust Grip or Moist Metal Grip will extend the life of HPC®.
HPC® – single component water-based coating designed to insulate hot pipes or surfaces that load up to 260°C. The coating is not a reflective coating, but works to block the loading of higher heats and to resist the transfer of heat through the coating to the cooler side.
For industries that depend on optimum heating systems, HPC® presents an innovative and efficient solution. HPC® were formulated to prevent the loss of conductive and convective heat from pipe and vessel surfaces.
This capability maintains the overall heat of any fluid or gas within a pipe or vessel and allows the process to operate more efficiently. HPC® will hold heat in a "transmission pipe" for longer distances than traditional insulation systems and will effectively maintain interior temperatures and reduce emissions for personnel protection.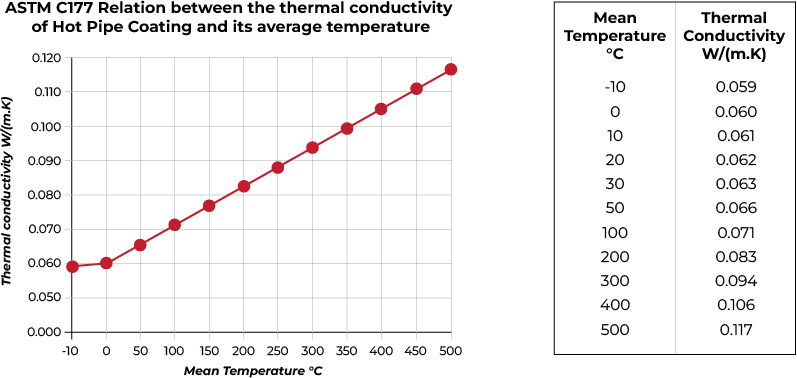 HPC versus Competition
HPC® was compared directly against the competition in 2011 in Siberia for Gazprom Oil when HPC® was applied over a 470°C / 878°F pipe while operating. The competition representative only could coat a 125°C / 257°F pipe and after a full 4.7mm or 188 mils they still had not gotten it down below 111°C / 232°F or a 25°F drop with the 188 mils (0.13F per mil), and getting nowhere fast.
HPC® was applied directly over the 470°C / 878°F pipe and brought the surface heat down to 26°C / 84°F or a 444°C / 794°F drop with 31.74mm or 1270 mils (.69°F drop per mil) or 5.3 times better (430%).
In this sample project, the representative of competitor said that he could bring the 125°C pipe down to 60°C with only 1mm (40mils) of their coating. We all knew that was impossible, but we let him talk and then it came time to put up or shut up. After his initial 40mils, he kept putting on product until the last time we checked and he had left the project with 4.12 mm or 188 mils applied and still had not gotten below 111°C. The engineers at this and most all other plants have heard salesman come in and talk the game, then never produce.
Our team had wanted to do a 250°C pipe, but the engineers told them they did not have one and only had the 470°C pipe if we wanted to try it. They texted me, and we agreed to do it. As seen from all our pictures, no problem which the engineers were blown away about since no one had ever been able to do this before.
HPC® Coating being applied at Gazprom (Russia's largest LPG Energy supplier to Europe) and shows a 550°C hot pipe insulated down to less than 40°C in just minutes…all without a shutdown or hot permit. Manufactured by Superior Products International (SPI), Hot Pipe Coating (HPC) is available from NEOtech Coatings Australia.
HPC® Field Testing Results
Surface temperature before insulation coating: 202°C
Surface temperature after insulation coating: 65°C
Percentage difference: 68%
HPC: total of 12-15mm thick
Super Therm: 2 applications (200 microns DFT)
Enamo Grip: 1 application (75 microns DFT)
Surface temperature before insulation coating: 474°C
Surface temperature after insulation coating: 145°C
Percentage difference: 69%
HPC: 25mm thick
The high \ low temperature insulation coating proven to save better than 35% of fuel consumption insulating high temperature over steam pipes.
Outside temperature 34-38°C
Diameter pipe 100mm
Prime with Rust Grip (one coat)
6-8mm thick HPC
Enamo Grip White as the top coat
No sweating down to interior temperature of 7°C
Some moisture appeared on the surface of the coating at -1°C, no drips at 38°C exterior temp.
Interior temperature of pipe at -10°C, moisture formed on exterior surface of pipe
Some drips developed and pooled at base of pipe
Surface temperature before insulation coating: 350°C
Surface temperature after insulation coating: 50°C
Percentage difference: 85%
HPC: 6.3mm thick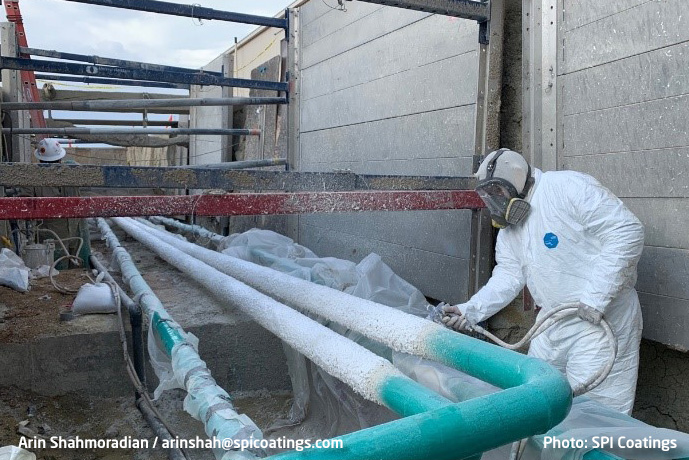 SPI Coatings in cooperation with the largest interstate pipeline operator in the U.S. has developed a ground-breaking below grade insulative coating system. The new solution consists of an acrylic based insulative coating applied over a fusion bonded epoxy, wrapped in proprietary polyester mesh for structural strength, then top coated with a marine grade epoxy to seal the entire surface.
Conventional below grade insulation materials suffer from cathodic shielding. Laboratory and field testing proves HPC + Moist Metal Grip coating system does not cause cathodic shielding. SPI Coatings below grade insulative coating system is now a proven alternative to conventional jacket insulation, providing superior insulation and corrosion protection. This coating system can also be shop applied, making it a game changer for both below and above ground piping. Read more >
Real Cost of CUI incidents
An example of this was a 2008 pipe failure at a Dow Chemical plant. Although the facility had an excellent track record of inspection, maintenance and safety standards, the high-pressure pipe system was constructed from aging materials. Their inspection failed to identify corrosion on a 30-year-old pipe. When the pipe failed, it exploded with such force that it buckled in two separate places. Fortunately the buckling happened to seal the pipe, preventing further damage until the system could be shut down and averting what could have been a disastrous situation for the plant. The total loss of the plant was $18.67 million by the incident which included loss of work days of 64 days. See more >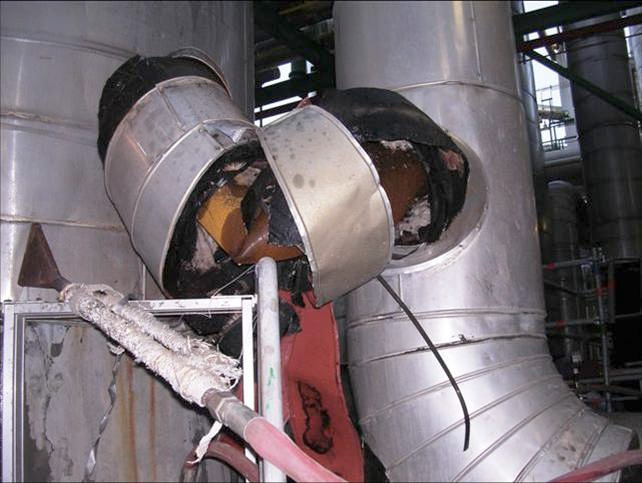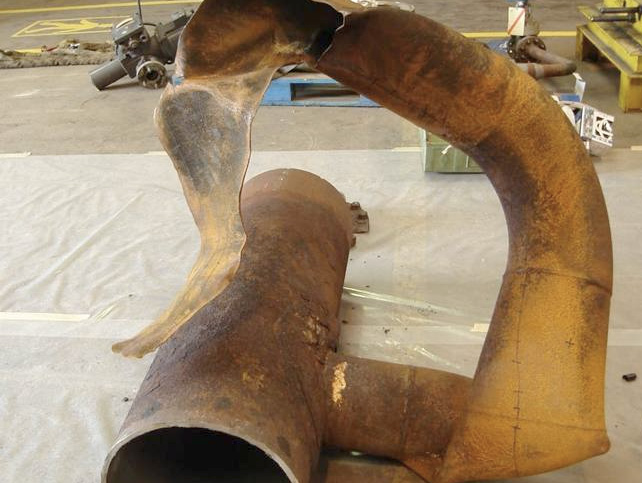 One instance of corrosion developing into more serious problems occurred at the Alaska drill site in the mid 1980's. A hot gas/oil pipeline that carried gas from a flow station failed because 85% of the pipe's wall had corroded away, the result of saturated thermal insulation.
In another case, severe corrosion occurred under polyurethane (PU) insulation on a hot tank. The insulation contained halogens from the fire retardant that had been applied to it. Water had combined with the halogens to create an environment of pH 1 accelerating the corrosion process. Source
HPC® insulation method is much different than the traditional "wrap" insulation materials that only slow down the loss of heat (known as an R-rating or "heat transfer"). The eight ceramic compounds create a barrier to catch and hold heat on the surface of the unit, e.g. pipe, furnace surface, boiler, etc.
Unlike wraps that use air as the insulation component, the ceramic compounds in HPC® resist absorbing heat trying to come off the surface to escape. This traps and holds the heat onto the surface for more effective insulation performance.
The current talk of using "super hydrophobic" resins to impregnate existing materials only reduces the air space, which is the main insulation medium used. Reducing moisture is a plus. Any dry material is a better insulator than any wet material (example: if a screen is replacing jacketing, the screen conducts heat). Adding structure can reduce the insulation effect. At the end of the day, it's simple – and proven: HPC® and HPC® – HT effectively eliminate CUI without adding structure, while blocking humidity and air.
Traditional Pipe Insulation
Traditional hot pipe insulation presents numerous inefficiencies and only slows the conductive heat transfer process because it contains small pockets of air. With HPC® / HPC® – HT Coating, heat loss is controlled by the light weight, low-density ceramics which results in more heat being held on the surface and increased temperature/pressure inside the pipe or vessel.
Traditional pipe insulation continually suffers from costly maintenance in large industrial piping systems. By absorbing air and moisture, traditional pipe insulation systems deteriorate rapidly, lose insulation performance, and cause CUI. In addition, the inability of traditional pipe insulation to cover and seal the valves, joints and elbows of various systems also creates gaps in protection for industries that depend on high heat efficiency.
| ROCKWOOL/FIBERGLASS WITH METAL JACKET | HPC® COATING |
| --- | --- |
| INSTALLATION | |
| Must shut down operation to install | HPC® COATING is installed without a shutdown |
| INSULATION EFFECTIVENESS | |
| Deteriorates rapidly and loses insulating value when moisture is present plus elbows & valves can not be wrapped effectively so heat losses are significant in these areas | Non-Deteriorating and does not lose insulating value when moisture is present plus can be sprayed on elbows and valves reducing the significant heat losses through these areas |
| CRACK DETECTION | |
| When a pipe cracks, the entire Jacket and RockWool or Fiberglass must be removed and repaired which requires downtime | When a pipe cracks, it can be inspected directly on the spot without removal and easily repaired by spraying or trowel application |
| CONDENSATION – DEWPOINT CHART OR DEW POINT CALCULATOR | |
| High due to the air trapping characteristics of RockWool/Fiberglass | No condensation due to complete surface bon |
| CORROSION UNDER INSULATION (CUI) | |
| High due to condensation problem | No condensation thus no corrosion |
| REPAIR | |
| Must shut down operation to repair | No repair is necessary for HPC® COATING |
| MAINTENANCE COSTS | |
| High due to frequent maintenance required for condensation & corrosion control plus high down time, labour and material costs | Low as HPC® COATING is directly sprayed without plant shut down plus the labour and material cost are much lower |
| LIFE SPAN | |
| Lasts about 6 months | Several years |
| | |
Source: Eagle Coatings. Note: The cost comparison between Rockwool/Fiberglass vs. HPC® COATING coating for hot pipes should be made with respect to the total costs. The total costs include: material costs, installation costs, repair costs, frequency of downtime, maintenance costs, labour costs and life span. When all these costs are combined, HPC® COATING coating is superior to Rockwool/Fiberglass insulation as evident in the above comparison.
For more information and documentation on HPC Coating, visit SPI Coatings
Personnel Protection
Our HPC® Product Line addresses personnel safety issues by using two formulas for differing levels of temperature exposure, both of which are water-based and loaded with specific ceramic compounds (chosen from thousands of compounds that were evaluated over a 30-year period) that block "heat load" and transfer (HPC®-HT part A has some solvent, but when mixed with part B, it is fully water based). These compounds are then blended into unique resin systems to carry the ceramics onto surfaces and hold them together in a mesh-like structure, without becoming a conduit for heat.
You need to cover all four points of concern: Insulation, CUI, Personnel Protection and Energy Reduction. Why would you only settle for one point at a time, with 3 different products? Instead, address the issues with specific products designed for what you need. Major customers have already used the HPC® product technologies in the field for years. They work. They're proven!
Safe to Touch Temperatures
Time of contact OSHA – 5 seconds with no burn
| Maximum Temp. °C | DFT of HPC mm | HPC Safe To Touch °C | Time of Hand Contact |
| --- | --- | --- | --- |
| 204.4 | 2.5 | 98.3 | 30 seconds + |
| 232.2 | 2.5 | 110.6 | 15 seconds + |
| 232.2 | 5 | 98.9 | 30 seconds + |
| 250.0 | 5 | 104.4 | 20 seconds + |
| 250.0 | 10 | 77.2 | 60 seconds + |
| 250.0 | 17 | 59.4 | 60 seconds ++ |
Summary of the tests conducted in the SPI laboratory from 1.8.18 to 30.9.18
Ambient temperature during the tests from 18°C to 27°C with moderate air movement
HPC® Used Around the World
HPC for Cool Room Condensation – 30°C variation
The Challenge: A client was looking to stop condensation on a wall that was an office and the room was 22°C. The other side of the wall was a cool room at -15°C with panelling. Both walls are interior to the building however for this conversation the office wall is the exterior wall.
HPC Solution
When you get over a 30 degree difference between the interior and exterior of a wall, you need some thickness, so you are only interested in the exterior side of the wall.
Why, because the hot moisture air is only on the exterior wall.
When the warm air hits the wall and sets, it cools and when it cools, it cannot hold the moisture and it shows as condensation on the side of the warm air. As warm air cools, it drops out it's moisture.
The interior is cold and no moisture as the air conditioning unit pulled all the excess moisture out of the air and cool air does not hold moisture. You must prevent the warm moist air from setting on the cold common wall between interior and exterior.
To do this, you must apply HPC for thickness to 13mm dry thickness and over coat with Super Therm®.
This blocks the warm air from setting on the surface of anything cool, the Super Therm® helps to throw off the radiation by using emissivity to release the warmth off the surface.
You must have the thickness of the HPC to prevent the wall surface with Super Therm® on it to ever being cool that would cause the warm air still covering the exterior wall during the warm air laying on the wall and then being thrown off by Super Therm®. You would still have some condensation without HPC.
Information needed prior to application of HPC or HPC HT
To make a right choice of products to use HPC or HPC HT we need to know:
Average and maximum temperature inside the pipes
Location (indoor/outdoor)
What is the average ambient temperature in the location of equipment and if there is any air ventilation
Outer Diameter of Pipe Thickness wall pipe
Pipe length
Average temperature of external
HPC® Application
A test on a heating pipe showing the powerful properties of ceramic insulation technology. Part of the pipe is painted with our Superior Products ceramic coating to show the comparison of the thin insulative film. Footage shows pipe reducing from 232°C to 35°C during application.
Additional benefits of HPC® Coating include:
Easy to Apply: Apply directly to hot pipes while operating. Spray with hopper guy or Graco TexSpray 1500. Apply thin coats first, and after surface reduces heat level, thicker coats can be applied.
Increased Insulation: Additional coats immediately reduce surface temperature and loss of heat. 25mm over a 232°C pipe allowed someone to touch the surface safely at 60°C.*
Long Lasting: Does not absorb humidity or lose insulation value with overcoat of Super Therm®.
Safe: Non-flammable and non-toxic.
Coverage: Can be sprayed to fit over any configuration or shape.
HPC® Coating Spread Rate Guide
| Product | % solids by volume | Microns DFT | mm DFT | Mils DFT | Spread m2/litre | Spread m2/gal | Spread ft2/gal |
| --- | --- | --- | --- | --- | --- | --- | --- |
| HPC | 72.0 | 1270 | 1.27 | 50 | 0.57 | 2.1 | 23.1 |
| | 72.0 | 2540 | 2.54 | 100 | 0.28 | 1.1 | 11.5 |
| | 72.0 | 5080 | 5.08 | 200 | 0.14 | 0.5 | 5.77 |
| | 72.0 | 6350 | 6.35 | 250 | 0.11 | 0.4 | 4.62 |
HPC Application Instructions
Cold Substrates
1. If the pipe is non operational and cold when being applied. The HPC can be applied at 7mm / 300 wet mils per pass. Time must be given to allow this thickness to dry to the touch and through the coating. Therefore, warm sunny days would require two days to dry before the next coat is applied. Same time is given each time to try and get as much of the water out of the system as possible so that the next coat can adhere and hang properly.
When the system is turned on later, the heat needs to be turned on gradual and given a day in this gradual rise in heat so that the trapped moisture is allowed to slowly escape. If the heat is turned on fast, the moisture can steam and bubble the coating surface when trying to exit the coating film quickly.
Hot Substrates
2. If the pipe is operational and hot, this makes the application of HPC much easier and faster. The surface is hot and the initial coats should be applied very thin (.5-7mm / 20-30 mils) to allow the steam to escape quickly without bubbling the coating film. After several coats with these mils, the additional applications can be increased in thickness as the surface temperature is not as hot. Then the applied thickness can be 7mm / 300 mils wet per application until the desired thickness is achieved.
As to dry mils that the HPC can be applied and hold integrity can be up to 3-4″ if desired. The coating is light weight and can hold its' form easily.
HPC is a 70% solids by volume coating and therefore will be applied as an example at 17.7mm / 700 mils wet resulting in a (17.7 x 70%) = 12.4mm / 490 mils dry film.
The manufacturer does not recommend using wet sponges to smooth surface due to the fact that the rough surface is a more efficient control of surface heat for safety reasons. When the applicator is spraying the coating and using a Graco TexSpray 1500 air assist machine, apply the final coat by turning up the machine to the highest air pressure so that the coating is misting out. Hold the gun 18 to 60cm / 18″ to 24″ away from the surface and allow the misting as you move the gun side to side to lay a thin layer until the surface smooths out. This method is better than using a wet sponge to smooth the surface just before the surface dries fully.
HPC® and Top Coat Protection
If a durable protective finish is required because of the surrounding environment, such as physical, mechanical abuse or over pipes subject to vibration, apply as follows. After the last coat is applied but before it dries, wrap polyester or fiberglass mesh around the pipe with the edges slightly overlapping to provide complete coverage. Allow this to dry. Topcoat with Super Therm®.
For exterior applications subjected to WEATHERING apply Super Therm® at 2.4m2 per litre giving 425 microns WFT or 250 microns DFT. Allow to dry and cure over night.
For resistance from CHEMICALS apply Enamo Grip® Solvent (White or Coloured) or Rust Grip® at 18 m2 per gallon at 92.5 microns WFT. Allow to dry and cure over night.
For applications with HIGH HUMIDITY or SUBMERGED UNDER WATER allow the HPC® to dry then apply Moist Metal Grip.
HPC Replacing METAL JACKET on BP platforms
The fiberglass/ metal jacket wrap was replaced on a BP platform in Gulf completed in 2011. This is a heat exchanger that cycles up to 290°C / 550°F and down to 48°C / 120°F. Installed for over a year. Checked every three months and monitored for efficiency and service life.
Last check was in June 2013 and all is as applied and performing as it was when new. No efficiency drop, no corrosion development and everyone satisfied.
System as applied:
HPC over the 260°C / 500°F surface to 18mm / 750mils dry thickness. Applied to hot surface first to be the insulator and to reduce the heat for RUST GRIP to apply over.
RUST GRIP at 13m2 / 140f2 per gallon (1 gallon = 3.7 litres) to cover the textured surface of the HPC properly with 100 microns / 4 dry mils.
SP LIQUID MEMBRANE ( at 3 sq.m per gallon) over the RUST GRIP to provide a flexible surface to withstand dropping tools and other minor abuse without causing cracking to the atmosphere.
No pictures allowed on the rig.
North Sea application to prevent CUI for GDF Suez Platform. Temperature not over 100°C and therefore the RUST GRIP was applied as the primer. Then HSC was chosen to be the insulation due to the lower heat level.
Both projects proved that the RUST GRIP and HPC or HSC combination of corrosion protection and insulation was a complete seal that blocked the absorption of air and moisture from entering the system. If the air and moisture are prevented from entering the insulation system, then the insulation is not compromised and without air and moisture, no corrosion can develop.
Also realised is the fact that with the coating system, the vessel or pipe is protected from beginning through all valves in the length of the system to the end of the system without opening to the elements of weathering. RUST GRIP has a permeability of 0.24 that does not breathe air nor moisture. The SP LIQUID MEMBRANE is a rubber coating that seals off from air and moisture. The ENAMO GRIP is a two-part polyurethane that seals off from air and moisture. With this system, air and moisture are all sealed away from the surface of the metal and therefore, no corrosion development.
As to checking the pipes for monitoring the thickness and quality of the metal surface, this is very easy for HPC. As seen on the attached procedure of simply cutting a square of the HPC out and probing the surface and doing a visual inspection is easy. Simply replace the cut out and it is sealed again. Simply apply a brush of RUST GRIP / SP LIQUID MEMBRANE over the cut and no harm to the system. No down time, no replacement of the system.