Transportation
NEOtech Coatings Australia helps, trucks, buses and major transport reduce costs, energy, freight, time, CO2 and improve comfort. Field testing has shown that Super Therm® reduced refrigerated trailer units' fuel consumption by approximately 30% versus a multi-temp refrigerated unit with traditional aluminium roofs and waiting time by 44% to cool reefers down.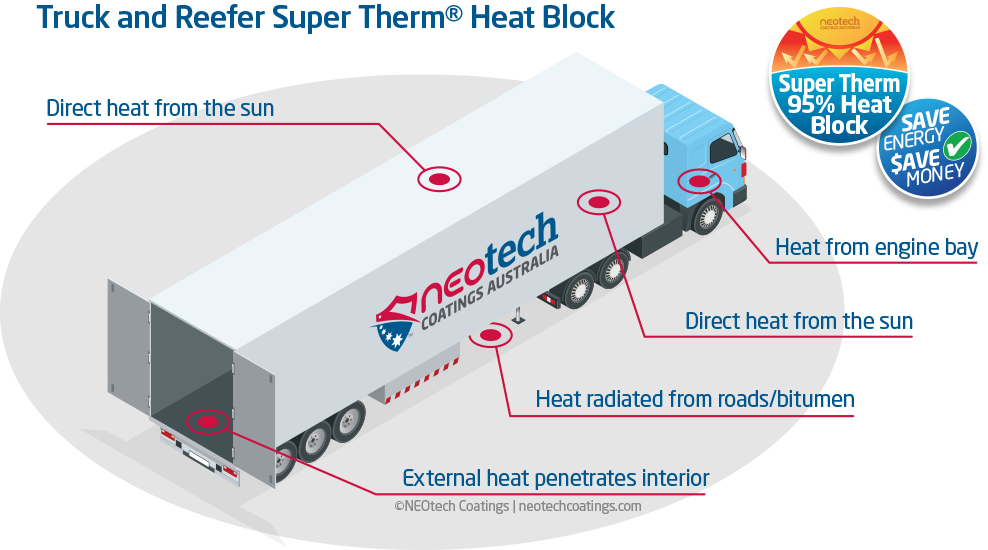 In the trucking/package delivery industry, heat related claims are a major cost due to damaged goods and heat stress related employee claims. Worker productivity is reduced due to discomfort both for the drivers and the employees that load and unload the trailers.
Super Therm® is an industrial coating that blocks 95% of solar heat entering the trailers and delivery vans. It blocks heat and a non-conductor with just a 250 micron or 10 mil coating that can be brushed, rolled, or sprayed. The thermal solar heat block barrier does not rely on the coating being clean, as is the case with other reflective paints. Because Super Therm® is a non-conductor of heat rated at 99.5 BTU block, it works effectively when applied to the inside walls, as well as the exterior roofs of the trailers.
Once the heat is allowed to penetrate into the trailer or van, the packages absorb the heat, and it is impossible to reduce heat with ventilation. The key is to stop the heat from being absorbed by the packages by reducing the transmission of heat in the beginning.
Temperature reduction on Refrigerated Trailers
"After applying Super Therm® to the trailers on our WA run, the temperature was reduced by over 25°C. The Thermo King Refrigeration units then started cycling correctly."
Tony Graziano – Managing Director, Hard Produce Transport Services, Pooraka, South Australia
---
Super Therm® cool-down time was cut by 1.75 hours or 44%
20% less fuel on the outbound "hot" haul
29% less fuel on the return "cold" leg
Long-term benefits at 200 to 250 trips a year, the reduction could total $2,500 times by 20 years is $50,000.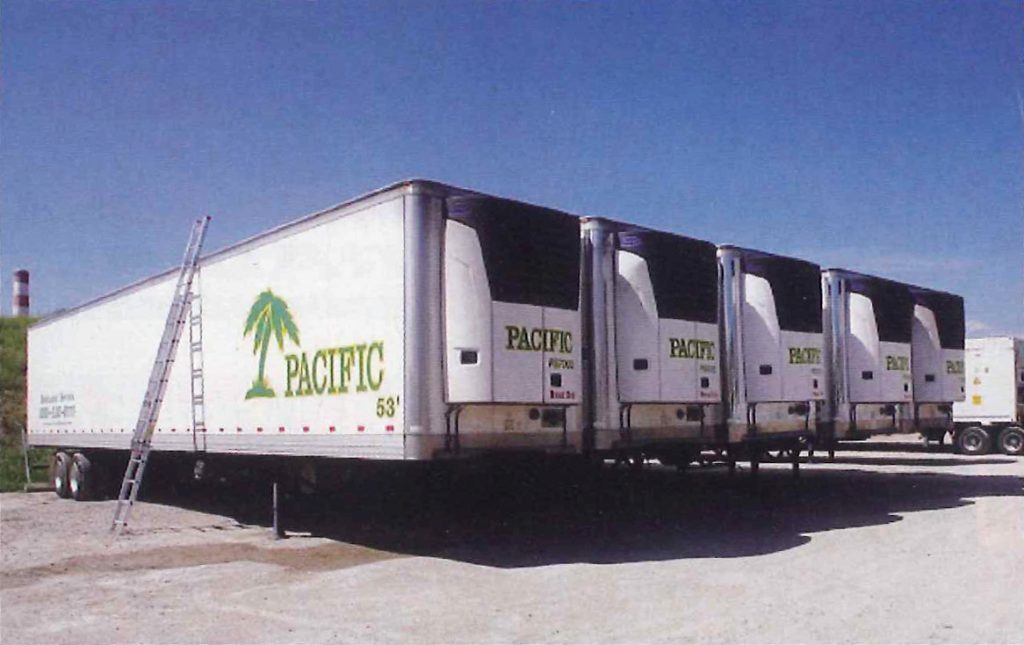 Pacific Shipping & Trucking of Denver moves truckloads of baked bread from Denver to Phoenix, then returns to Denver with ice cream, explains Keith Robertson, the fleet's owner and president. Bread is maintained at (27°C) 80°F, but ice cream must stay frozen at (-28°C) -20°F – "extreme heat to extreme cold," he says. It's a drop-and-hook operation, with trailers full of bread left at docks in the usually hot southern Arizona city while empty reefer trailers wait nearby.
If in Australia 21.7 litres x $2.10 per litre = $45.57 x 200 trips = $9,114 per annum x 20 years = $182,280 total fuel reduction plus engine life extension and CO2 reduction on Thermo Kings unit maintenance!
A driver backs his tractor onto an empty, then starts the reefer unit to begin cooling down the trailer's interi­or so it can take on ice cream. Temps inside the trailer can be (48°C) 120°F or more, and it's got to be cooled to below zero. "It was taking us two and a half hours to get sitting out in the sun to get to minus 10 – from there they can start loading – then," Robertson says. "Now it takes 45 minutes to an hour," so the reefer runs less and burns less fuel. > Read More >
---
---
Super Therm® for Better Bus Services in Mexico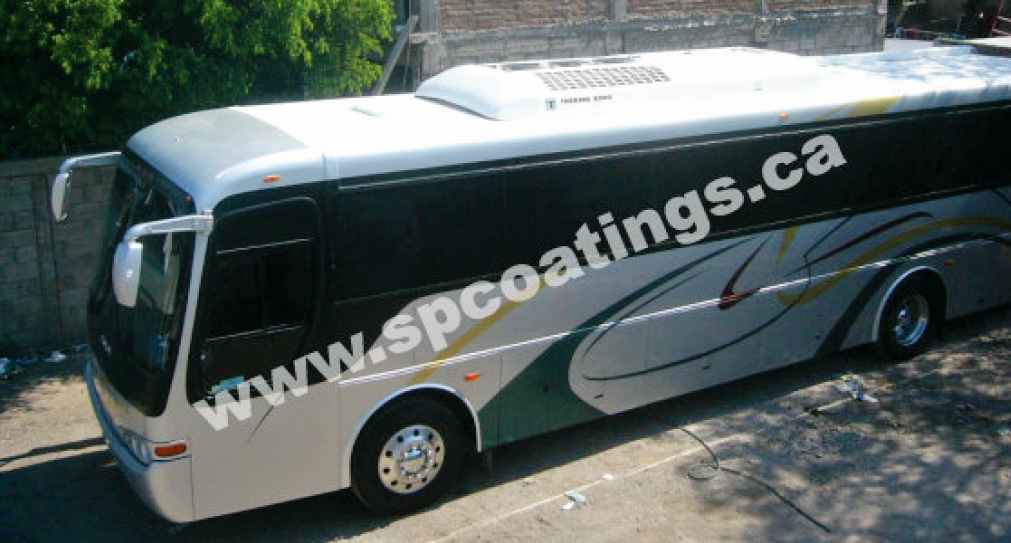 From the observations and remarks the applicators can conclude the following:
Before coating with Super Therm®, the roof's temperature and the interior temperature were much higher.
After application of Super Therm® the roof's temperature was significantly lower than before application. Without Super Therm® the roof's temperature rose to 90.1ºc, after Super Therm® the temperature only reached 46.2ºc. This proves Super Therm's strength in reducing heat transfer (Refer to Graphic 2.4).
As a direct result of application of Super Therm®, the temperature inside the bus decreased 8ºc, always tending to equalize itself with the outside temperature during the test (from 7 a.m. to 1:30 p.m.) (Refer to Graphic 2.5).
The Super Therm coated roof absorbed 46.27% less heat than the non-coated roof (Refer to Graphic 2.4).
With Super Therm®, the Thermo King unit only needed 33.4 minutes to reach 29ºc, 45% less running time than without using Super Therm®. (Refer to graphic 2.6).
Given the need to put the bus back onto its route, the testing and temperature results taken from the Super Therm® bus were done within one day of application. Super Therm® typically takes 7-10 days to fully cure and thus even more favorable results might be seen after full cure.
The Thermo King unit coated with Super Therm® became 30.5% more efficient.
Poland Pantech with Super Therm Solar Heat Block coating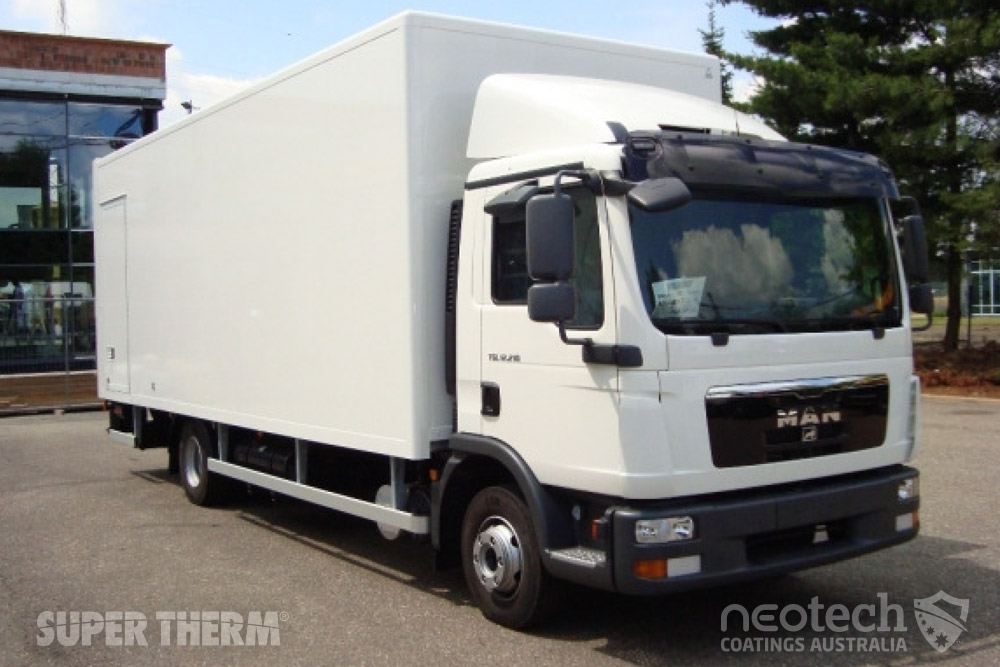 In Poland a test was conducted to compare the cooling down of loading space of two identical refrigeration trucks, one with roof coated with Super Therm® coating (0,25mm thickness), and another one without this coating. Both trucks, standing next to each other were exposed to sun radiation when their refrigeration units were working.
The application of Super Therm® enable obtaining desired temperature in the loading space much quicker, what enhance conditions of carried goods (especially food). Moreover, Super Therm® application positively influence operation of refrigeration unit, extending its life span.
Even though the amount of activations of cooling aggregate in truck with roof coated with Super Therm® was higher that in case of truck without Super Therm®, however total time of refrigeration unit work was 40 minutes shorter for truck with roof coated with Super Therm®, what gives 19% of energy reduction.
Moreover, Super Therm® application positively influence operation of refrigeration unit, extending its life span. It must be noticed, that the test was carried out in the end of September, so we can assume that energy reduction during summer time will be higher. More >
Buses were coated with Super Therm in Forli, Italy.
There was a dramatic reduction by 13% in the roof temperature and the uncoated bus took 20 minutes extra in running time to reach the same internal temperature of the Super Therm® treated bus that was closed and not running.
Super Therm® improved the efficiency of the air conditioning system resulting in significant reduction in time and energy in lowering the internal temperature of the bus to acceptable temperature levels (starting from a parked bus with the engine off).
Significant reduction fuel > More >
Reduction of fuel and produce in truck transportation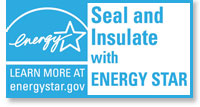 During the latter part of 1989, I heard about a product called Super Therm® which was supposed to be able to reduce inside temperatures.
Being the owner of a fleet of primer movers pantech and tautliners I have continually had problems with heat buildup in the tautliners which are primarily used to cart bananas from Northern New South Wales to Adelaide. Temperatures are frequently around 35° up to 50°C. in mid-summer. This heat buildup causes the produce to rot and at times the loss rate could be as great as 15%. Bananas need to be carted at between 10°and 13°C but the tautliners with refrigeration units running constantly would run at a constant 19°C.
Although a little skeptical about any real benefits of Super Therm®, I decided to test the product with the following results:
Inside the tautliner: when it is standing empty, it is noticeably cooler than a unit without Super Therm®.
The motor on the refrigeration unit is set at 10°C. (normal temperature for carting bananas at that time) will in fact idle, hence a reduction in fuel costs to run the unit.
The reduction in temperature due to Super Therm® has eliminated produce losses which of course was my prime concern, the added fuel reduction being a bonus.
To anyone considering having Super Therm® applied to their pantech or tautliner, my comments could only be to delay the application is to waste money.
Bob Fountain Transport
Brisbane, Australia
Block Heat for Reefers – 30% fuel reduction
(As sited from Land Line Magazine – The Business Magazine for Professional Truckers – July 23, 2003)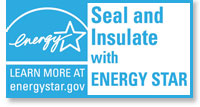 Industrial Coatings Alliance Group Inc. is an international consultant, distributor, application and maintenance company of roof coatings and roofing systems. Headquartered in Roswell, GA, ICAG is a charter member of the EPA's Energy Star Roof Coatings Program and is a leader in researching and implementing energy conservation roofing programs for various prominent business owners. With more than 5 million square feet of roofing surface coated, as well as more than 30,000 over-the-road trucking trailers, ICAG is recognized as a leader in roofing solutions.
While most roofing systems are merely a means of keeping the weather out, ICAG's coating and roofing systems will provide superior solar heat blocking qualities, structural protection and aesthetics that will significantly lower utility cost, provide maintenance benefits and enhance the aesthetics of the facilities and/or vehicle. Our research indicates that energy reduction alone provide an extremely favorable payback period making the application a viable financial option.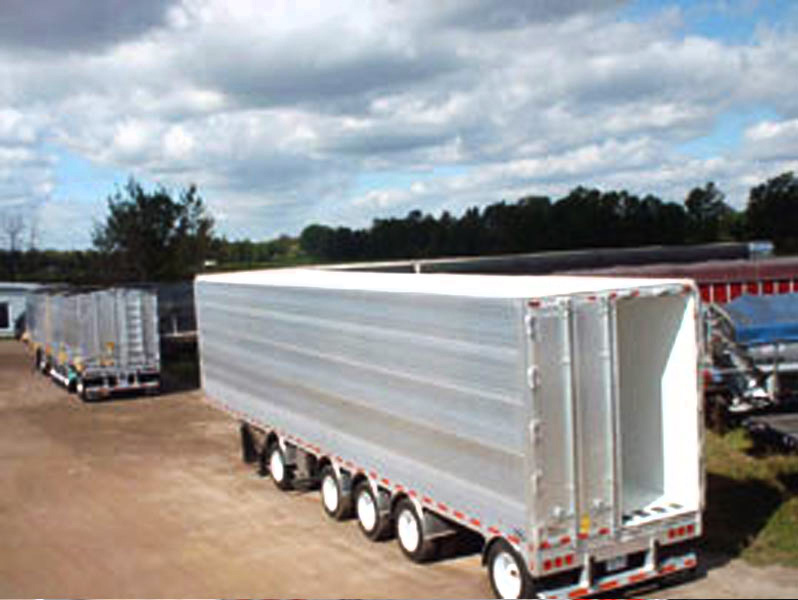 Industrial Coatings Alliance Group has recently tested its proprietary solar heat block coating with one of the nations largest private refrigerated carriers. ICAG is pleased to announce that Super Therm®, its proprietary coating, when applied to the top of a refrigerated trailer, can reduce the units fuel consumption approximately 30% versus a multi-temp refrigerated unit with traditional aluminum roofs.
The test began in July 2002. Super Therm® roof coating was applied to five multi-temp reefers in Tolleson, Arizona. This facility was chosen due to the extreme amount of radiant heat that refrigerated units were exposed to daily, on mostly a year-round basis.
The "Control Group" consisted of five multi-temp trailers with traditional aluminum roofs. A third group of trailers, five multi-temp trailers coated with the trailer manufacturer's proprietary heat-resistant composite roof, was included in the test as well. All 15 units were 2001 model year and manufactured to identical build specifications, with the exception of the addition of the heat-resistant composite roof by the manufacturer.
The primary area of focus for this test was on fuel economy; would the Super Therm® coated reefers burn less fuel than the control group and even the group with the heat-resistant composite roofing system. In addition, would the difference in fuel consumed justify the cost of the product? Read More >
Ultra Sound Testing Super Therm® Coated Trailers
Stoughton Trailers Inc. is the only North American Trailer Manufacturer to utilise state of the art Ultra Sound techniques to provide leak free products to the Van Trailer and inter-modal Container market.
Our verification tests conducted on a Van Trailer with an aluminum roof coated with Super Therm® shows that the unit prior to the first application of the Super Therm® coating had an average decibel reading of 38. After the first application of Super Therm®, the average decibel reading was 25 and after the second and final application of Super Therm®, the average reading dropped to 12 decibels. Read More >
30% less fuel consumption
After gathering and analyzing test results for the months of July and October, ICAG is pleased to announce that Super Therm® not only met, but also exceeded the expectations of the private refrigerated carrier.
In July, the Super Therm® coated units burned 30% less fuel than the "control" units and 2% less than the manufacturers heat-resistant composite units. On an annual basis, this resulted in decreased fuel consumption of 1,039 gallons and 463 gallons respectively. At $1.10 per gallon of gasoline, the cost reductions were $1,143 and $509 per unit.
In October, the Super Therm® units burned 27% less fuel than the "control" units and 22% less fuel than the manufacturers' heat-resistant composite roofing system units. On an annualized basis, this resulted in decreased fuel consumption of 599 gallons and 435 gallons respectively. At $1.10 US per gallon, the cost benefits were $659 and $479 per unit. Per our test, we can expect that the benefits would be highest in the summer months, lowest in the winter months and average in fall and spring months.
Payback in less than 1 year
With product cost and installation cost considered, a payback could be expected of less than one year. These reduction estimates do not include maintenance benefits which would likely result from the refrigeration unit running less hours, or running a higher percent of hours in low speed versus high. This would, in theory, also extend the life of the refrigeration unit. In addition, benefits associated with a decrease in labor that would result from fueling the reefers less often is not included in the cost benefits.
Reduction in maintenance and labour costs
*Industrial Coatings Alliance Group Inc. believes that this coating system is consistent with private and for-hire refrigerated unit carriers' goal to provide superior service to their customers and staff while improving the bottom line of that company through significant cost reductions.
Super Therm® on a Florida Motorhome RV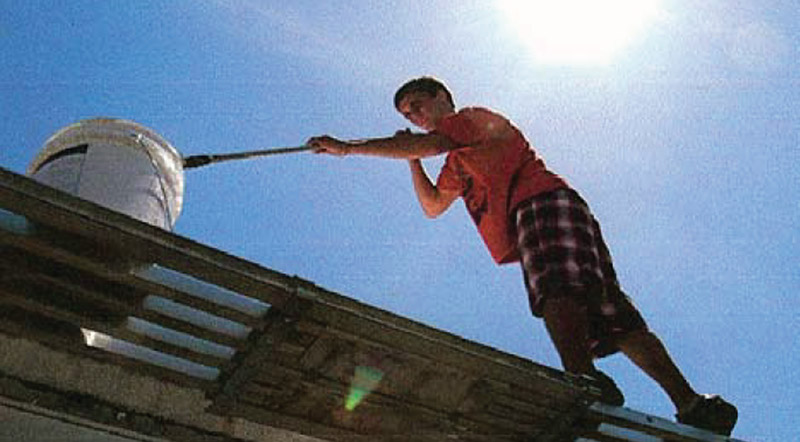 Average internal temperature improvement was 5.6°c – 12%
2 hours to pressure clean the roof the day before and fully dry
4 hours for two employees to apply the coating 87m2 by roller
The exterior surface temperature was 73°c…after application dropped to 30°c (59% improvement)
Roof surface temperature of a similar mobile home with a white elastomeric paint was 51.6°c
The motor home owner reported that she had not turned on her air conditioning since the day the roof was coated
SJHP's assessment is that Super Therm® works well and meets their purpose and budget. It was relatively easy to apply and does not require significant application skills, other than normal diligence and care. They were very impressed with the immediate temperature changes after application.