Trains and Railways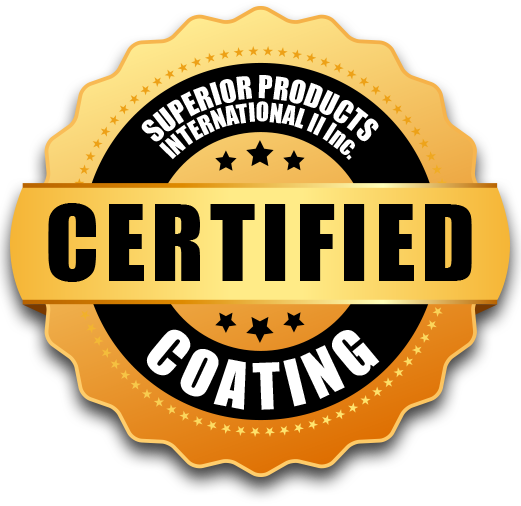 Trains, railways and railcars have many issues that the range of our specialised coatings are able to address. From solar heat block coatings on the roofs of stations to managing acoustics inside rail carriages. We're also specialists when it comes to corrosion management of railway bridges and carriage frames with a range of international examples how our products help solve the toughest challenges.
Railroad Rail Testing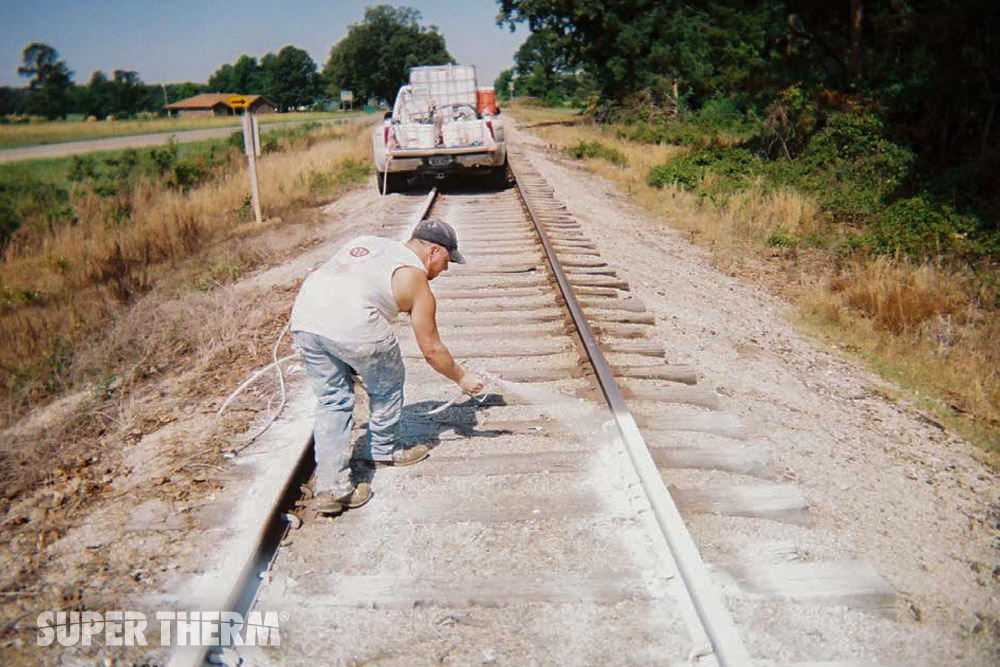 In hot climates dealing with rail and track buckling is a major issue and Super Therm proves it can reduce the heat load into tracks therefore reducing the actual tracks buckling which causes both safety issues from derailment but also time scheduling which can costs millions in lost revenues and save lives.
Cooling of rail to avoid flex during summer months
Eliminate derailment due to rail expansion
Eliminate "stop run times" over rails due to expansion
Test
Reducing rail temperatures by Super Therm® ceramic coating on KCS/Watco rail systems.
Background
Reflective and white paints were tested in the 1980's for reducing rail temperatures in hot sun conditions.
Temperature reductions were obtained, however, as the rail paint aged or became dirty the effects of these paints were reduced.
Working with Superior Products International II, Inc. of Kansas City, BLT Inc. realised that true ceramics in paint would allow many years of protection for maintaining reduced temperatures in hot ambient conditions. Reducing the buckling of jointed and long welded rails could now be accomplished.
On a hot day 30°C-40°C (90°F-105°F) typical and rail heats to 54°C-65°C (130°F-150°F). Most buckling occurs (3-6 P.M.) As the rail loads heat.
Test Site Location
Weldon to Heavener, OK. Mile Post 15-16 KCS
Rail
100 lb. RE (1912-1920) with mixture of tie plates (100-127).
Personnel at the Test Painting
(.25 mile painted north from hwy 28 rail crossing)
1. Ray Mathews – Watco Roadmaster
2. Paul T. Jones – Watco Consultant
3. Benjamin Ray – Paint application expert-Superior Products International II, Inc.-Kansas City.
Equipment
¾ Ton Pickup carried all the equipment. Additional equipment carried included a Power washer with 300 gallon tank of water for cleaning and a Graco G Max 2 gallon per minute Airless unit using a .031 tip size. Various steel brushes and cleaning tools were carried in case of need.
Procedure
Power washing the test section was unnecessary. This was determined by the fact that no rust could be wiped from the rail by hand.
On small amounts of vegetation, vines, etc. had to be removed to provide a clear painting area for the sprayer.
Painting of the 1/4 mile test rail started at 6:30 A.M. and was completed at 11:30 A.M. Ray Mathews felt this area would buckle as hotter temperatures occurred.
Paint was applied at 425 microns wet and 250 microns dry.
At 2:00 P.M. to 2:30 P.M. the ambient temperature was 34°C-35°C (94-96°F).
Temp. deg. F
Temp. deg. C
Uncoated Rail
126
52
Coated Rail
105
40

Difference

21°F

12°C

– 23%
Uncoated Tie Plate
136
57
Coated Tie Plate
104
40

Difference

32°F

17°C

– 30%
This data points to the fact that the coated rail would probably never see 48°C (120°F) while the uncoated will go to 65°C (150°F).
Conclusions
The coating will keep the test site about 15°C / 30°F cooler and no buckling would be expected for the painted rail.
Tracks
RUST GRIP® the track base, pins and collars connecting the rails to the ties.
Apply RUST GRIP® on the support ties whether wood, concrete or plastic to strengthen and protect from oils, solvents, acids and weathering.
RUST GRIP® the bed over the rocks between the tracks to help stabilize and create a more secure and solid footing.
SUPER THERM® for cooling of the rail to avoid flex during summer months. Eliminate derailment due to rail expansion. Eliminate "stop run times" over rails due to expansion. See testing results below.
Bridges
RUST GRIP® over the entire structure of the bridge including all steel and concrete.
Bridges with existing Lead-based paints can be power washed with a 1500 psi power wash to remove only the dirt, debris and residues. RUST GRIP® has been tested and certified to encapsulate the existing coatings and secure the surface to a minimum of 6750 psi surface tensile strength. When applied over existing rusted surfaces or concrete, the RUST GRIP® penetrates into the pores and then locks down to secure the surfaces to prevent deterioration and stops continued corrosion. Using the RUST GRIP® eliminates the standard need for sandblasting which saves tremendous money and labor time when setting up for maintenance budgets.
ENAMO GRIP® can be used for a top coat to satisfy any colour schemes desired.
If areas are constantly wet or periodically submerged, MOIST METAT GRIP can be used to coat the metal and concrete to protect from weathering, water and chemicals.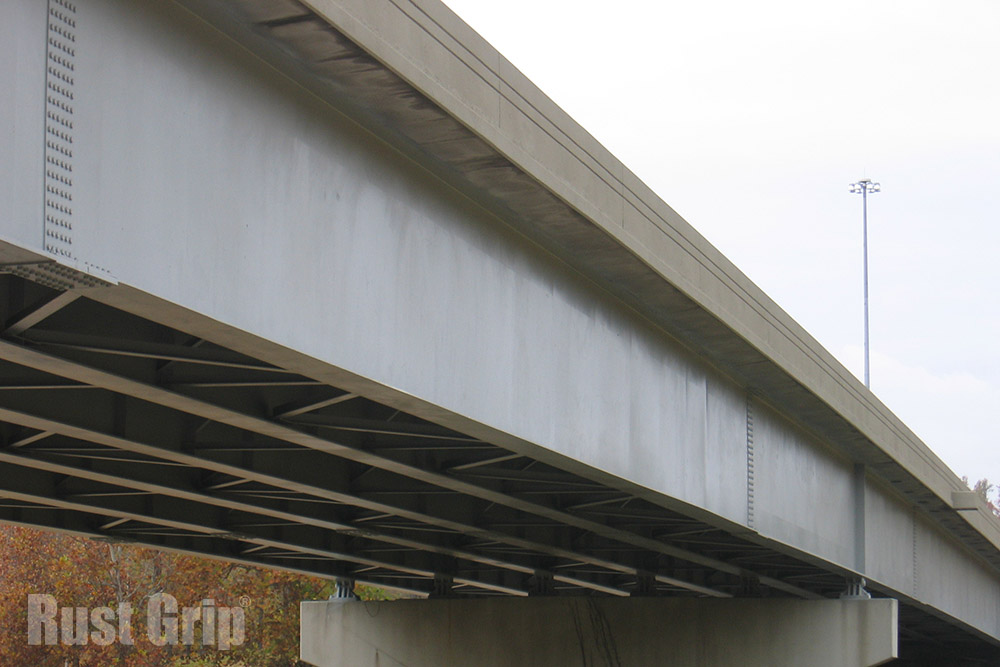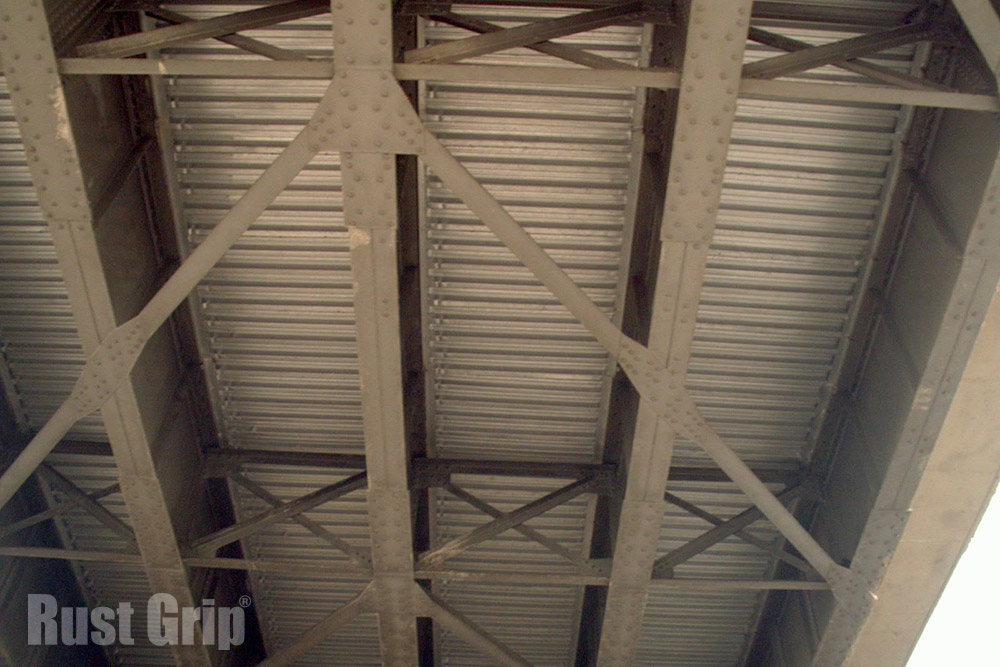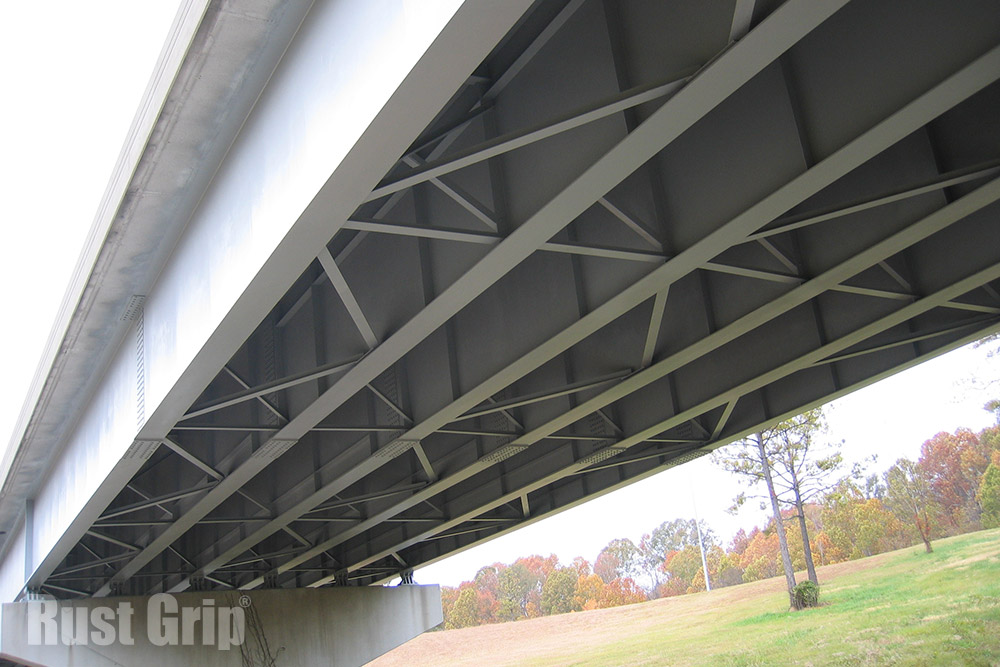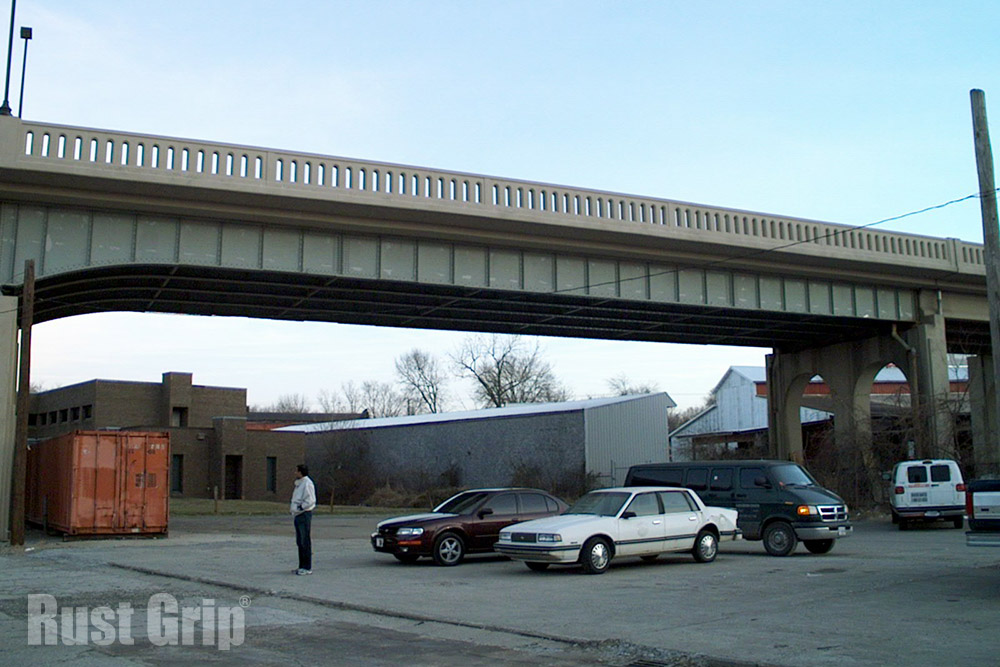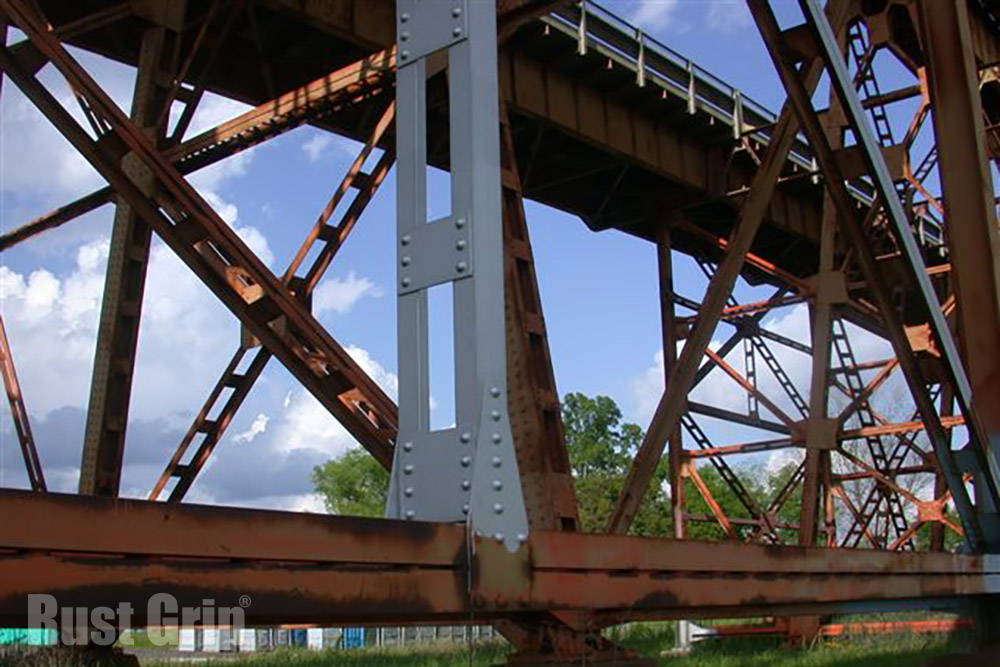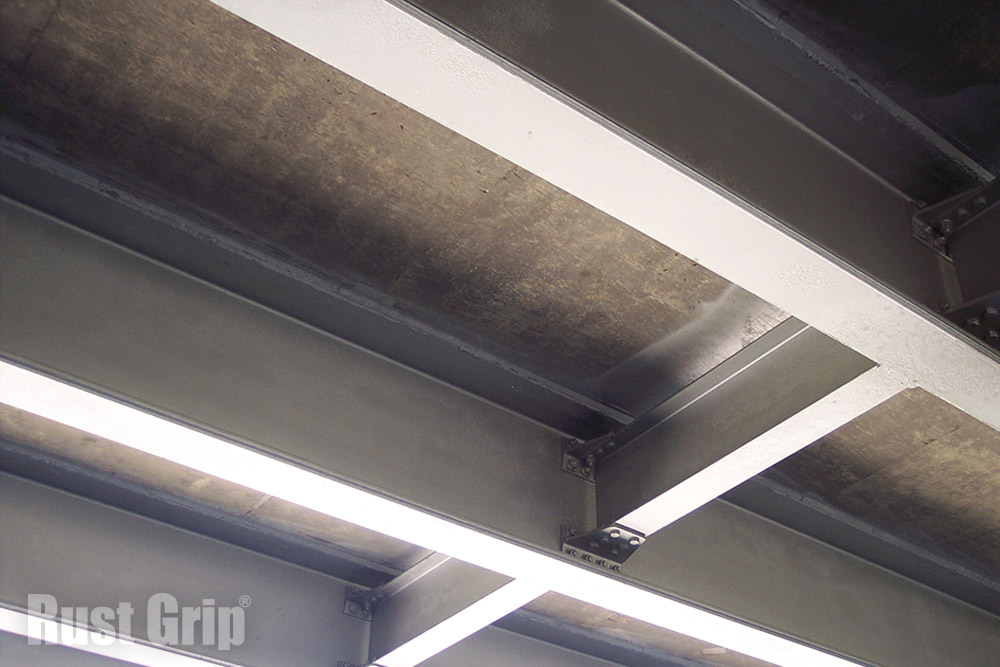 Locomotives
RUST GRIP® to seal and secure the metal to prevent rusting. This is applied over clean surfaces without sandblasting.
SUPER THERM® applied over the cabs and in areas to prevent heat migration to the cabin and prevent heat build up in areas that need to be cool.
ENAMO GRIP® in colors or clear as a top coat and for graffiti protection and easy graffiti removal.


Railcars/Carriages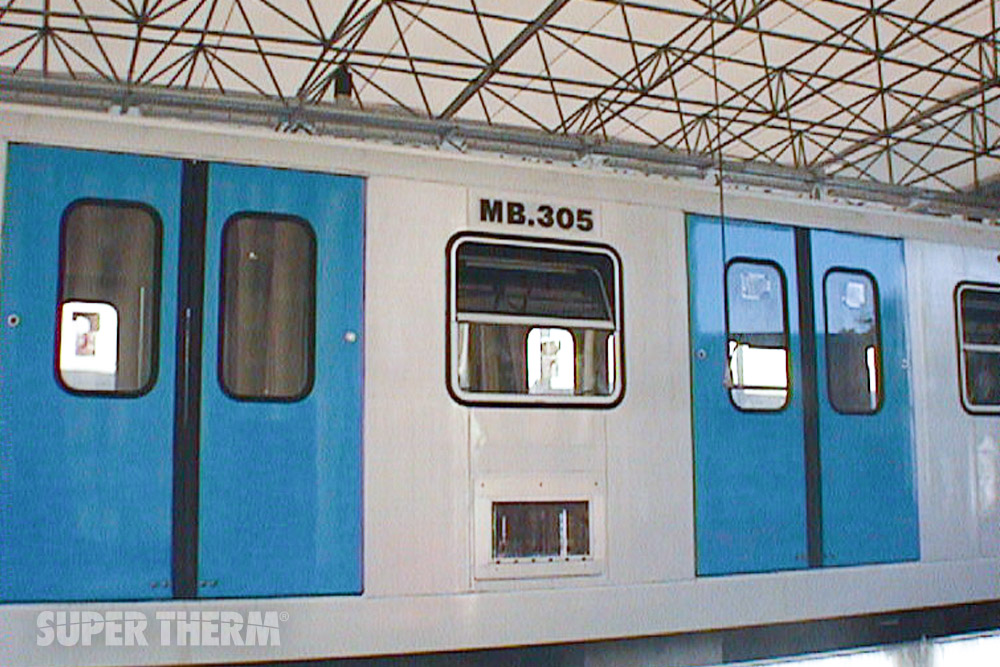 RUST GRIP® to seal and encapsulate the exiting surface rust after initial cleaning. This prevents future rusting, extends the service life of the cars and saves on maintenance budgets.
SUPER THERM® the passenger cars, refrigerated cars for heat block prevention. Sun radiation and other heat sources cannot heat up the surface that is coated with SUPER THERM® It also offers sound acoustic benefits along with fire prevention.
ENAMO GRIP® over the RUST GRIP® and SUPER THERM® as a protective top coat and provides a gloss finish appearance.
LINING KOTE for the interior of chemical tank cars to protect from chemical corrosion.
HOT PIPE COATING on the exterior of refrigerated cars to insulate to help hold below ambient temperatures in and / or hot liquids in the tanks. Top coat with SUPER THERM® to seal and protect while finishing the insulation effect on the tanks. For a gloss finish coat, use the ENAMO GRIP® in the colour of choice on hot tanks and white finish for cold tanks.
The roofing of passenger cars coated with RUST GRIP® / SUPER THERM® and finished with ENAMO GRIP® to prevent rusting, help to cool the car and keep it clean.
Sound proofing for Railcars
Mike Collins, LTK Engineer, Los Angeles stated that Portland Streetcars had an issue with noise. SUPER THERM® was utilised to address the acoustics along with the additional benefit of fire, thermal and water proofing protection.
The noise problems on the streetcars is a problem with pure tones. The tones are generated in the motors at the IGBT switching frequency. There was something in the motors that is resonating. Moving the switching frequency +/- about the centre 2K frequency changes this noise.
As for road noise coming through the flooring, there is a remarkable difference between the Skoda cars with SUPER THERM® and the Tri-Met Siemens cars with the traditional batting. The difference is most noticeable in the low floor centre sections. The Skoda cars were much, much more quieter than the Siemens cars.
More about acoustic properties of 50-68% sound reduction with SUPER THERM®
Keihin Electric Express Railway Co. Japan with Super Therm
Source: Daiko, Japan
Application Date: September, 2003 Area: 3,200 sq m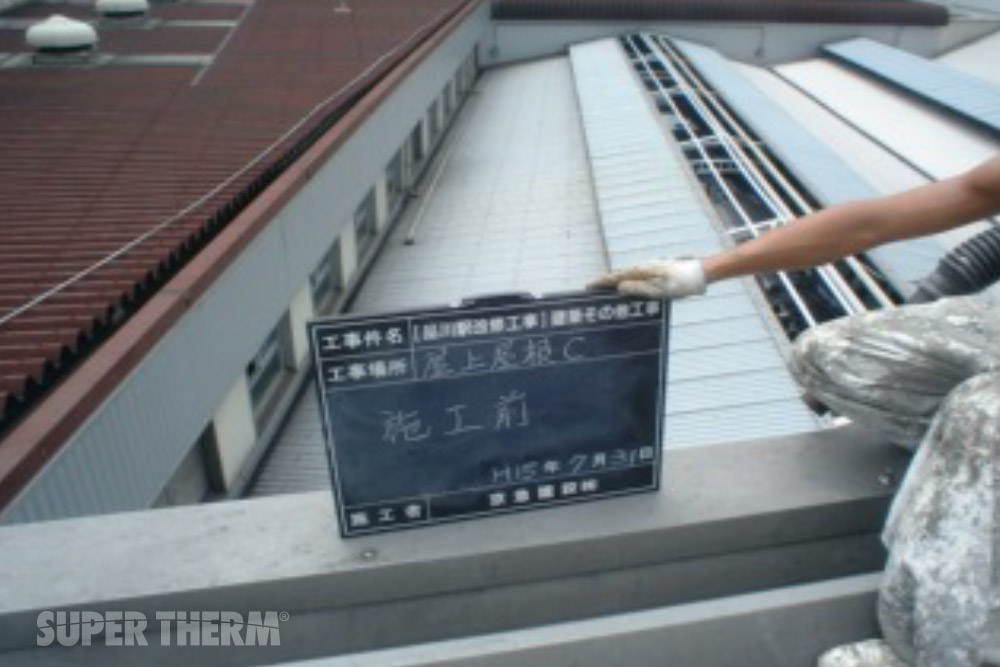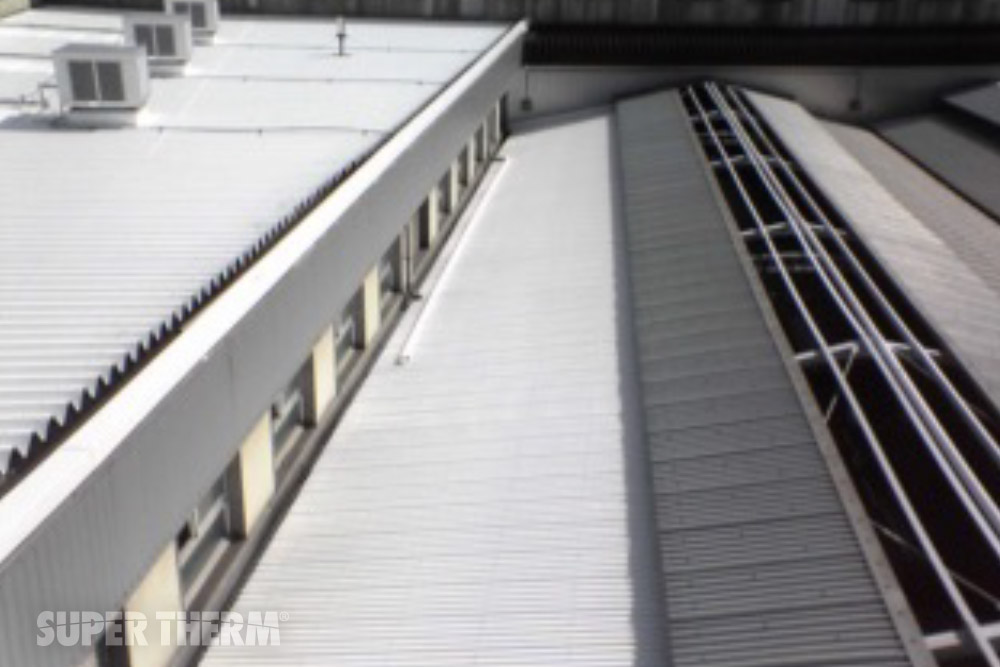 Results
Comparison of temperature before and after the application of days with similar outside temperature. *The application was completed on September 5, 2003 (Measured time: 15:00)
| | | | | | |
| --- | --- | --- | --- | --- | --- |
| °C | Outside Temp | No 1 | No 2 | No 3 | No 4 |
| Before 4.8.2003 | 32.7 | 35.5 | 35.9 | 35.7 | 39.6 |
| After 10.9.2003 | 32.5 | 32.3 | 32.3 | 32.0 | 33.1 |
| Temperature Difference | | -3.2 | -3.4 | -3.7 | -6.5 |
Contact NEOtech Coatings regarding RUST GRIP®