Moist Metal Grip antifouling paint on an Australian houseboat
Project Problem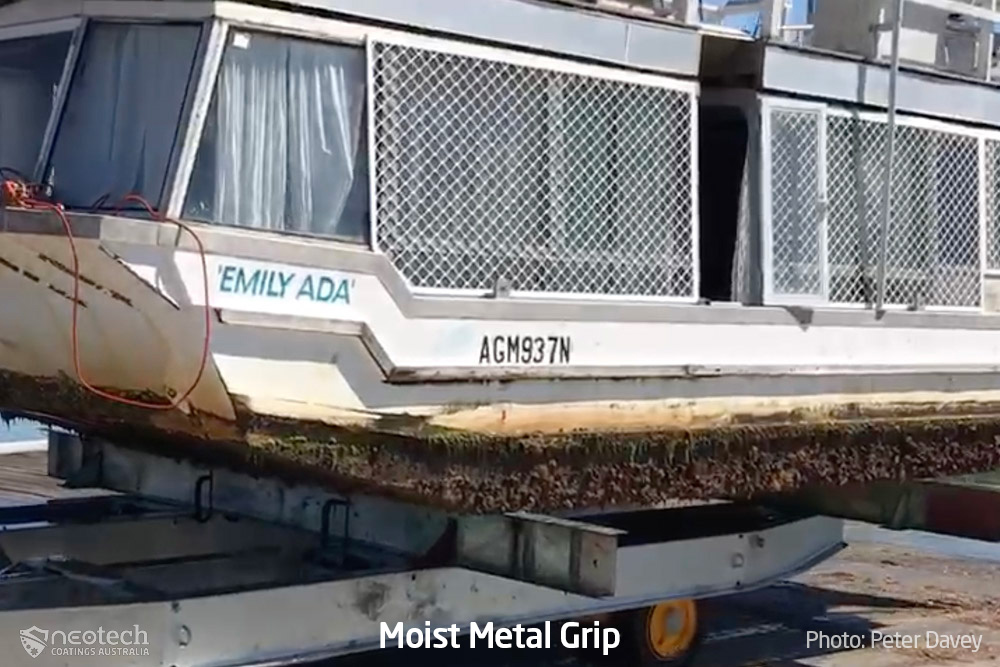 Peter Davey is based in Nelson Bay, NSW and has been boating for over 40 years. Every year he would undertake the laborious task of taking his boats out to dry dock to clean the hull, remove the biofoul using plastic drop sheets to capture the waste for the environment regulations and then having to repaint with antifouling paint. All this costing money, time, energy and more just like everyone else.
Peter decided to take a risk…some would say a big risk but to him it made perfect sense. Applying Moist Metal Grip as an antifouling paint solution to his houseboat 'Emily Ada' gave him significant benefits with a maintenance saving, time and cost benefit long term compared with the traditional and toxic antifouling paints.
After all of Peter's research he distinguished modern antifouling paints aren't as effective. What worried him the most was people weren't doing anything different and accepting the traditional and norm. He was on forums and in social media looking for the best antifouling paint to use on boats. Peter saw our project of SPI Coatings on the World's Largest Blue Chip Casino Boat build as well as Moist Metal Grip used on oil rigs etc where it's sitting in water and was able to distinguish how slippery the coating was….it must be good stuff he thought…and he was right!
Core Benefits of Moist Metal Grip and Enamo Grip
Better boat fuel efficiency
Save money
Easier maintenance
Less slip time
Better for the environment
Stronger impact resistance
Corrosion protection
Can last more than 20 years
No more reapplication of paints
Superior to current antifouling solutions and processes
From Antifouling Paint to a Coating Solution
Peter's process was once the hull was cleaned and he needed to re-skin the aluminium hull, he applied Moist Metal Grip by roller. His welder needed to add a new section to his boat after it was applied and was impressed by how tough Moist Metal Grip was and how it penetrated into the pores of the aluminium. He had to angle grind the coating back to the base aluminium to re-weld a section. Peter also noted that Moist Metal Grip was perfect at filling in the tiny pit holes of the welds which reduced any water entering the boat and reduce possible internal corrosion.
Peter's project is being observed by others in the slipway, marina and local authorities. The local marinas are environmentally conscious and nowadays there's large fines associated with managing biofoul and protecting the local environment, therefore many boat owners are looking for sustainable solutions to the traditional antifouling methods and Enamo Grip and Moist Metal Grip are really coming to the rescue. Additionally Peter also commented on how easily Moist Metal Grip was applied as he was aiming to find an alternative to antifouling properties and said the signs were very promising.
When Peter slips his boat again, he won't need to reapply the antifouling paint which is a significant cost saving and environmental benefit. He will be looking to apply Enamo Grip White over the top of the Moist Metal Grip which will make all biofoul three times harder to cling to and much easier to clean without needing to reapply more paint again for a very long time…maybe as long at 20 years.
Environmental issues of antifouling paints
Antifouling paints are facing strong challenges moving forward for environmental reasons. A article by Fab Dock and American Coatings Association outlined the issues antifouling paints are facing including pressure by governments to solve environmental impacts in our waterways.
The boating population is growing worldwide and with it the environmental impacts. The US Environmental Protection Agency wants to limit the paints used on recreational vessels. The State of California already has. Washington State was due to ban copper in bottom paints in 2018. The ban has been delayed, but only because the alternatives were found to be toxic as well. More research is being done on the alternatives but restrictions on copper leach rates are under consideration.
European Union authorities are also concerned and Sweden and the Netherlands have partial bans.
The marinas in Australia are struggling due to the strong environmental conditions and rules in place are becoming a high cost burden to operations. Safety is paramount with high fines and high standards for marinas and the rules are about protecting the environment. Utilising our coatings ensures you're investing into the future with sustainability, cost savings and efficiency.
What makes Enamo Grip and Moist Metal Grip even better is it contains no active ingredients. Traditional antifouling works by using a biocide, which means 'life-destroying'. Nowadays these biocides are usually derived from copper or cuprous oxide, and they're found in approximately 95% of bottom paints but not ours. Also antifouling paint is confusing, ie boat owners wonder which product goes on which style of boat. The choices are extensive and creates concern for boaties. This means NEOtech Coatings Australia can offer a better, safer and long term solution to a worldwide problem with Enamo Grip and Moist Metal Grip. Nice!
About the Coatings
Moist Metal Grip is used for underwater corrosion protection but also makes it hard for algae so it's great for steel and aluminium boats. It's used where moisture or condensation continually builds or holds. It is commonly used on deep sea oil platforms and tough industrial environments. In relation to boats it is apply directly over the interior or exterior of the hull or over wet or moist surfaces to prevent and encapsulate rust deposits. It is a tough adherent, two component epoxy coating, which produces a hard, yet flexible coating film. This epoxy product demonstrates excellent chemical and solvent resistance when utilised in harsh environments and will also provide outstanding water and humidity resistance.
Fast Acting: Apply Moist Metal Grip and allow for a minimum of 6 hours sunlight then it's submergible after only 48 hours of cure time; will finish curing while submerged
Durable: Acid and chemical resistant
Versatile: Can be applied to steel, aluminium, wood and concrete
Easy to Apply: Semi-self-levelling formula with a smooth finish in white. It can be applied directly to a wet surface using a roller or brush. No need for professional applicators.
Enamo Grip has long lasting resistance and resists the attachment of barnacles, seaweed and algae for three times longer. It is used as a top coat for colour, UV protection and industrial strength to guard against chemical splash and acid rain. Resembles a car finish with self levelling properties. Available in clear, white and custom colours (in volume orders). 
Marine Application Combination Solutions
Steel or Aluminium boats
When working in any marine environments apply Chlor Rid® to remove salts and contaminants before applying any coatings.
Applying Moist Metal Grip follow the application instructions. When applying multiple coats of Moist Metal Grip it is critical that each coat firmly adheres to the substrate before the next coat is applied. Depending on the ambient and surface temperatures, it may take longer than a 24 hour recoat application window.
Give a minimum of 6 hours in full sun before applying Enamo Grip over the top. Enamo Grip needs 6 hours in the sun, not submerged in water so it can bind to the Moist Metal Grip. If submerged to early it will chalk and remain soft. Once Enamo Grip is cured (about 3 days) it will be clear (if not coloured product).
Enamo Grip won't chalk if it's given 5-6 hours in the sun or heat applied.
When applying Enamo Grip make sure the surface is completely dry. If bubbles appear apply a second coat of Enamo Grip clear the next day to soften the surface film and allow the bubbles to escape.
Enamo Grip can go over Moist Metal Grip with a window before three days. The Moist Metal Grip epoxy starts to set up and tighten closing the pores that the Enamo Grip can glue to. If longer than 3 days you will need to sand the surface to remove all gloss.
Fibreglass boats
When applying over fibreglass for hull of a boat use Chlor Rid® to remove all salts and then apply Enamo Grip making sure the surface is dry. Allow 5-6 hours in the sun then return the boat to the water. Will continue curing 2 days after while submerged.
Above water surface
When you combine Moist Metal Grip and Enamo Grip for metal or just use Enamo Grip over the top of fibreglass for example, you have long term solutions to antifouling.
Results
Peter applied Moist Metal Grip in November 2019 and is aiming to take his boat out of the water again in April or May 2021 he stated "We saw the boat the other day (12 months in) and scraped some stuff of the sides with a timber oar. Came off easily, and no stain. Looked pretty white and clean".