RUST GRIP® Coating for Australian Standards
SSPC Paint 41
Rust Grip® is a revolutionary coating; advanced for Australia Standards 2312.1 for paint coatings. Rust Grip's formulation is like no other coating in the world. It is both patented protected and highly unique. Working with the manufacturers, Superior Products International II. Inc. we categorise Rust Grip® as SSPC Paint 41.
Surface Preparation
For Surface Preparation, Rust Grip® is surface tolerant like the mastic but instead of a glue its a penetrating solvent which goes into the pores of the metal, thus the encapsulation.
So, in essence, it does everything in SSPC Paint 41 and more, which is why when the US Army tested other SSPC Paint 41 coatings, no other coating passed both corrosion and adhesion.
For Surface Preparation we can go ST 3, Sa 1, Sa 2, Sa 2.5, but in our opinion, it is Sa 1 (NACE 4), unless you have brand new steel with mil scale in which case it needs Sa 2 (NACE 3).
DFT is 100 micron each coat, 3 coats = 300-micron total DFT, if you need a colour substitute the 3rd coat of Rust Grip® for our epoxy Enamo Grip® at the same DFT, so that your system is always 300 micron DFT either all 3 coats as Rust Grip® or Rust Grip®, Rust Grip®, Enamo Grip®.
When it comes to system life span add 5 years on top of what PUR 6 already has on C2-C4 = 25+ on C5 I and M = 5-10.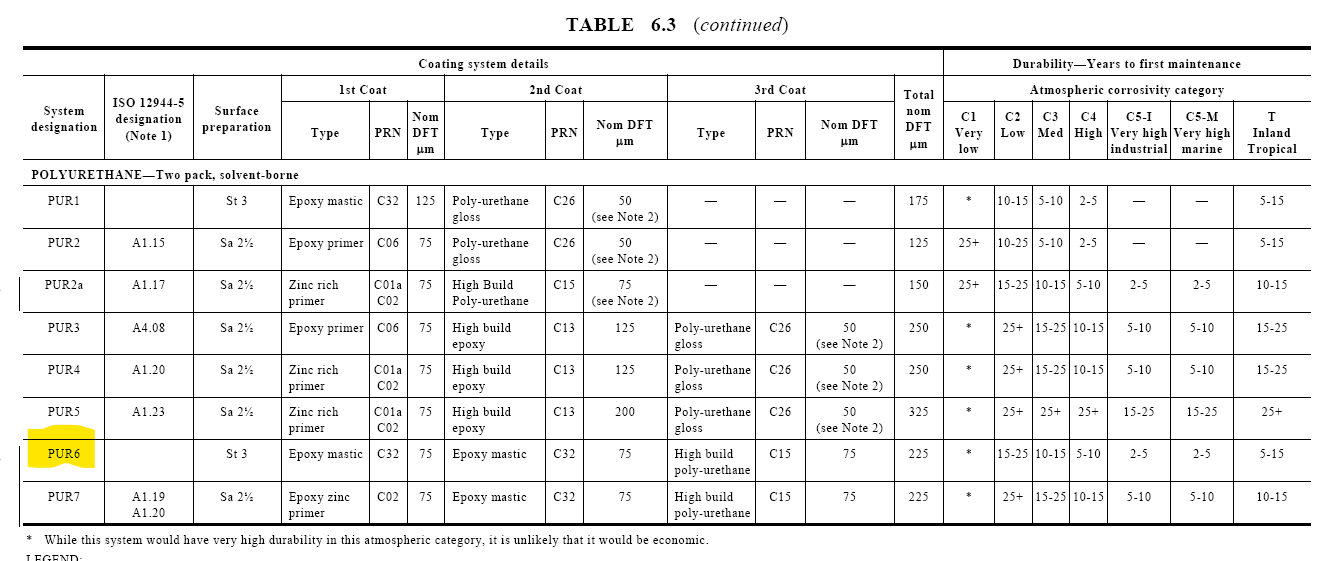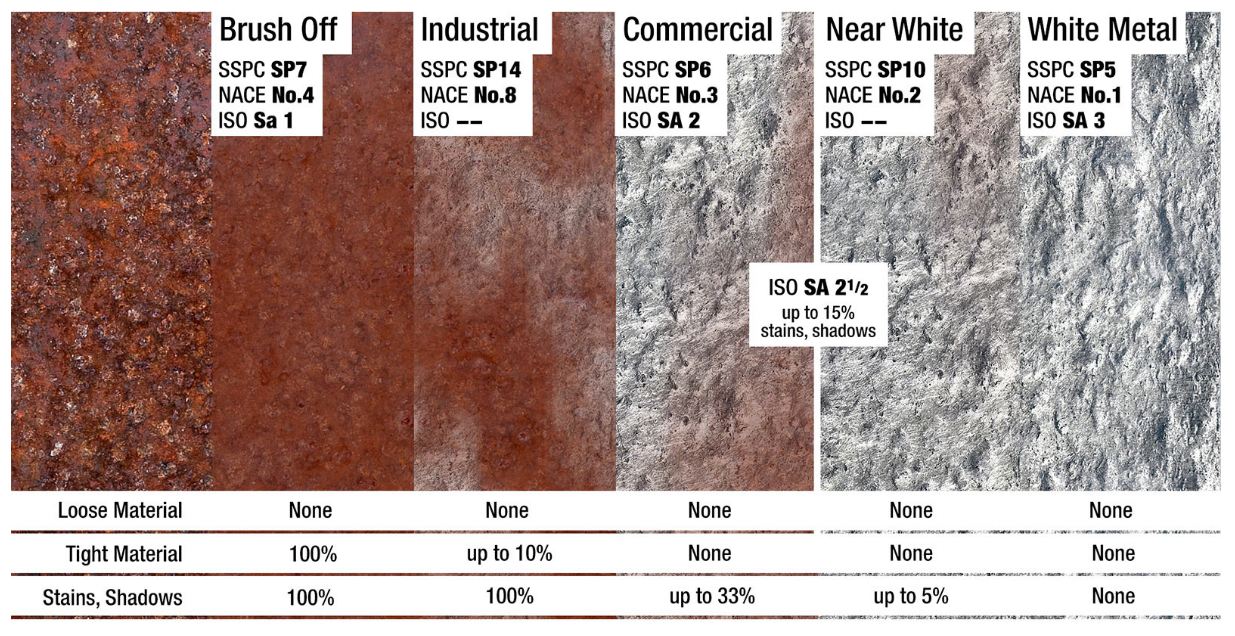 Longevity
In the US ASTM E 1795 is the EPA approved test for encapsulating lead-based paint. Because Rust Grip® is a penetrating coating, after a lead-based paint surface is coated you can essentially demolish the structure without risk of lead rust becoming airborne. SPI (manufacturer) that we have not yet had an instance since 1988 from Rust Grip's development where it has failed when applied correctly.
Essentially Rust Grip® fully encapsulates the lead paint or asbestos and disarms its hazardous state.
We also have the 15,000 salt fog test for Rust Grip® ASTM B117 equivalent to 30 years with no signs of effect.
Rust Grip® can become almost 6780 psi tensile strength so it can take incredible abuse and abrasion unlike normal paints, due to the aluminium flakes and tough additives which fuse, bond and penetrate with the rust and lead paint.
Every country is different, however in Saudi Arabia Rust Grip® was approved for a warehouse application, in fact they sent a cargo plane to the USA to haul a full container by AIR back to Saudi Arabia.
Summary
One of the main points is that Rust Grip® can eliminate sandblasting which is a major cost, labor problem and environmental hazard as well as give the longevity and performance as tested and proven worldwide.
We're very confident you're looking at the best solution and there's a huge amount of information worldwide from independent global companies and testing showing Rust Grip's innovation and results since the early 1990s. NEOtech Coatings know it can be a challenge getting your head around this innovative product as it stands alone in the marketplace, however it's very much a proven way of addressing long term serious corrosion and encapsulation challenges much easier, safer, quicker and cheaper.
Contact NEOtech Coatings for more information about RUST GRIP®
Contact NEOtech Coatings regarding RUST GRIP®