Rust Grip Testing
Rust Grip® has a been extensively tested both in the lab and in the field. It has a long track record of success over a wide range of industrial and commercial applications around the world.

Maritime Approvals:
Certified IMO (Internat'l Marine Organization)
Rust Grip® is a one-coat, patented encapsulation—interior and exterior—surface protection coating that also acts as a full containment covering single component urethane formula applied directly to rust or blasted metal surfaces. 6780 psi surface tensile strength. Pull test results in the field and lab average 1200 psi and in the field over blasted surface at 2200 psi. Extremely tough, anchors itself inside the pores of the metal surface or surface rust to block moisture and air from developing corrosion. Simple to use and extremely effective against all corrosive environments. Applied only to completely dry surfaces.
Rust Grip® is a patented, unique aluminium nanoparticle galvanic protection and substrate encapsulation coating…not a surface glue. It's second to none which means you're protected for a very long time!
Rust Grip® Rated No. 1 by the Society of Petroleum Engineers
A long-term lab and field study by Chevron published by the Society of Petroleum Engineers, tested 18 different coatings on drill pipes for eight years. Drill pipes are the toughest environment anyone can ever imagine and Rust Grip® was the top performer. In that paper they highlight the cascading benefits that came from solving the corrosion problem. You solve the corrosion problem, that's already millions of dollars in savings and then because you're not having to swap out these drill pipes so often, you're saving millions in logistics. NACE Testing Read more >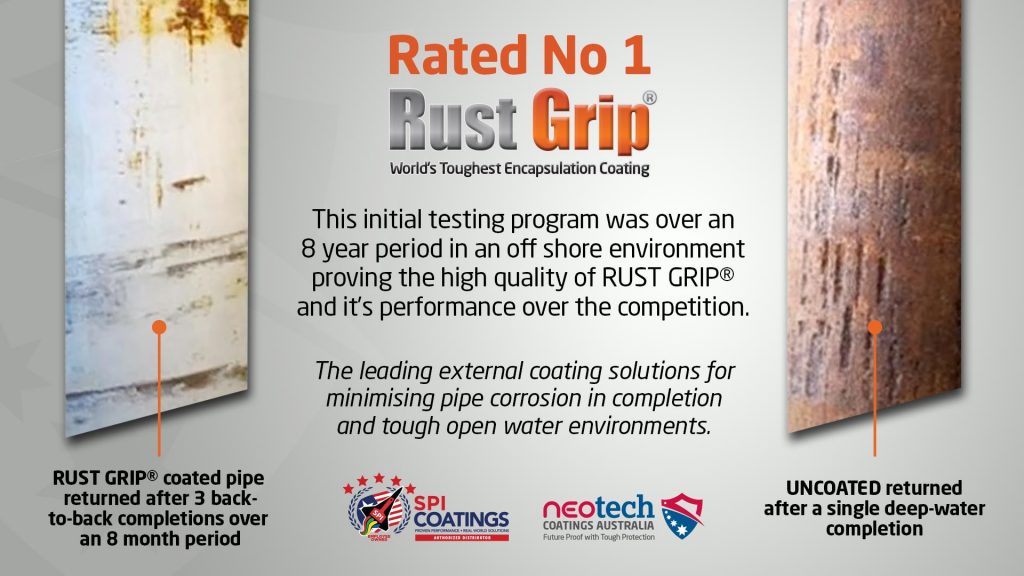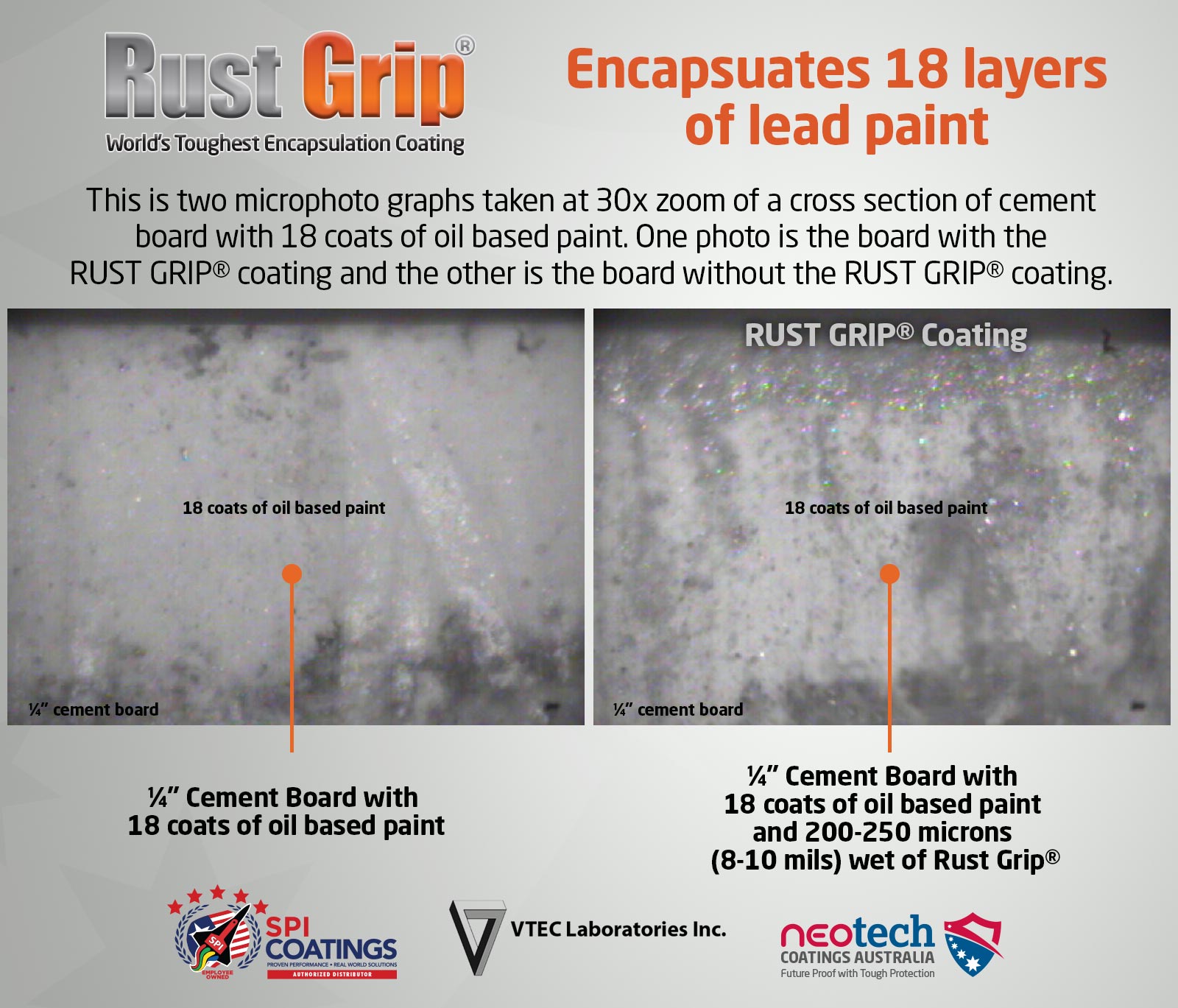 Rust Grip Test Reports
Rust Grip® ASTM 1795 Leaded Painting in Building – (4.9mb pdf)
Rust Grip® ASTM 6904 Wind and Rain – (240kb pdf)
Rust Grip® ASTM 7088 Hydrostatic Pressure – (290kb pdf)
Rust Grip® and Super Therm® ASTM E108 Spread of Flame on Metal – (610kb pdf)
Rust Grip® Mississippi River Bridge CorrTech Report – (7.6mb pdf)
Rust Grip® USDA letter for use around food – (29kb – pdf)
---
US Army Corps of Engineers SSPC Paint 41 Test Report – (1.1mb pdf)
---
Rust Grip Testing – VTEC Labs – (650kb pdf)
Rust Grip® was applied to 11 gauge steel plates at 6 wet mils, dry thickness average 2.5 mils. The specimens provided met all requirements per IMO Resolution A.653(16) for bulkhead, wall and ceiling linings, and floor coverings – more >
---
Rust Grip 20 week scribe corrosion test – (198kb pdf)
Testing Results for Rust Grip® Coating After 1000, 2000, and 5000 Hours of Exposure in Ultraviolet and Salt-Spray Chambers – more >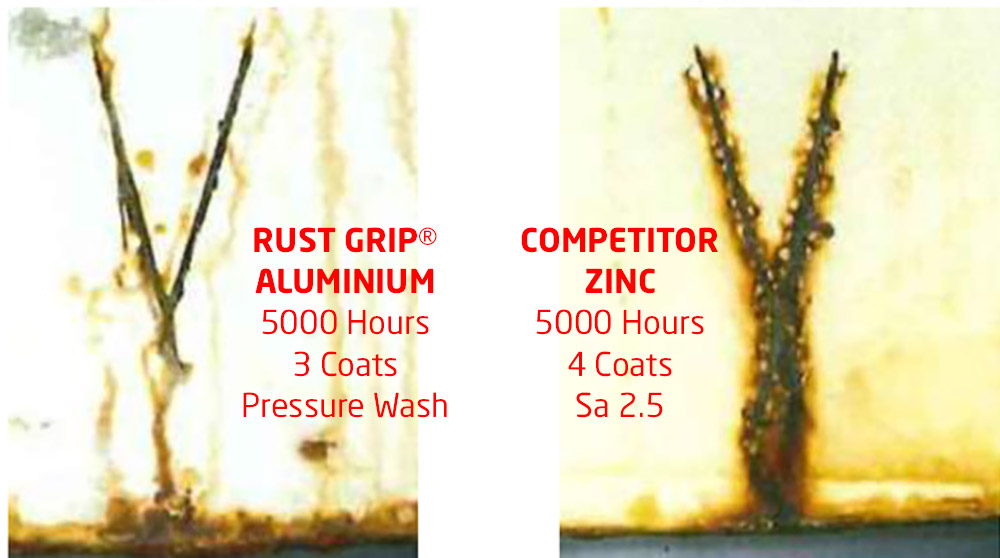 ---
Bridge Testing with Rust Grip – Transport SA – (450kb pdf)
The conclusions drawn from this investigation were as follows:
---
Transport SA Rust Grip Pull Off Testing Rust Grip Enamo Grip – (191kb pdf)
Dennis Richards : June 2007
TGO5 – Coatings and Corrosion Control
Materials
Pavements and Structures
Department for Transport, Energy and Infrastructure
Both Rust Grip® and Enamo Grip did lock and adhere to the substrate as required and showed no deterioration over a full seven year period in service.
The one thing that we have noticed from other applications in the field and test performed is that when the Rust Grip® is applied directly over the Lead-Based paint without having the Alkyd MIO present, the Rust Grip® would penetrate completely through the Lead-Based Paint and lock down the existing coating to the point of having a pull strength of MPa 6 or above. Having the Alkyd paint layer prevented to some degree the penetration that we normally have and allowed the Lead-Based paint to fail at lower pull strength because the Rust Grip® had not penetrated through it to help attach to the substrate beneath it.
We have bridges that are 12 years old and show no deterioration of the Rust Grip® and combination of Rust Grip® and top coat of Enamo Grip. Both systems are showing a possible 20 year system without failure.
I would have liked to have had the Rust Grip® applied directly over the Lead Based Paint to show how well it can penetrate through it and strengthen the entire system to the substrate, but I think everyone can see the strength and durability it brings to the bridge substrate or any surface it covers.
---
CSIRO Rust Grip Pull Off Adhesion Tests – (120kb pdf)
The substrates supplied were coated with Rust Grip in accordance with the manufacturer's recommendations. The coating was allowed to cure for a period of 3 weeks before the pull off adhesion was undertaken.
AS/NZS 1580.408.5:1994 'Adhesion – Pull-off test was used to determine the adhesion of the coating to the metal substrates. The Elcometer 106-1 (SN 1001) calibrated 19/09/2005 Range 0.5 to 3.5 Mpa was used. A two-part epoxy adhesive was used to stick the dollies in place and allowed to cure for 3 days. The testing was conducted in the laboratory under routine testing conditions. Full report >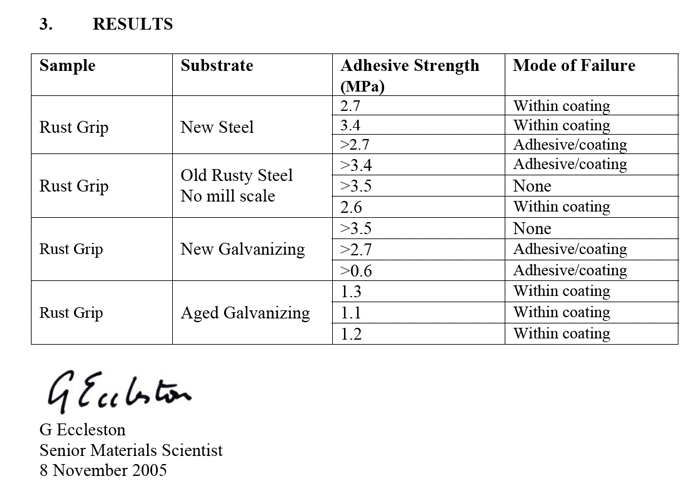 ---
Contact NEOtech Coatings regarding Rust Grip®