Rust Grip®
The High Performance Tough Permanent Encapsulation Coating Solution
RUST GRIP® – Encapsulation Coating for Corrosion, Lead Paint & Bio-hazards – Case Studies
RUST GRIP® is a one-coat, patented encapsulation—interior and exterior—surface protection coating that also acts as a full containment covering single component urethane formula applied directly to rust or blasted metal surfaces. 6780 psi surface tensile strength. Pull test results in the field and lab average 1200 psi and in the field over blasted surface at 2200 psi. Extremely tough, anchors itself inside the pores of the metal surface or surface rust to block moisture and air from developing corrosion. Simple to use and extremely effective against all corrosive environments. Applied only to completely dry surfaces.
Aluminium nanoparticle galvanic protection and substrate encapsulation…second to none means your substrate is protected!
Rust Grip rated #1 by the Society of Petroleum Engineers
A long-term lab and field study by Chevron, published three months ago by the Society of Petroleum Engineers, tested 18 different coatings on drill pipes for eight years. Drill pipes are the toughest environment anyone can ever imagine and Rust Grip® was the top performer. In that paper they highlight the cascading benefits that came from solving the corrosion problem. You solve the corrosion problem, that's already millions of dollars in savings and then because you're not having to swap out these drill pipes so often, you're saving millions in logistics.
Formed by aluminium nanoparticles, RUST GRIP® not only generates barrier protection, but also galvanic protection and encapsulation of the substrate. This moisture-cured polyurethane coating has been used successfully in the harshest environments; chemical fields, oil fields, oil rigs and in areas that demand resistance to the corrosive effects of day-to-day exposure. RUST GRIP® is tested to encapsulate toxic elements such as existing lead-based paint, asbestos and other biohazard materials. Passing 15,000 hours of ASTMB117 with the Top Score of 10 at only 6 dry mils and with scribe 500 hours, no blistering.
Outstanding RUST GRIP® Benefits:
Single Component – No mixing part A & B
Fast Cure – Humidity accelerates curing
Surface Tolerant – Minimal surface preparation. Excellent for minimally prepared surfaces, ie. no sandblasting is needed many times
Self Priming – "Three coats in one" system
Strength – Non leafing aluminium metallics
Easy to Apply – Brush, Spray or Roll
Summer – Apply on surfaces up to 60C
Long Shelf Life – 3 years if unopened
Protects – steel, aluminium, concrete, wood, fibreglass, lead-based paints, and other substrates
Moisture Barrier – that stops water penetration, prevents corrosion and surface deterioration, and repels dirt, mould, and mildew
Extremely tough – it makes an excellent floor coating. Hardens to 6780 psi surface tensile strength
Patented for encapsulating bio-hazardous materials – (asbestos, lead-based paint, and many hazardous materials) and existing rusted surfaces
Submergible – in 100% nitric acid without any effects. Designed to withstand acids, salts, and caustics with no loss of integrity
Class A fire coating – In case of fire, RUST GRIP® will help to prevent spread of, and will not contribute to the fire
Prevents – water penetration. Performs as a permanent moisture barrier that stops water penetration and prevents surface deterioration, contamination, and formation of mould and mildew
Paint Directly – on firmly bonded paint
15+ year lifespan – under normal conditions.
Outperforms 3-coat system
On pull testing of system, 3-coat system pulls at 150 psi (10.5 bar)
RUST GRIP system pulls at 580 – 1480 psi (40.6 – 103.6 bar)
Hardens to 6,720 psi (470 bar) Surface Tensile Strength
Replaces Old Three (3) Coat System – Zinc Rich Primer, Epoxy, and Urethane
Save 60% of total cost and time
RUST GRIP® provides protection against conditions where the surface cannot be sandblasted or worked upon extensively. It is a replacement to 3 in 1 coating systems and challenging the standard practices as a much more robust solution so clients can focus on pivotal issues rather than worrying about their assets degradation.
15,000 hour Salt Fog Test for Rust Grip
SPI Coatings coated some plates with HPC on it at 12.5mm or 500 mils. This was over-coated with RUST GRIP® to seal and prevent water and air from getting to the HPC.
They placed these plates inside a salt-spray cabinet for the ASTM B117 testing to see how well the RUST GRIP® would protect the HPC from salt spray and UV cycles.
It has been 15,000 hours and they look like the first day placed inside the cabinet. Test is ongoing.
The HPC would be both protected and there'd be zero corrosion on any pipes underneath which could manage 500-550°C internal temperatures. This is a great solution to reduce any threat of corrosion under insulation that most companies have using fibreglass jackets etc. See the Report pdf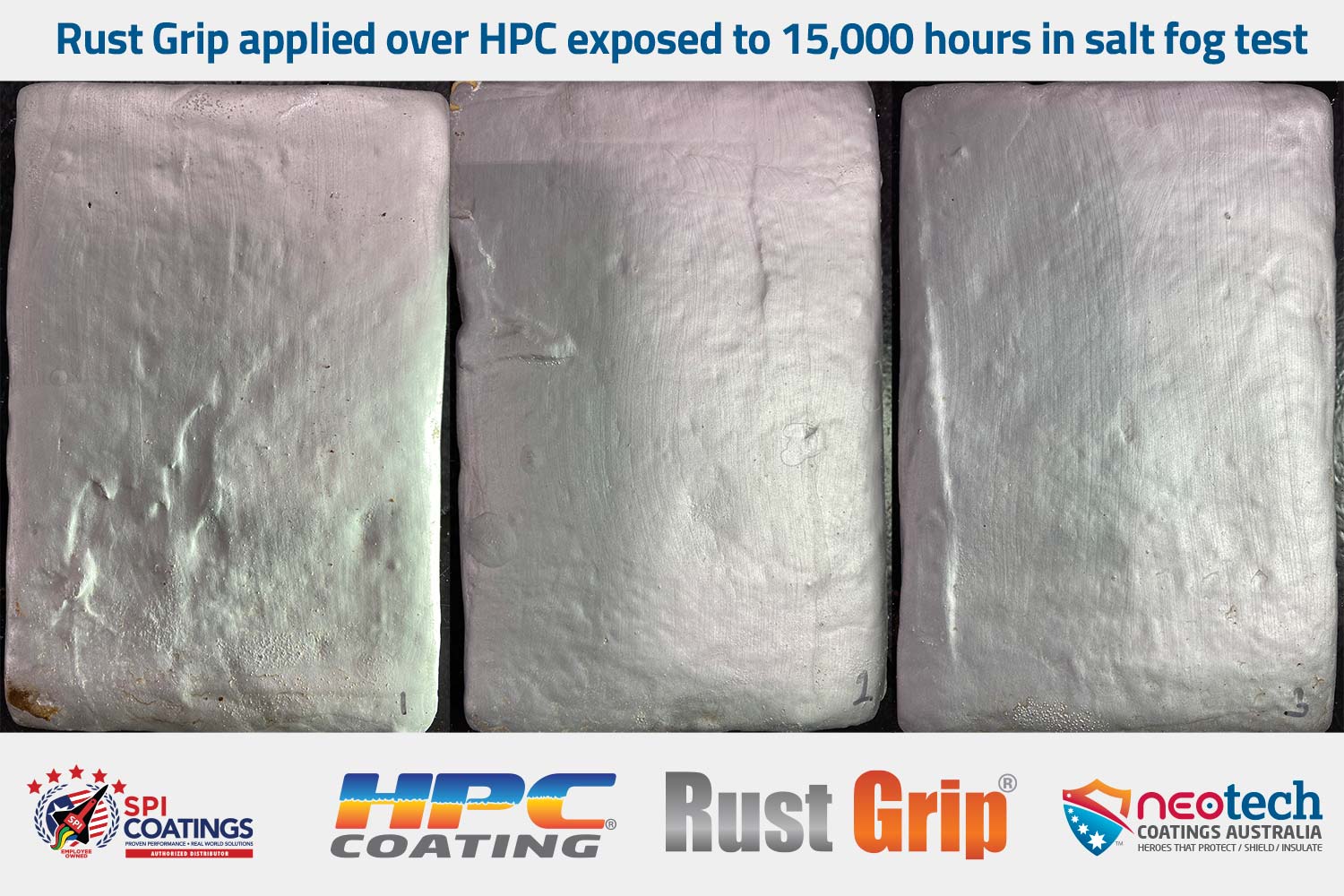 RUST GRIP® is easy to use and stops the progression of rust and corrosion, while protecting the substrate far longer than conventional, surface gluing, industrial grade rust inhibitors. With minimal preparation and no white sand blasting of the surface, Rust Grip® applies with one coat, "two applications," and penetrates deep into and seals the pores of the surface to become part of the surface profile.
Within an hour of application, RUST GRIP® begins to cure, pulling moisture from the air and microscopically swelling into the individual pores of the substrate as it hardens. This moisture absorption anchors the coating and seals against any possibility of outside air, moisture or minerals from entering the pores and attacking the surface and causing further corrosion or penetration of any kind.
RUST GRIP® is tested to encapsulate:
Rust
Lead-based paint
Asbestos
Bio-hazardous materials
Concrete Gas Encapsulation
RUST GRIP® tested and patented to seal off biohazards by incapsulating the surface and sealing it down to to a permeability of 0.24 perms. Anything less than 1.0 cannot breathe air, moisture and most gases. With the issue of Radon gases for example, 3 coats should lock it down.
Mould and Mildew
RUST GRIP® has the ability to protect against mould and mildew on surfaces that are prone to damage from prolonged exposure. RUST GRIP® creates an unsurpassed protective surface, proven time and again through onsite evaluations and real-world applications.
You would need to treat the surface with either bleach or 10-15% hydrogen peroxide to kill the mould then topcoat with 100-150 micron DFT of RUST GRIP®. RUST GRIP® has a permeability of 0.24 perms. That means it has no porosity. In the ASTM E 1795 liquid encapsulation test there are about 20 tests needed to pass to be considered an encapsulation coating. That's where the 0.24 perms comes from.
The ASTM E 1795 test verifies RUST GRIP® ability to encapsulate lead based paint. If there is paint and is flaking you will need to scrap off the loose bits as RUST GRIP® may not be able to compress it then encapsulate. The encapsulation is based on the paint that is adhering to the surface.
Testing Results
Patented encapsulation of bio-hazardous materials
Pull testing avg 1480 psi
Exceptional adhesion: ASTM 5B rating
Surface tensile strength: 6,780+ psi
Withstands temperature up to 600°F (315°C)
Certified penetration of 18 layers of existing lead-based paint
Endures 29,700 rub cycles without exposing existing lead-based paint
Passed 15,000 hour salt spray test
Test "5" on Flame Spread (0-25 Class A)
Meets EPA Guidelines
Certified water barrier: ASTM D6904 and ASTM D7088 hydrostatic & wind driven rain
Over 15+ years of successful use on oil rigs and pipe lines
RUST GRIP® can protect and seal surfaces of steel, aluminium, concrete, wood, fibreglass, and other substrates. RUST GRIP® will seal out moisture and air with a permanent membrane that stops penetration and deterioration, blocking chemical pollutants that cause corrosion and deterioration.
RUST GRIP® is reviewed and approved by these organisations:
USDA Product Safety Branch
DNV (Det Norske Veritas)
Louisiana Dept. of Transportation
Georgia Dept. of Transportation
IMO (International Marine Organisations)
ABS (American Bureau of Shipping)
US Coast Guard
Tennessee Dept. of Transportation
University of Kentucky
Application
Can pressure clean with solvent wipe down, light commercial blast, or power hand tool to remove loose flake and debris before applying. Possible alternative to abatement of lead paints. Surfaces should be clean, dry and sound. Existing surface dirt, oil, tar, grease and film should be removed from surface by approved methods (TSP-Tri-Sodium Phosphate or equivalent) prior to application of RUST GRIP®. MUST BE COMPLETELY DRY.
RUST GRIP® Temperature/Humidity Chart
Approximate Time to Overcoat Window
| Relative Humidity | 32°C | 21°C | 10°C |
| --- | --- | --- | --- |
| 90% | 1 hour | 1.5 hours | 2-3 hours |
| 80% | 1 hour | 1.5 hours | 2-3 hours |
| 60% | 1.5 hours | 1.5-2 hours | 3-4 hours |
| 40% | 1-2 hours | 2-4 hours | 6-8 hours |
| 30% | 2-3 hours | 3-6 hours | 10-14 hours |
| 20% | 6 hours | 8-10 hours | 12-16 hours |
| 10% | 12 hours | 12-18 hours | 18-24 hours |
These are rough estimates and are due to fact that coating in uncontrolled conditions results in many variables that can effect these times. Weather can often change significantly over the time periods. Download pdf
Times are estimates of how long it will take RUST GRIP® to enter the overcoat window when the next coat may be applied. The definitive test for when RUST GRIP® may be over coated remains the "touch" test when the coating may be touched with no colour transfer, and no damage with thumbnail.
Important
Stir product thoroughly before using. RUST GRIP® can be applied by brush, roller or spray equipment. It should be applied evenly without buildup.
CAUTION: Wear gloves and protective clothing. Extremely tough to clean off skin. Throw away brushes and rollers after use. Wear eye protection.
SOLVENT: Clean-up or reduction, use MEK or MIBK. If sprayed, keep solvent ready to clean equipment before breaks (lunch hour) or at conclusion of job. *CLEAN IMMEDIATELY OR WILL RUIN EQUIPMENT.
When storing RUST GRIP® as it's moisture cured use Nitrogen gas to expel oxygen in the tin to keep the coating from curing.
Performance and Properties
| | |
| --- | --- |
| USDA Approved: | Lead – and chromites-free (safe around foods) |
| Surface Application: | All |
| Coverage: | 100 / 400 Sq. ft per gallon |
| 45% Solids: | 5-8 wet mil coat, 2-4 dry mil (1 mil = 1/1000 inch) will cover (200 sq.ft./gal.) |
| Spread: | 1-2 dry mil on metal will cover (400 sq.ft./gal.) |
| Dry Time: | 45 minutes to touch. Overcoat within 1 to 4 hours. |
| Note: | Will accept other coatings such as SUPER THERM®, but will not accept itself after 4 hours). |
Cautions and Warning
Wear skin and eye protection. Do not take internally. Avoid contact with eyes. If solution does come in contact with eyes, flush immediately with water and contact a physician for medical attention. Avoid prolonged contact with skin or breathing of spray mist. KEEP OUT OF REACH OF CHILDREN. This is a flammable liquid. Keep away from flame or fire or other sources of ignition.