Rust Grip®

Rust Grip® No More Corrosion! Over 20 Years Rust Protection!
Rated No 1: Rust Grip® is a high performance, tough, aluminium based easy, moisture cured polyurethane encapsulation coating; corrosion, lead paint, asbestos and bio-hazards.
Aluminium; Not Zinc is the future!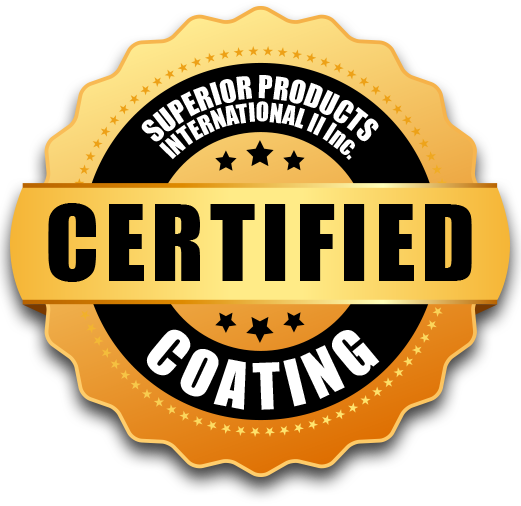 Rust Grip® was specifically developed in the field to stand up against the harshest environments demonstrating excellent performance and a paradigm shift in corrosion coatings technology. Rust Grip® adds 6780psi / 470 bar surface tensile strength to a surface including corroded steel surfaces, concrete, porous or solid surfaces. It is a single component and easy to apply.
Rust Grip® has a history in oil/gas, railway tracks and equipment, truck bodies and frames along coastal areas, farming equipment, animal facilities, heavy industries. Wherever it is applied, it "encapsulates" the surface by sealing off any air and moisture penetration by having only a 0.24 permeability. Very unique industrial grade coating for stopping corrosion development and gives long term asset protection.
Rust Grip® is a tough, one-part, moisture-cure polyurethane coating that absorbs atmospheric moisture to cure. It is patented and loaded with unique aluminium pigments (not zinc) for strength and is also resistant to chemical solvents and acid splash.
As a solvent, Rust Grip® completely fills the pits, cracks and pores of the metal substrate unlike a surface topical glue coatings, then using the atmosphere anchors in, cures, seals and encapsulates against any possibility of outside air, moisture or minerals from entering the pores and attacking the surface and causing further corrosion or penetration of any kind.
Rust Grip® is tested to encapsulate:
Corrosion – including Flash, Mill Scale and Pack Rust
Bio-hazardous materials
Rust Grip® may be applied to metal, concrete, fibreglass or wood and is extremely easy to use, fast and labor saving. Upon curing, Rust Grip® provides a very, very tough protective coating of superior adhesion and flexibility, and is resistant to abrasion and impact and can be used as a primer or as a one-coating system and is patented to encapsulate lead-based paints, asbestos and bio-hazards. It can be applied over pressure-washed, completely dry flash rust and firmly bonded commercial paints. In most cases, a white or near-white blasting is not required. A light to medium surface rust is preferred as the profile.
Rust Grip's coating premium advantages are:
One-Coat System
Limited Surface Preparation
Encapsulation
High Surface Tensile Strength
Rust Grip® offers a simple solution for true encapsulation. A one-coat system that can be applied over a variety of surfaces that meets or exceeds stringent registrations, certifications and testing is truly a paradigm shift that lasts over 20 years. We know you'll love the results!
Rust Grip® Rated No. 1 by the Society of Petroleum Engineers
A long-term lab and field study by Chevron and Workstrings International published by the Society of Petroleum Engineers, tested 18 leading coatings on drill pipes for eight years. Drill pipes are the toughest environment anyone can ever imagine and Rust Grip® was the top performer. In that paper they highlight the cascading benefits that came from solving the corrosion problem. You solve the corrosion problem, that's already millions of dollars in savings and then because you're not having to swap out these drill pipes so often, you're saving millions in logistics.
"Beyond the goal of eliminating corrosion and pitting-related damages, the introduction of externally coated completion tubulars has facilitated a paradigm shift in the way operators manage rental completion tubulars."
"This coating system provides a trouble free solution and significant cost savings to the operator and pipe rental company through reduction in pipe repairs and damages; loss of capital assets; and rig time due to pipe issues, fluid issues and corrosion issues."
"The savings realized in connection repairs alone is estimated to exceed $250,000 per well."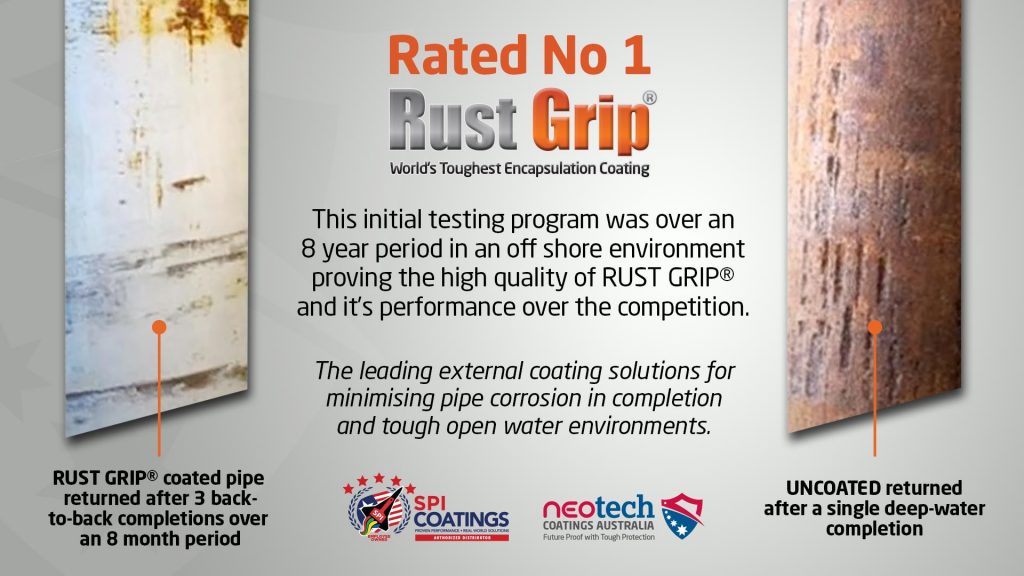 Why Rust Grip® is the World's Best Corrosion and Encapsulation Coating
Rust Grip® used in Australia since 1997
Single Component – No mixing part A & B; no pot life, no catalyzation
One-Coat System
Fast Cure – humidity accelerates curing – ie over 40% humidity 3 coats in a day – micro climate is the key
Surface Tolerant – Unique for a Polyurethane Rust Grip® on any surface. Minimal surface preparation. Excellent for minimally prepared surfaces, ie. no sandblasting is needed many times
Embeds and Encapsules; Not just a surface coating
Limited Surface Preparation
Self Priming – "Three coats in one" system
1 Product shows up to the job site
Strength – Non leafing aluminium metallics
Permeability Rating – 0.24 (below 0.5 is excellent)
UV Protection
EPA Approved
Surface Tensile Strength – 6,780+ psi (478 bar) surface tensile strength. It makes an excellent floor coating
No More Zinc – Aluminium is a stronger and better long-term investment
Easy to Apply – Brush, Spray or Roller
Endures 29,700 rub cycles without exposing existing lead based paint
Higher Surface Temperature – 60°C (Zinc has maximum temperature at 50°C) – more time for application in the heat
Protects – steel, aluminium, concrete, wood, fibreglass, lead-based paints, and other substrates
Moisture Barrier – that stops water penetration, prevents corrosion and surface deterioration, and repels dirt, mould, and mildew
Long Shelf Life – 3 years if unopened
Patented for encapsulating bio-hazardous materials – (asbestos, lead-based paint, and many hazardous materials) and existing rusted surfaces certified (ASTM E1795) Biohazard Encapsulator
Breaks The Rules – Minimum Surface Preparation = Better Results
No Hot Permit Required – (60% of the cost reduced in the surface preparation removing clean up, containment, sound as factors)
Use in Dangerous environments – Use No Spark Hand tools for preparation of Corrosion and High Pressure Water 6000+ psi removes loose corrosion
Submergible – in 100% nitric acid without any effects. Designed to withstand acids, salts, and caustics with no loss of integrity
Class A fire coating – In case of fire, Rust Grip® will help to prevent spread of, and will not contribute to the fire
20+ year lifespan – under normal conditions
Passed 15,000 hours (= 30 years) of salt spray testing which far exceeds the marine specifications with a perfect 10 score with no corrosion development (ASTM C117)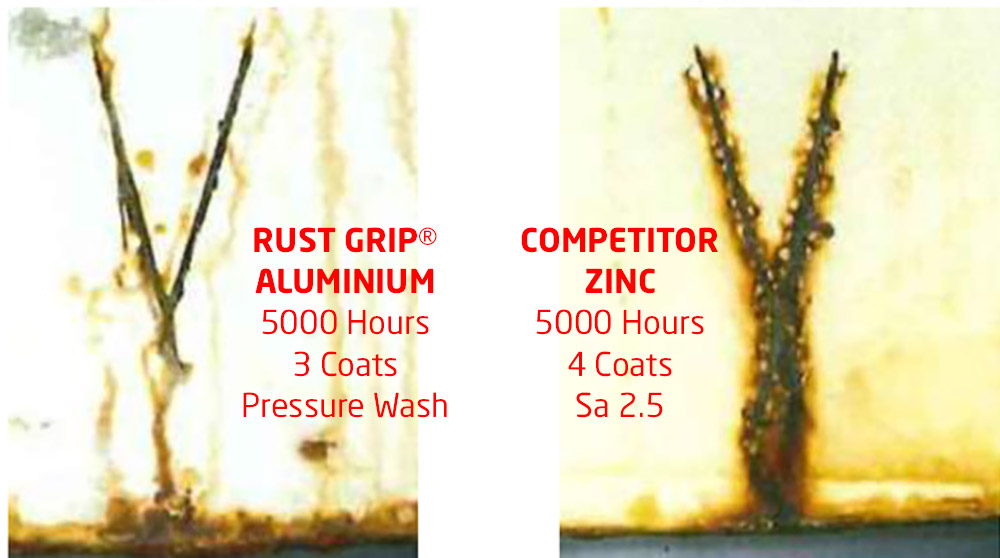 Some Companies using Rust Grip® Globally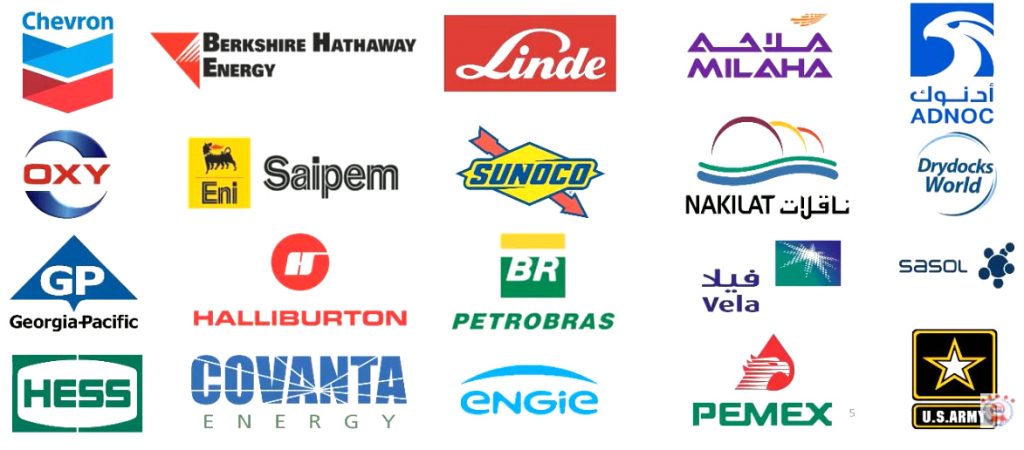 Rust Grip anti corrosive coating gives new life to Indian Railways coaches
Rust Grip, 'One Part' universal anti corrosive paint system gives a new life to LHB coaches at Sonipat Rail Coach refurbishment facility.
Rust Grip was selected by RCNK to have a longer asset life of the LHB coaches for the coach structure, precisely the under frames, bogie bolsters and the end walls.
"Rust Grip optimally does away with corrosion. Further, given its properties of one pack system it drastically curtails application costs and time. With the given, one pack characteristics, more numbers of coaches and wagons can be refurbished. This commensurately results higher the rolling stock out turn volumes as there are capacity constraints at most of the Indian Railway workshops given the very high work load at present". Mentions Mr. Anil Kumar.
More information see RIT Coatings India or read the article (pdf). See how Super Therm is used on Indian Railways.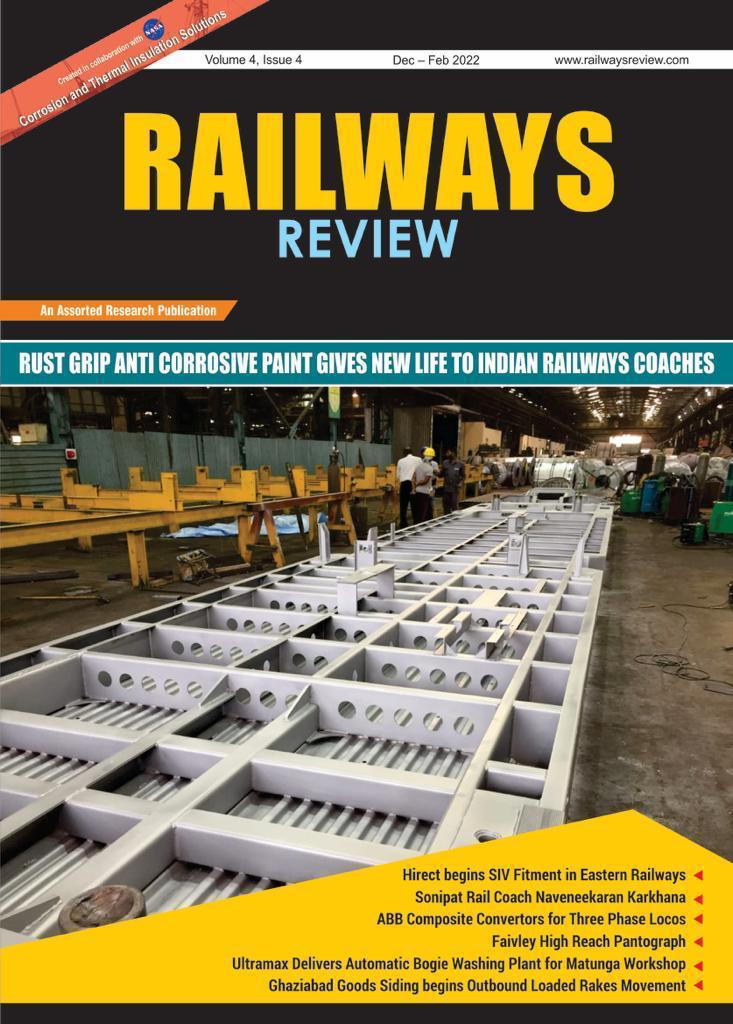 Outperforms 3-coat system
On pull testing of system, 3-coat system pulls at 150 psi (10.5 bar)
Rust Grip® system pulls at 580 – 1480 psi (40.6 – 103.6 bar)
Hardens to 6,780 psi (47.3 MPa / 478 bar) Surface Tensile Strength
Replaces Old Three (3) Coat System – Zinc Rich Primer, Epoxy, and Urethane
Save 60% of total cost and time (savings may vary)
Traditional Zinc coating
Rust Grip® Aluminium coating
Installation
• Requires lengthy sandblasting
• Minimal surface preparation
Application
• Involves multiple coats Epoxy
• 3 Coat Systems
• 4 Coat Systems
• Polyurethane moisture-cure metallic, that cures faster. The higher the humidity the faster the curing
• Total application time maybe reduced by 75%
Moisture Prevention
• Limited protection from mould and mildew
• Stops water vapor transmission through electro-chemical freezing
Longevity
• Shorter lifetime endurance
• Penetrates deep into pores of surfaces
Corrosion
• Not effective at blocking long-term degradation
• Adds strength to weakened surfaces
Repair and Maintenance
• Requires continual repair or complete overhaul
• Reduced surface preparation and efficient application yields cost savings
Surface Preparation
• Sand Blasting
• Sa 2.5, NACE2, SSPC10
• Cost is reduced due to high surface tolerance of Rust Grip®
• SSPC1+SSPC2+SSPC3, St.2+St.3
•

Grit/Garnet cost eliminated or reduced by up to 75%

Encapsulation
• Unable to encapsulate
• Encapsulation of Asbestos, Lead-based paint and Biohazards
Configuration
• Multi-component system with various mixing ratios
• Self priming
• Single-component system consists of only Rust Grip®
Performance
• Limited Performance
• Cannot match Rust Grip®'s Laboratory or field performance
Perfect Score:
• ASTM B117 Salt Spray Fog Test: 15,000 hours = 30 years
• ASTM D5894 Standard Practice for Cyclic Salt Fog/UV Exposure of Painted Metal; 10,000 hours
• ASTM E1795 Standard Specification for Non-Reinforced Liquid Coating Encapsulation Products for Leaded Paint in Buildings
Unique Encapsulation Coating
Rust Grip® is tested to encapsulate toxic elements such as existing lead-based paint, asbestos and other biohazard materials. Passing 15,000 hours (= 30 years) of ASTMB117 with the Top Score of 10 at only 150 microns dry (6 mils) and with scribe 500 hours, no blistering.
Rust Grip® instantly seals, strengthens and protects, while stopping rust and corrosion in its path!
Global Organisations using RUST GRIP®
Halliburton – One of the world's largest oil field service companies
Eni SpA – Italian multinational oil and gas company
Pemex Oil – Mexican state-owned petroleum company
Saipem SpA – Italian multinational oilfield services company
Chevron – American multinational energy corporation
Saudi Aramco Oil – The Saudi Arabian Oil Company
Gazprom Oil – Russian state-owned oil producer
Petrobras – State-owned Brazilian multinational corporation in the petroleum industry
Shell Global – Group of energy and petrochemical companies
ExxonMobil – American multinational oil and gas corporation
Rowan Companies, Inc. – leader in domestic and international oil drilling
Drydocks World – Dry docks facility located on the Persian Gulf, Dubai, United Arab Emirates
Ecopetrol – State owned Colombian petroleum company
Mubarak Marine – Marine and offshore service organization based in Dubai
Berkshire Hathaway Energy – Power and energy distribution companies
Workstrings International – The only global provider of (high-specification) downhole rental tubulars and accessories for drilling
United States Army
Taiwan Navy
Rust Grip® is reviewed and approved by these organisations:
USDA Product Safety Branch
Louisiana Dept. of Transportation
Georgia Dept. of Transportation
IMO (International Marine Organisations)
ABS (American Bureau of Shipping)
US Coast Guard
Transport South Australia
Exova Laboratories
Petrobras
Tennessee Dept. of Transportation
University of Kentucky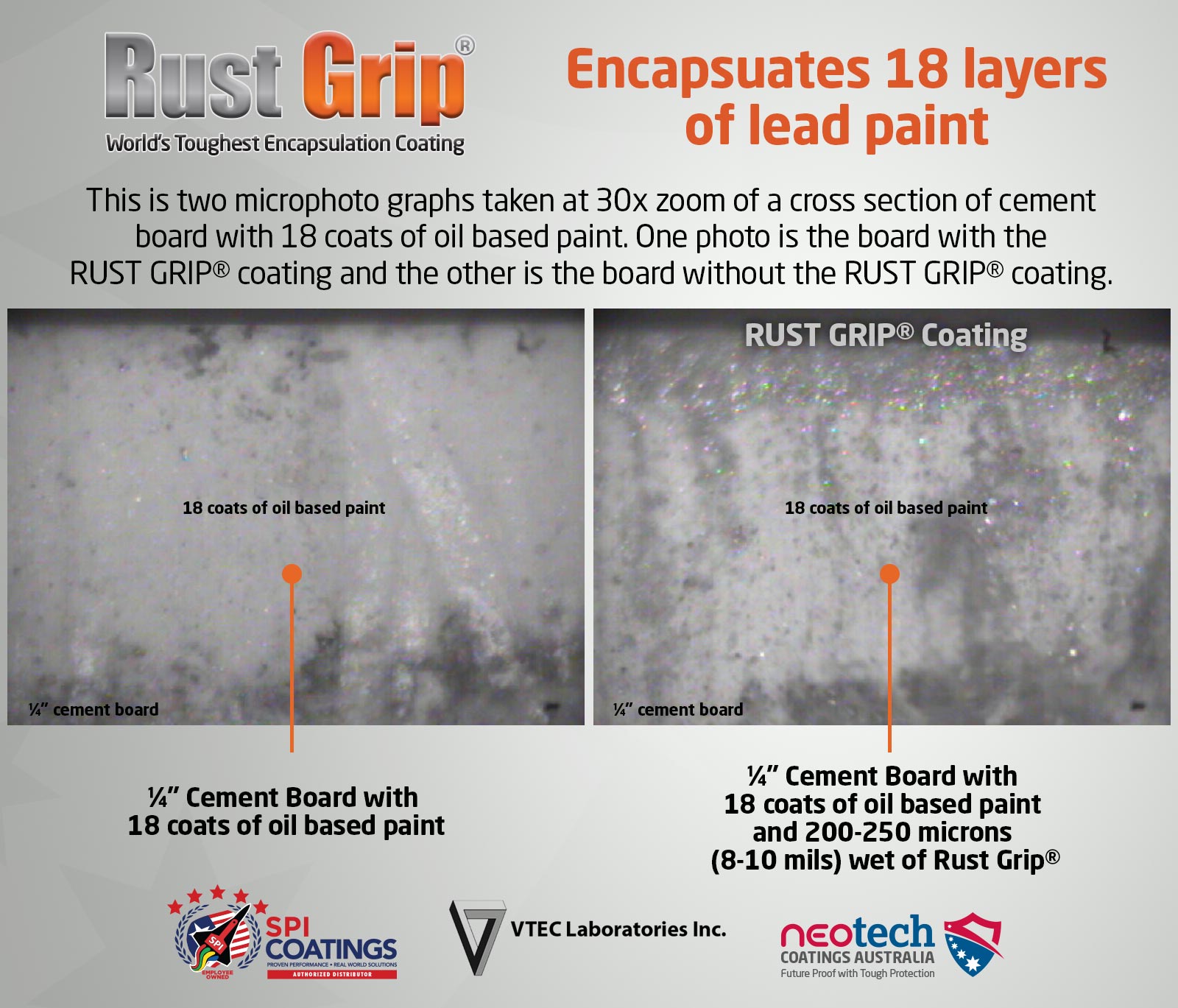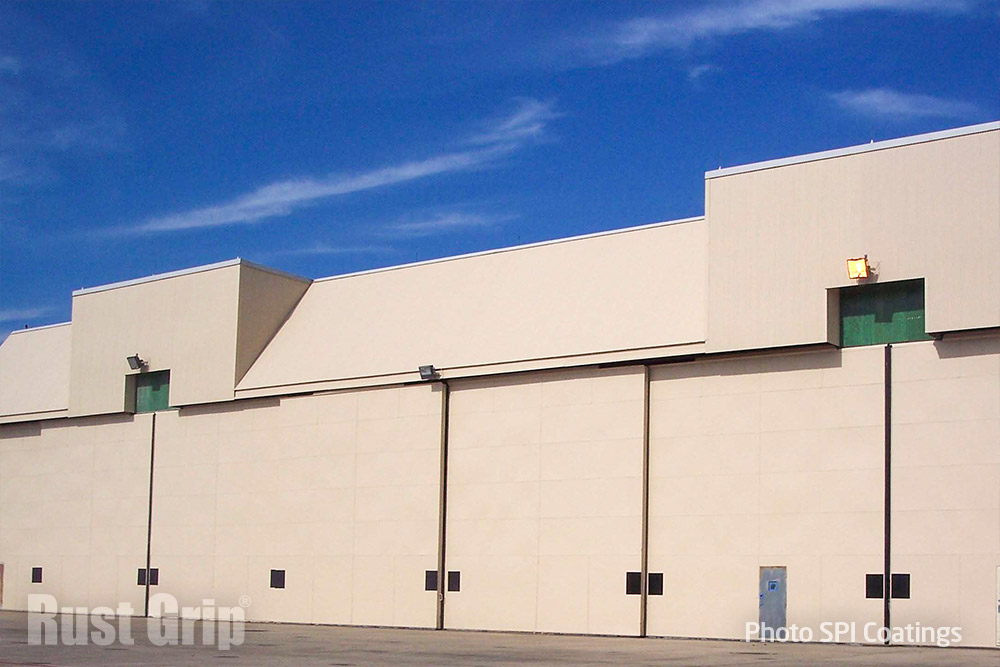 Numerous steel structures such as water tanks, bridges, aircraft hangars, antennas, ladders, poles, railings, catwalks, fire hydrants, fuel storage tanks, and metal buildings were constructed or installed with lead-based coatings. The removal of lead-based paint from steel structures is currently accomplished through a variety of methods, the most common being abrasive blasting.
Prior to recoating steel structures, abrasive blasting is required in order to remove the old lead-based paint and to provide adequate surface profile for bonding the new paint to the substrate. During abrasive blasting, a tight containment structure is required to prevent lead dust from contaminating air, soil or water. Inside such containment structures, increased worker protection is required due to high lead dust concentrations. The large, concentrated volume of waste generated by abrasive blasting is hazardous and requires additional stabilization treatment prior to disposal. RUST GRIP® eliminates sandblasting. Read More >
Rust Grip® v Hot Dip Galvanising
Marine Corps Air Ground Combat Center Twentynine Palms
The Marine Corps Air Ground Combat Center, also known as 29 Palms, is the largest United States Marine Corps base. It is owned by The Department of Defense which is America's largest government agency. It is officially known as Twentynine Palms Base in southern San Bernardino County, California. Upon building new structures on the base, Rust Grip® and Enamo Grip® were chosen because it was a great option versus hot dip galvanising for several reasons:
Replace the galvanising process which is toxic
Hot Dip Galvanising can possibility distort steel over large spans
Rust Grip® application accelerates the schedule of building construction
Rust Grip® reduces the costs for buildings
Rust Grip is a green product and innovative process
Rust Grip® vs Surface Coating and Galvanized Metal
With solvent carriers that allow it to penetrate deep into the pores of surfaces, Rust Grip® outperforms typical surface coatings. Traditional coatings adhere to roughness on the surface layers and are susceptible to wearing over time. Oxidation and acid rain can enter and begin corrosion, even though the surface coating remains intact.
After it penetrates, Rust Grip® draws moisture from the atmosphere which reacts with the active ingredients of the base component. This results in a gassing effect of the molecules and expands them swelling into all the pores to block out air, gasses, and moisture and to encapsulate the surface. The surface cannot breathe, cannot get moisture, and cannot oxidize again.
When other corrosion coatings are applied to surfaces after a completed white metal blast, corrosion redevelops after only 6 months to 2 years under the coating film, causing bubbles on the surface from the corrosion off-gassing.
Galvanized metal and re-galvanized metal has been hot pressure treated with zinc oils. Galvanization doesn't anchor itself inside the pores, but stays on the surface. Therefore, galvanized metal lacks the strength and durability of Rust Grip® and can start to re-corrode in as little as 2 years. In hot climates (as per US Government Reports), the galvanized metal will crack, peel and deteriorate quickly and over long spans it can also warp or buckle beams.
A surface coated with Rust Grip® is strong and resilient. It is a durable coating that offers long life in extreme conditions, outperforming galvanized surfaces. It's designed to last over 20 years or more in the toughest environments without a topcoat (source).
Big step on replacing Galvanising to stop corrosion
Douglas Pearce, our colleague distributor in Canada was able to get Rust Grip® specified in place of using galvanising. This is a very big step for Rust Grip® to replace galvanising to stop corrosion. Download: Dalhousie University 2018-124 Addendum 1 Propane addendum
Rust Grip® Videos Around The World
Rust Grip® provides protection against conditions where the surface cannot be sandblasted or worked upon extensively. It is a replacement to 3 in 1 coating systems and challenging the standard practices as a much more robust solution so clients can focus on pivotal issues rather than worrying about their assets degradation.
15,000 hours (=30 Years) Salt Fog Test for Rust Grip®
SPI Coatings coated some plates with HPC on it at 12.5mm or 500 mils. This was over-coated with Rust Grip® to seal and prevent water and air from getting to the HPC.
They placed these plates inside a salt-spray cabinet for the ASTM B117 testing to see how well the Rust Grip® would protect the HPC from salt spray and UV cycles.
It has been 15,000 hours and they look like the first day placed inside the cabinet.
The HPC would be both protected and there'd be zero corrosion on any pipes underneath which could manage 500-550°C internal temperatures. This is a great solution to reduce any threat of corrosion under insulation that most companies have using fibreglass jackets etc. See the Report pdf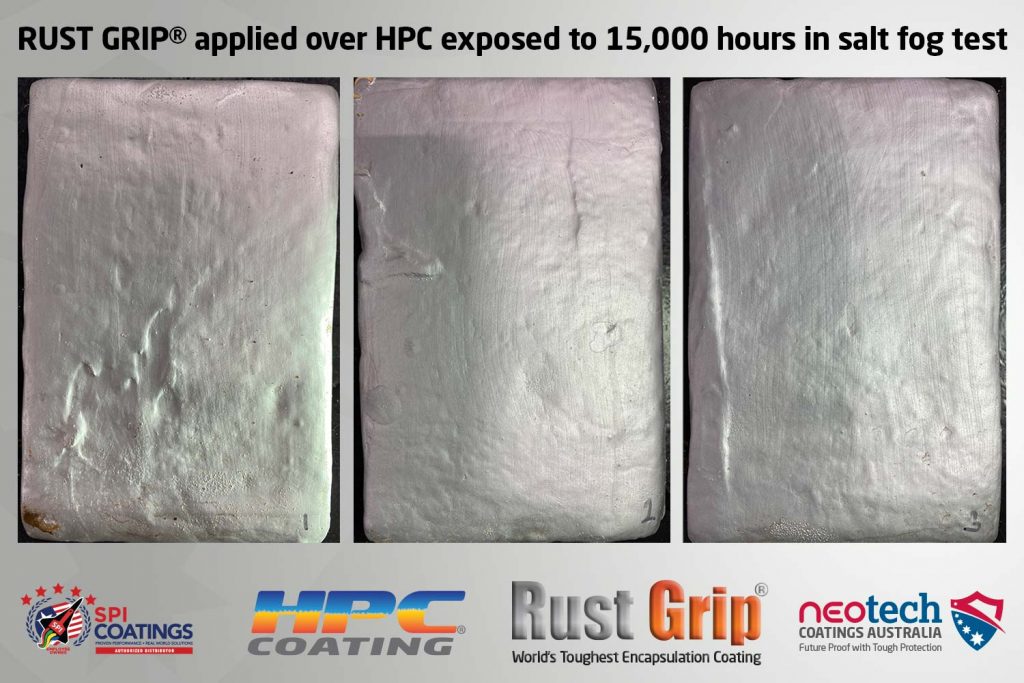 Rust Grip® on Fibreglass
You can use Rust Grip® on fibreglass if the surface has porosity. If no pores for the Rust Grip® to penetrate down into, then no way for it to anchor and lock down. You can 'roughen' up fibreglass to create pores for penetration.
Rust Grip® and Chemicals
Rust Grip® has been tested against 1,500 different chemicals and is only unsuitable for continuous immersion in ammonia and urea derivates.
Concrete Gas Encapsulation
Rust Grip® tested and patented to seal off biohazards by incapsulating the surface and sealing it down to to a permeability of 0.24 perms. Anything less than 1.0 cannot breathe air, moisture and most gases. With the issue of Radon gases for example, 3 coats should lock it down.
Mould and Mildew
Rust Grip® has the ability to protect against mould and mildew on surfaces that are prone to damage from prolonged exposure. Rust Grip® creates an unsurpassed protective surface, proven time and again through onsite evaluations and real-world applications.
You would need to treat the surface with either bleach or 10-15% hydrogen peroxide to kill the mould then topcoat with 100-150 micron DFT of Rust Grip®. Rust Grip® has a permeability of 0.24 perms. That means it has no porosity. In the ASTM E 1795 liquid encapsulation test there are about 20 tests needed to pass to be considered an encapsulation coating. That's where the 0.24 perms comes from.
The ASTM E 1795 test verifies Rust Grip® ability to encapsulate lead based paint. If there is paint and is flaking you will need to scrap off the loose bits as Rust Grip® may not be able to compress it then encapsulate. The encapsulation is based on the paint that is adhering to the surface.
What's the difference between Rust Grip® and a rust converter?
Rust Grip® works by penetrating through and rust, encapsulating it and preventing further expansion. Rust converters work by chemically changing the rust into a benign form which only lasts for a few months and must be overcoated (source).
Surfaces can Rust Grip® be applied to
RUST GRIP® can be applied to aged or new steel or aluminium, concrete, wood, and rusty or corroded steel and aluminium.
What if there's a Zinc coating that can't be removed?
If a project or site cannot be blasted or you can't pressure clean or treat the area. Firstly thoroughly clean the surface, remove all dust, flaking etc.
Zincs and Urethanes DON'T MIX so you need an Epoxy coating between them. You cannot use Rust Grip directly over any Zinc coating because it's a urethane.
Our Epoxy corrosion coating Moist Metal Grip can be hard brushed into surface over the Zinc, around the bolts and everything at 100 microns.
This will not fix the current corrosion but it should stop future growth. Then you can apply Rust Grip (urethane) or Enamo Grip (epoxy) on top of the Moist Metal Grip (epoxy).
Moisit Metal Grip and Rust Grip
Heat always accelerates drying or curing. Moist Metal Grip normally takes 3 days to start a surface tightening in the curing process. Overcoat with Rust Grip after 2 days to lock the solvent resins together.
Testing Results
Patented encapsulation of bio-hazardous materials
Pull testing avg 1480 psi
Exceptional adhesion: ASTM 5B rating
Surface tensile strength: 6,780+ psi (478 bar)
Withstands temperature after curing up to 163°C (325°F)
Certified penetration of 18 layers of existing lead-based paint
Endures 29,700 rub cycles without exposing existing lead-based paint
Passed 15,000 hour salt spray test = 30 years
Test "5" on Flame Spread (0-25 Class A)
Meets EPA Guidelines
Certified water barrier: ASTM D6904 and ASTM D7088 hydrostatic & wind driven rain
Over 20+ years of successful use on oil rigs and pipe lines
Maritime Approvals
Certified IMO (Internat'l Marine Organization)
Full Rust Grip Certifications
Rust Grip® can protect and seal surfaces of steel, aluminium, concrete, wood, fibreglass, and other substrates. Rust Grip® will seal out moisture and air with a permanent membrane that stops penetration and deterioration, blocking chemical pollutants that cause corrosion and deterioration.
Building Lead Paint Approvals
Evaluation Report of Rust Grip Test Samples
Mississippi River Bridge, Baton Rouge, LA
Based on the field inspection and laboratory testing, Rust Grip is deemed a suitable coating for the protection of steel superstructures coated with lead based coating system in fair to poor condition as long as the substrate is prepared properly and the coating system is mixed and applied in strict accordance with manufacturers recommendations.
Rust Grip® Physical Data
Solids: By weight 62.2% / By Volume 51.4%
Coverage: 2.9m2 per litre (100 / 400 Sq. ft per gallon)
Spread: 1-2 dry mil on metal will cover (400 sq.ft./gal.)
Cure time at 70°F (21°C): 45 min – 2 hours to touch. Overcoat with Rust Grip® or other coatings immediately after surface is dry to the touch to achieve proper adhesion. Higher temperatures and humidity will shorten cure times, lower temperatures will slow curing. Must be overcoated within 2 hours or within 1 hour after reaching the dry-to-touch stage, or the surface must be lightly sanded to achieve good adhesion.
Cures by reacting to moisture in the air
Weight: 1.1 kg per 1 litre (9.18 lbs. per gallon)
Surface Tensile Strength: 6,780+ psi
Can withstand 163°C constant heat before the resins burn out
VOC Level: 380 grams/litre (3.17 lbs/gal)
USDA Approved: Lead and Chromate free (safe around foods)
Impact Resistance: 200+ psi front/160+ psi back
Shelf Life: up to 3 years (unopened) under appropriate storage conditions (see MSDS)
Surface Application: All
Note: Will accept other coatings such as ENAMO GRIP® and SUPER THERM®, but will not accept itself after 4 hours).
Application
SPI Application instructions pdf
Can pressure clean with solvent wipe down, light commercial blast, or power hand tool to remove loose flake and debris before applying. Possible alternative to abatement of lead paints. Surfaces should be clean, dry and sound. Existing surface dirt, oil, tar, grease and film should be removed from surface by approved methods (TSP-Tri-Sodium Phosphate or equivalent) prior to application of Rust Grip®. MUST BE COMPLETELY DRY.
Product
% solids by volume
Surface Profile Microns
Surface Profile Mils
Microns WFT / DFT
Spread m2/litre
Spread m2/gal
Spread ft2/gal
Rust Grip
51.4
50
2
300 / 150
3.37
12.8
137.4
51.4
75
3
350 / 175
2.89
10.9
117.8
51.4
100
4
400 / 200
2.53
9.6
103.1
NOTE: The number of coats necessary to achieve at least 100 microns / 4 mils DFT over the tallest peak of rust. If surface profile is 25-50 microns / 1-2 mils the minimum WFT application is 300 microns / 12 mils and 150 microns / 6 mils dry, which will allow to fill a surface profile and to have at least 100 microns / 4 mils of DFT over the top of tallest peak of rust.
Rust Grip® Temperature/Humidity Chart
Approximate Time to Overcoat Window
| Relative Humidity | 32°C | 21°C | 10°C |
| --- | --- | --- | --- |
| 90% | 1 hour | 1.5 hours | 2-3 hours |
| 80% | 1 hour | 1.5 hours | 2-3 hours |
| 60% | 1.5 hours | 1.5-2 hours | 3-4 hours |
| 40% | 1-2 hours | 2-4 hours | 6-8 hours |
| 30% | 2-3 hours | 3-6 hours | 10-14 hours |
| 20% | 6 hours | 8-10 hours | 12-16 hours |
| 10% | 12 hours | 12-18 hours | 18-24 hours |
These are rough estimates and are due to fact that coating in uncontrolled conditions results in many variables that can effect these times. Weather can often change significantly over the time periods. Download pdf
Times are estimates of how long it will take Rust Grip® to enter the overcoat window when the next coat may be applied. The definitive test for when Rust Grip® may be over coated remains the "touch" test when the coating may be touched with no colour transfer, and no damage with thumbnail.
Important
Stir product thoroughly before using. Avoid a vortex when stirring to draw in moisture. Rust Grip® can be applied by brush, roller or spray equipment. It should be applied evenly without buildup to 200-300 microns DFT.
Rust Grip® should be immediately cleaned after it is applied. There is no way to remove Rust Grip® when it has set. Brushes and rollers must be thrown away. Flush spray machine, hoses and gun with solvents to clean out. When breaking for lunch, seal off Rust Grip® container (tip: separate lid from tin with heavy duty plastic bag). Use caution when resealing the container, as any Rust Grip® on the seal track of the lid or container may cause the two surfaces to permanently seal.
Because Rust Grip® works rapidly, do not leave a container open to the air for longer than 4 hours, or Rust Grip® will draw in the ambient humidity and begin to cure. A brush or roller used to apply Rust Grip® cannot be cleaned.
SOLVENT: Clean-up or reduction, use MEK, Xylene or MIBK. If sprayed, keep solvent ready to clean equipment before breaks (lunch hour) or at conclusion of job. Run solvent through the machine and hoses and leave gun submerged in solvent pail. *CLEAN IMMEDIATELY OR WILL RUIN EQUIPMENT.
When storing Rust Grip® as it's moisture cured use Nitrogen gas to expel oxygen in the tin to reduce chances of the coating from curing.
Moisture Cured Urethanes and Acrylic Paints
Rust Grip® is a moisture cured urethane and is not compatible with a water based acrylic latex (as per table 6.2 of AS/NZS2312). It is recommended in this situation, you have to do a test spot.
Reason: Rust Grip® is not a glue. It penetrates through the existing acrylic. If the acrylic is not high quality, the Rust Grip® can penetrate into it and when it tightens down, can lift the acrylic off the surface and peel off. Rust Grip® penetrates, so have to do the test to see if the acrylic can hold up to the strength of Rust Grip®.
Cautions and Warning
CAUTION: Wear gloves and protective clothing. Extremely tough to clean off skin. Wear eye protection and mask.
Do not take internally. Avoid contact with eyes. If solution does come in contact with eyes, flush immediately with water and contact a physician for medical attention. Avoid prolonged contact with skin or breathing of spray mist. KEEP OUT OF REACH OF CHILDREN. This is a flammable liquid. Keep away from flame or fire or other sources of ignition.
Practice standard safety precautions when working with Rust Grip®, including protective clothing. Rust Grip® will adhere to and cure on skin. Rust Grip® is USDA-approved, but it will wear on skin for several weeks before being sloughed off with normal skin renewal.
Rust Grip and Offgassing Bubbles (application)
In the application sheet it states: For temperatures 35C and above with less than 20% humidity: Rust Grip® will dry to touch but will not be completely finished gassing off. If you can move the coating with your fingers, it is not set hard enough to overcoat; if over-coated too soon or the surface is too hot, bubbles will be caught in the top coat. It is a result of the surface curing fast (direct sunlight or high ambient temps) and the solvents trying to get out of the coating causing bubbles. First coat needs to off gas first. 99% of the time it is just cosmetic and doesn't effect performance.