Rust Grip Application
Rust Grip® is a surface tolerant, tough, one-part, moisture-cure polyurethane coating that absorbs atmospheric moisture to cure. It is patented and loaded with unique aluminium pigments (not zinc) for strength and is also resistant to chemical solvents and acid splash. It can be used as a primer to seal and protect from environmental corrosion as well as encapsulating lead based paint and asbestos and UV stable. It is used for above water environments or can be a primer for below water if overcoated with Enamo Grip or Moist Metal Grip.
---
Surface Preparation
Minimum: SSPC SP 2 (hand tool) & SP 3 (mechanical tool) to remove loose flaking paint and pack rust/mil scale. Mix Chlor-rid brand salt remover or equivalent via pressure clean at 3,500 psi. If there are salts in the metals surface then it is strongly recommended to pressure clean with a product like Chlor-rid or acid. If a pressure clean is not possible after mechanical cleaning use compressed air to clean the surface and wipe over with Acetone or Xylene. Existing coatings (see below for urethanes, acrylics and zinc) should be free of any dirt, debris oil and residues. 
Optimum: SSPC SP 7 / NACE 4 Brush off blast. If pack rust or mil scale, then SSPC SP 6 / NACE 3 commercial blast is recommended.
Application: The surface MUST BE COMPLETELY DRY before application of Rust Grip®.
1st Coat: (brush/roll/spray) Rust Grip® (polyurethane) @ 200 microns WFT / 100 microns DFT.
2nd Coat: (brush/roll/spray) Rust Grip® (polyurethane) @ 200 microns WFT / 100 microns DFT.NOTE: Recommended Rust Grip® Temperature / Humidity Chart for application of additional coats.
Product
% solids by volume
Surface Profile Microns
Surface Profile Mils
Microns WFT / DFT
Spread m2/litre
Spread m2/gal
Spread ft2/gal
Rust Grip
51.4
50
2
300 / 150
3.37
12.8
137.4
51.4
75
3
350 / 175
2.89
10.9
117.8
51.4
100
4
400 / 200
2.53
9.6
103.1
NOTE: The number of coats necessary to achieve at least 100 microns DFT over the tallest peak of rust. If the surface profile is 50 micron the minimum application is 300 microns WFT and 150 microns DFT, which will allow it to fill a surface profile and to have at least 100 microns of DFT over the top of the tallest peak of rust.
Rust Grip® Temperature/Humidity Chart
Approximate Time to Overcoat Window
| Relative Humidity | 32°C | 21°C | 10°C |
| --- | --- | --- | --- |
| 90% | 1 hour | 1.5 hours | 2-3 hours |
| 80% | 1 hour | 1.5 hours | 2-3 hours |
| 60% | 1.5 hours | 1.5-2 hours | 3-4 hours |
| 40% | 1-2 hours | 2-4 hours | 6-8 hours |
| 30% | 2-3 hours | 3-6 hours | 10-14 hours |
| 20% | 6 hours | 8-10 hours | 12-16 hours |
| 10% | 12 hours | 12-18 hours | 18-24 hours |
These are estimates due to the fact that coating in uncontrolled conditions results in many variables that can affect these times. Weather can often change significantly over the time periods. Before overcoating in outdoor environments check weather and radar forecasts. Download pdf
Times are estimates of how long it will take Rust Grip® to enter the overcoat window when the next coat may be applied. The definitive test for when Rust Grip® may be over coated remains the "touch" test when the coating may be touched with no colour transfer and no damage with the thumbnail. This can include topcoats such as Enamo Grip or other topcoats. For all coats to 'bind' as one system, overcoating in the window is crucial for a complete coating system and long term protection.
You can apply when it is raining as long as the coat is protected by shelter.
Cautions and Warning
CAUTION: Wear gloves and protective clothing. Extremely tough to clean off skin. Wear eye protection and a mask.
Do not take it internally. Avoid contact with eyes. If solution does come in contact with eyes, flush immediately with water and contact a physician for medical attention. Avoid prolonged contact with skin or breathing of spray mist. KEEP OUT OF REACH OF CHILDREN. This is a flammable liquid. Keep away from flame or fire or other sources of ignition. Rust Grip is rated UL1263.
Practise standard safety precautions when working with Rust Grip®, including protective clothing. Rust Grip® will adhere to and cure on the skin. Rust Grip® is USDA-approved, but it will wear on skin for several weeks before being shed or removed with normal skin renewal.
Important Preparation
Stir the product slowly and thoroughly before using. Aluminium pigment will likely have settled at the bottom of the pail. Avoid a vortex when stirring to draw in moisture. Rust Grip® can be applied by brush, roller or spray equipment. It should be applied evenly without buildup to 200-300 microns DFT.
Rust Grip® has a low viscosity, meaning it is very runny. Ensure the local application area has appropriate drop sheets and coverings to avoid spillage and mess.
Please note surface temperatures for application and overcoating. 10°C minimum to 65°C maximum surface temperature. Bubbles can form on overcoating if the surface is too hot or if the first coat is not done off gassing and second coat is put on and the surface of coating dries too fast before the undercoating is finished gassing. Maximum surface temperature after curing is 163°C.
Clean Up
Rust Grip® on tools should be immediately cleaned after it is applied. There is no way to remove Rust Grip® when it is set on tools or in lines. Brushes and rollers must be thrown away. Flush spray machine, hoses and gun with solvents to clean out. When breaking for lunch, seal off Rust Grip® container (tip: separate lid from tin with heavy duty plastic bag). Use caution when resealing the container, as any Rust Grip® on the seal track of the lid or container may cause the two surfaces to permanently seal.
Rust Grip® works rapidly, do not leave a container open to the air for longer than 4 hours, or Rust Grip® will draw in the ambient humidity and begin to cure. A brush or roller used to apply Rust Grip® cannot be cleaned.
SOLVENT: Clean-up or reduction, use MEK, Xylene or MIBK. If sprayed, keep solvent ready to clean equipment before breaks (lunch hour) or at the conclusion of the job. Run solvent through the machine and hoses and leave the gun submerged in the solvent pail. *CLEAN IMMEDIATELY OR IT WILL RUIN EQUIPMENT.
When storing Rust Grip® as its moisture is cured use Nitrogen gas to expel oxygen in the tin to reduce chances of the coating from curing in the tin. For larger quantities we recommend decanting to smaller metal tins and storing in a cool, dry location.
Removal
If wet, remove Rust Grip® immediately with a solvent such as MEK, Xylene or MIBK. If dry wear a dust/particulate mask when grinding as nothing toxic in the coating after it is cured.
Safety Data Sheets
Please see the Rust Grip® Technical, application and SDS sheet.
Moisture Cured Urethanes and Acrylic Paints
Rust Grip® is a moisture cured urethane and is not compatible with a water based acrylic latex (as per table 6.2 of AS/NZS2312). It is recommended in this situation, you have to do a test spot.
Reason: Rust Grip® is not a topical glue. It penetrates through the existing acrylic. If the acrylic is not high quality, the Rust Grip® can penetrate into it and when it tightens down, can lift the acrylic off the surface and peel off. Rust Grip® penetrates, so do a test to see if the acrylic can hold up to the strength of Rust Grip®.
Zinc Coatings and Galvanised Metal
Prior organic and inorganic zinc based coatings need to be removed. Used zinc coatings can have Rust Grip® applied over existing coating if tested. Existing galvanised metals may have Rust Grip® applied over the top. It is preferable that either new metal is abraded or there is some corrosion present.
Rust Grip and Off gassing Bubbles (application)
In the application sheet it states: For temperatures 35C and above with less than 20% humidity: Rust Grip® will dry to touch but will not be completely finished gassing off. If you can move the coating with your fingers, it is not set hard enough to overcoat; if over-coated too soon or the surface is too hot, bubbles will be caught in the top coat. It is a result of the surface curing fast (direct sunlight or high ambient temps) and the solvents trying to get out of the coating causing bubbles. First coat needs to off gas first. 99% of the time it is just cosmetic and doesn't effect performance.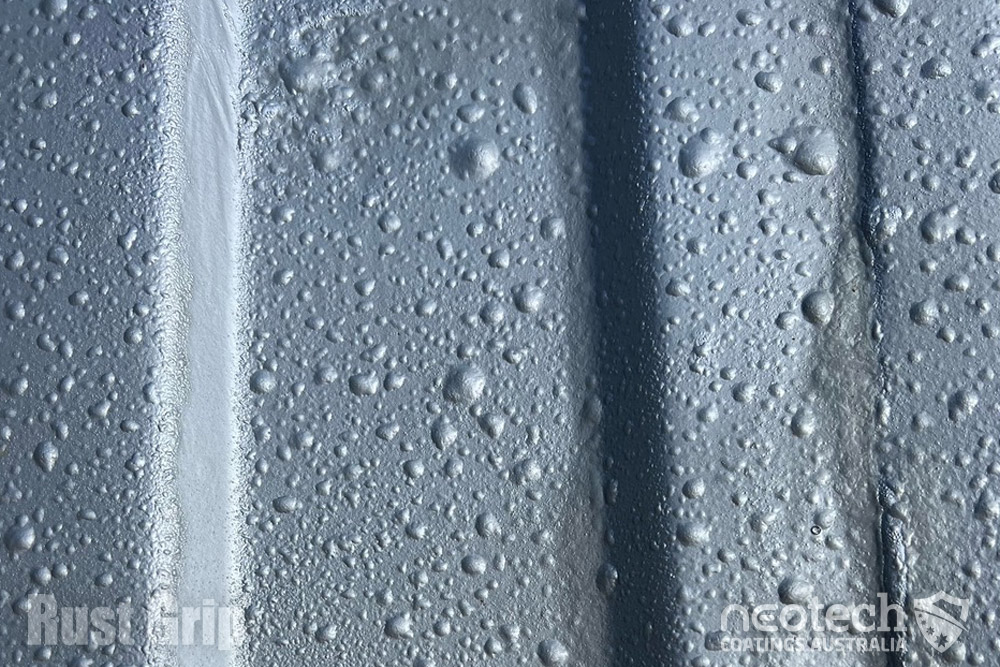 Coatings and timings are crucial for long term success and aesthetics…including Rust Grip®