Super Therm® Application Instructions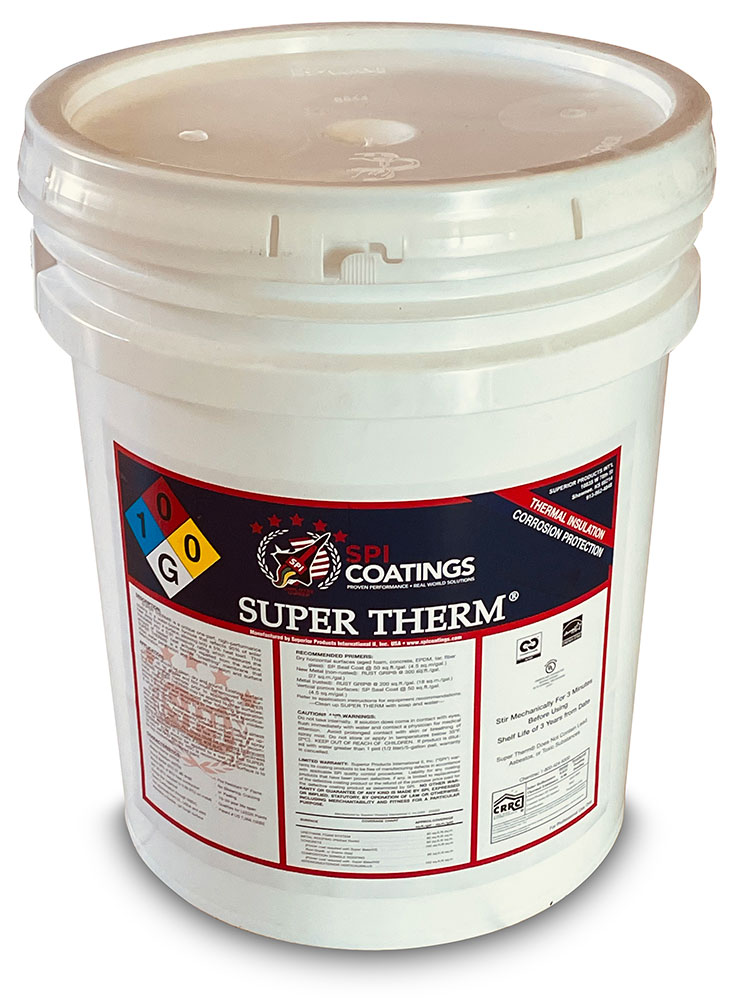 The application of Super Therm® is simple, however you must follow the instructions. Applied by roller, brush or airless sprayer.
Application benefits include:
Instant results
Time and money benefits
A single coat application
No long-term maintenance required
Safe application
No building materials or trades needed
Quick solar heat block solution
Water soluble
Applied with brush, roller or airless sprayer
Proven to last over 30 years
Although Super Therm® can be applied by non-professionals, NEOtech Coatings recommends using a NEOtech certified applicator.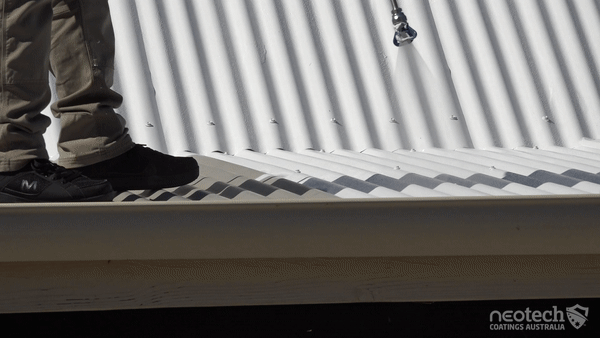 Super Therm® is considered an industrial coating. Therefore the application instructions must be followed to receive maximum benefits and desired outcome.
Super Therm® should not be diluted or thinned
Super Therm®must be stirred for a minimum of 4 minutes to circulate all the ceramics effectively
The surface must be thoroughly pressure cleaned 3000psi and dry before application.
Simplified Application Instructions
Full and official manufacturer Super Therm® Application Instructions – pdf
Super Therm® is an energy efficient, highly advanced ceramic solar heat block coating system (not a paint) that contains 4 unique ceramics that block up to 95% of solar heat entering a structure if applied as per the instructions below. The combination of proprietary ceramics, resins and a urethane bond to counteract the 4 methods of heat transfer: radiation; conduction; convection; and infrared.
NOTE: It is important for the desired outcome of Super Therm® that the application instructions below are followed correctly.
Super Therm® should not be diluted or thinned and stirred thoroughly for a minimum of 5 minutes
Surface Preparations
The surface must be clean from dust, oil, tar, rust, grease, salts, films or any contaminants
Corrosion must be treated prior to application
Surface must be completely dry before applying
Minimum surface temperature 5°c
Maximum surface temperature 65°c
Recommend drop sheets and caution as Super Therm® is difficult to clean up if spilt due to its bonding strength.
Mixing
Due to it's thick compounds Super Therm® is best mechanically mixed or mixed by hand (boxing) thoroughly for a minimum of 4 minutes then apply.
Application
Super Therm® can be applied by brush, roller or sprayed. The preferred method of application is by air or airless sprayer. Remove filters from the sprayer and apply on a day with no wind. Full detailed instructions to apply Super Therm® (pdf)
Spread & Coverage Rates
Super Therm® should be applied at no less than 425um microns (17 mil wet) and dries down to 250um microns (10 mil) after each application. The total Dry Film Thickness (DFT) is a quarter of a mm (business card thickness – 216 gsm) at 250um microns. Recommended coverage is 2.4m2 per litre.
| Product | % solids by volume | Microns DFT | mm DFT | Mils DFT | Spread m2/litre | Spread m2/gal | Spread ft2/gal |
| --- | --- | --- | --- | --- | --- | --- | --- |
| Super Therm | 60.0 | 250 | 0.25 | 10 | 2.4 | 8.9 | 96.2 |
Note: Roofs with corrugations
2″ corrugation = roof size x 135%
2.5″ corrugation = roof size x 145%
3″ corrugation = roof size x 160%
Drying and Cure Times
First coat: 30-60 minutes to tack free at 21°c
Overcoat: 2 hours later at 21°c at 40% relative humidity
Full Cure: 21 days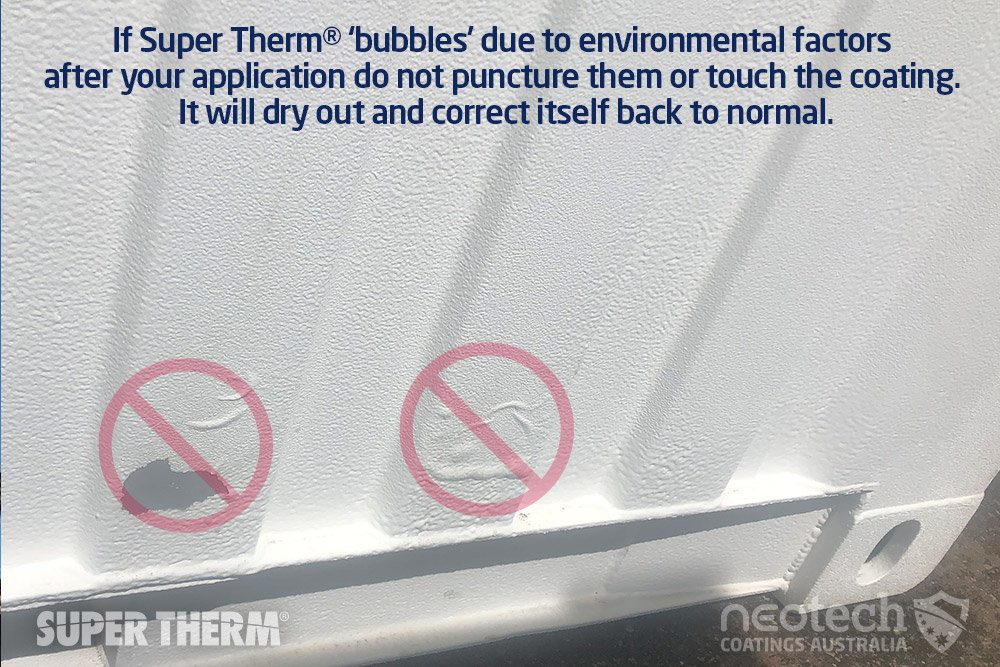 Condensation, Dew, High Relative Humidity or Rain
Moisture will cause problems if Super Therm® hasn't had enough time to begin curing. This can also be caused by applying Super Therm® too thick.
In high dew (dew calculator) or moist environments allow for a minimum of 4 hours in the sun for Super Therm® to begin curing so it doesn't run. Clients have experienced heavy dew near coastal locations which Super Therm® hasn't reached a level of curing and the coating has run and washed off. If the coating does run you will need to clean off instantly as not to cause damage. The surface will need to be cleaned off fully, dried and reapplied.
When Super Therm® hasn't started to set and dew or rain causes pooling of water it will take longer for the coating to dry and may run.
If Super Therm® is wet or rained on during the curing process it may bubble. Do not puncture these bubbles as the coating will settle down and retract to its natural state while the curing process takes longer.
Super Therm® Texture
The finished is a ceramic, silky matt textured coating that contains 54% solids. If visual appearance is important and in public view, Super Therm coating does mark easily. We recommend an application of an epoxy or SPI Enamo Grip to create a shiny finish and added protection and durability to your project. See more.
Clean Up
After completion tools should be cleaned with water; cleaned brushes and rollers can be reused.
Storage
Store between 5°c and 37°c and thoroughly close the container to air tight as Super Therm® will dry out.
Additional Strength and Protection
Super Therm® works best with Enamo Grip to seal, protect and finish and with Super Base to seal and prime the surface. When applying an epoxy over the top such as Enamo Grip, allow at least 2 days at minimum of 21°C for Super Therm® to begin curing so moisture is removed. If there is dew, high humidity or other moisture factors allow longer.
---
Super Therm® two reflective ceramics reflect sunlight and radiant heat while the third ceramic compound works to stop heat and/or cold conduction through the coating film the fourth ceramic blocks almost all infrared. The combination of acrylics provide elasticity and toughness while the urethane binds the acrylics and compounds, also providing a moisture barrier. The fourth resin additive is what makes the complete resin blend to combine into a single component and extends the life of the coating.
VOC-Compliant:
Only 67 grams/litre. Limit is 420 grams. Water-based
USDA-Approved:
For use in and around food preparation facilities
Mildew and mould:
Can withstand moisture
Fire tested:
"0" flame and smoke results. No off gassing (NASA)
Spread:
2.4m2 per litre on roofing and walls.
New galvanized metal/slick metal surfaces, stainless steel and aluminum – apply Rust Grip at 300 sq.ft./ gallon as a primer first, then Super Therm® at 2.4m2 per litre (if rusted areas, Rust Grip at 200 sq.ft./ gallon as primer)
Weathered metal surfaces:
(5-10 years old), no primer needed Apply Super Therm® at 2.4m2 per litre (if no rust is present).
Concrete surfaces:
If painted before, just make sure all loose or flaking paint is off first, then apply Super Therm® directly. If not painted before, seal concrete first using Super Base (HS) at 2.5m2 per litre, then apply Super Therm® .
Tar/Asphalt or Rubber Surfaces:
Seal first with Super Base (HS) at 30 sq.ft./gallon, then apply Super Therm® . Tar and asphalt will bleed oil residues into the coating, turning it brown and interfering with the thermal ability of Super Therm® if not sealed first. Super Base (HS) is water-based and, therefore, will not soften or harm the tar/asphalt but will completely fill and seal all holes, cracks and broken seams.
Flat Roof Systems:
Remove all loose gravel and pressure wash. Watch for roofs with consistent leaking; if present, push for roofing system #1 or #2.
System #1–Apply Super Base (HS) at 30 sq.ft./gallon As you apply Super Base (HS), lay in the polyester membrane (36″ width x 360′ length) as you go. Let dry and re-apply Super Base (HS) over the membrane at 100 sq.ft./gallon. Let dry, then apply Super Therm® at 100 sq.ft./gallon for the coating; and last apply SP Clear Protector at 250 sq.ft/gallon as a top coat. Total mil thickness will be: Super Base (HS) -21 mils, mesh-6 mils, SUPER BASE (HS 7 mils, Super Therm® -7 mils, SP Clear Protector-2 mils 43 mills.
System #2 (solid roof, absolutely no leaks)–Apply Super Base (HS) at 30 sq.ft./gallon Apply Super Therm® at 100 sq.ft./gallon. Apply SP Clear Protector at 250 sq.ft./gallon. Total mil thickness: 30 mils
Walls (interior/exterior):
Apply Super Therm® at 2.4m2 per litre
Tinting:
Can tint to any earth-tone colours. Not medium to dark tones. Never tint to grey–the black tint will cover the ceramic particles first and block their effectiveness. Best approach is to apply Super Therm® in 2 coats, let dry, then paint a coloured paint over the Super Therm® as your finishing coat
Acid/Salt-resistance:
Will withstand mild acids and salt spray.
High humidity:
After Super Therm® dries completely, no effect on coating.
UV/Weathering:
Very UV-stable, will withstand basic weathering for 20 years minimum
Application:
Always power wash substrate using a minimum of 3000 psi power washer to clean dirt, oils, etc. Use washing powders in washing systems and rinse well.