Energy & Mining
Advanced coatings solutions and energy savings for the energy and mining industry
The energy and mining industry faces many challenges and pressures regarding their equipment and environmental impacts. NEOtech Coatings have a range of solutions from corrosion prevention, heat management coatings and moisture management that services the diversity of challenges on site. Many of our products also come with the benefit of energy savings.
Our coatings are design help to reduce costs, improve efficiency and offer ourstanding proection to both staff and equipment for the long term.
Rust Grip® Rated No. 1 by the Society of Petroleum Engineers
A long-term lab and field study by Chevron published by the Society of Petroleum Engineers, tested 18 different coatings on drill pipes for eight years. Drill pipes are the toughest environment anyone can ever imagine and RUST GRIP® was the top performer. In that paper they highlight the cascading benefits that came from solving the corrosion problem. You solve the corrosion problem, that's already millions of dollars in savings and then because you're not having to swap out these drill pipes so often, you're saving millions in logistics. Read more >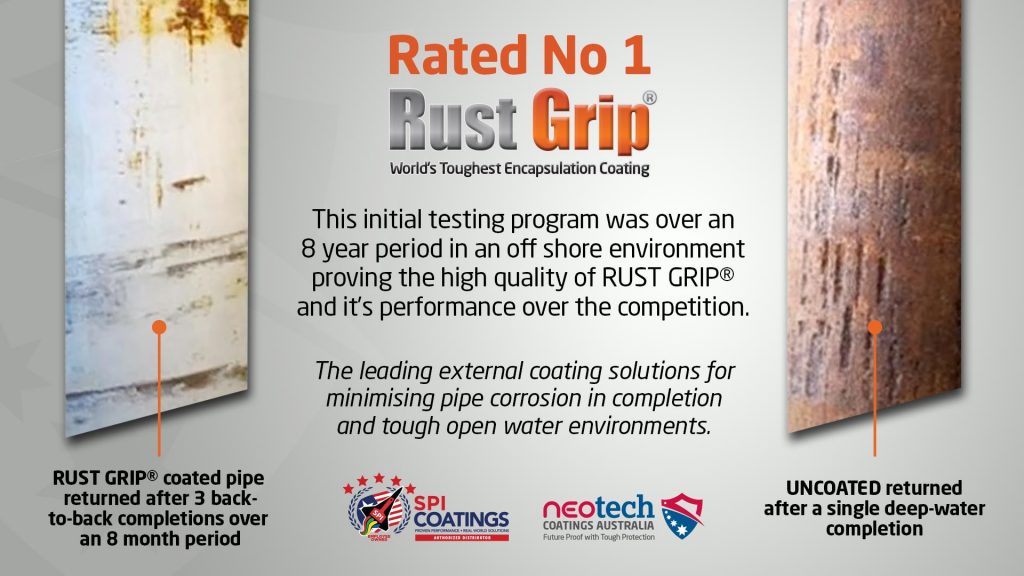 Hot Pipe Coating test
A test on a heating pipe showing the powerful properties of ceramic insulation technology. Part of the pipe is painted with our Superior Products ceramic coating to show the comparison of the thin insulative film. Footage shows pipe reducing from 232°C (450°F) to 35°C (95°F) during application.
Working with SPI Coatings systems, NEOtech Coatings providing leading innovative insulation and corrosion coatings with proven success in the oil, gas and mining industry worldwide. Customers who've used our coatings worldwide include:
Saudi Aramco Oil
Chevron Pacific
Halliburton
Century Drilling
Caltex
Origin Energy
Schlumberger
Beverley Uranium Mine
Paladin Energy
Conoco Phillips
Benefits to the energy and mining industry
Superior eco product that lessens the burden on the environment
Reduces Corrosion Under Insulation (CUI)
Reduces energy and maintenance costs while increasing comfort in buildings
Insulates freezers or refrigeration units to reduce costs and product loss
Reduces fuel consumption, equipment maintenance, down time, man hours, and product loss when applied to refrigerated trucks
Protects goods by blocking solar heat on long haul trailers designed to carry perishables
Corrosion coatings that have passed over 15,000 hours of testing
Reduces risk of condensation on cold water pipes
Insulates oil and gas storage tanks to prevent evaporation and heat build-up.
Blocks solar heat on air conditioning unit outer casings to prevent reductions in efficiency from heat build up inside the housing
Provides a fire-resistant coating for substrates. Super Therm® has a "0" fire and smoke spread and will not contribute to flame spread.
Worldwide use of coatings from Australia to Japan, Europe to USA, Saudi Arabia to South America.
With the many and diverse mining activities in Australia SPI Coatings have provided solutions to some of the biggest mines including Moomba and Beverley Uranium mine.
Australian Mining Review
Tough Coatings Used Around the World
NEOtech Coatings Australia offers a range of core coatings solutions that have been individually tried and tested across every continent globally in partnership with the likes of NASA and Chevron.
Working with the U.S. based developer and manufacturer Superior Products International, II Inc. ("SPI"), NEOtech Coatings provides leading innovative heat block and corrosion protection coating solutions with proven success in the oil, gas and mining industries worldwide.
Australian Mining Review spoke to Director of NEOtech Coatings Shane Strudwick and SPI International Sales Manager Arin Shahmoradian about how these coatings are improving energy efficiency, safety and environmental outcomes while saving time and money.
And while these coatings deliver outstanding results on their own, Shane and Arin explain how the main point of difference lies in how the products work together as a system to solve even the most difficult problems in the toughest industrial environments.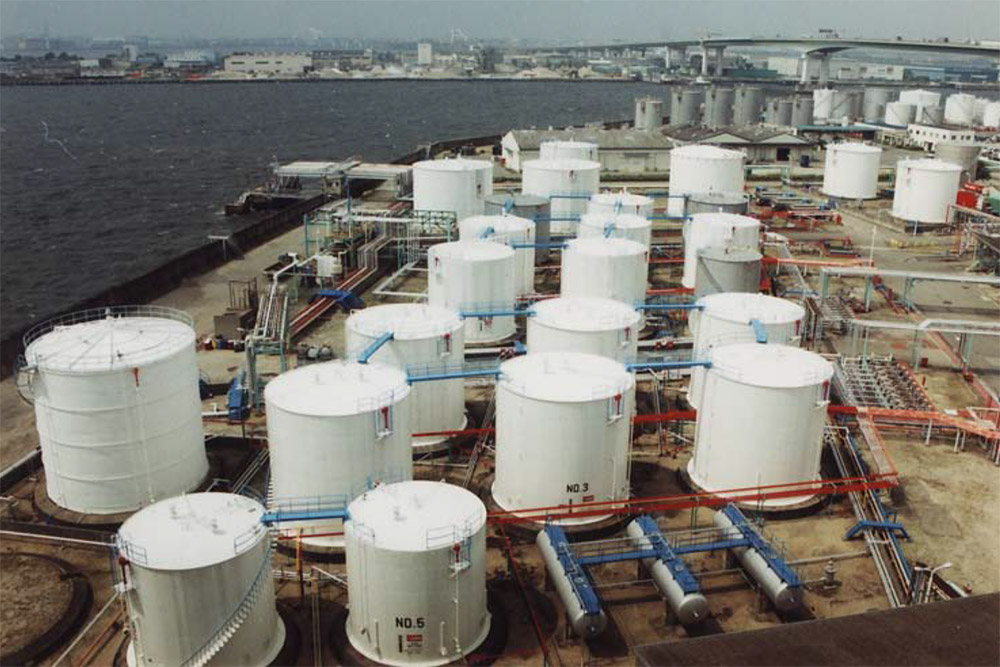 A whole surface of a tank (1,000KL) in Hokko Terminal (Japan) had coated with Cool Therm (Super Therm® in Japan) in 1996, and we had recognized the beneficial effects. Therefore all of the 39 tanks in Hokko terminal (30,000KL) were coated with solar heat block coating.
The maximum effect is that VOC emission in the atmosphere has been reduced strongly. This is because a temperature in the tanks are kept at a low temperature constantly by full coating with Cool Therm (Super Therm®), and breathing of tanks are depressed.
Moreover, relating to cooling tanks and refrigerated storage s coated with Cool Therm (Super Therm®), the effect of freezing have risen by 20 percent. The temperature in the tanks were controlled by using electricity and water before, but it is not needed any more after coating. Cool Therm (Super Therm®) is the superior eco product which lessens the burden on the environment.
The tank coated in 1996, which were recoated with top coat only in 2009, the solar heat blockng effect is still continuing, and the durability is demonstrated. We are promoting solar heat block coating of tanks and storages as part of environmental protection > Read More