Energy & Mining
Advanced coatings solutions and energy savings for the energy and mining industry
The energy and mining industry faces many challenges and pressures regarding their equipment and environmental impacts. NEOtech Coatings have a range of solutions from corrosion prevention, heat management coatings and moisture management that services the diversity of challenges on site. Many of our products also come with the benefit of energy savings.
Our coatings are design help to reduce costs, improve efficiency and offer ourstanding proection to both staff and equipment for the long term.
Rust Grip® Rated No. 1 by the Society of Petroleum Engineers
A long-term lab and field study by Chevron published by the Society of Petroleum Engineers, tested 18 different coatings on drill pipes for eight years. Drill pipes are the toughest environment anyone can ever imagine and RUST GRIP® was the top performer. In that paper they highlight the cascading benefits that came from solving the corrosion problem. You solve the corrosion problem, that's already millions of dollars in savings and then because you're not having to swap out these drill pipes so often, you're saving millions in logistics. Read more >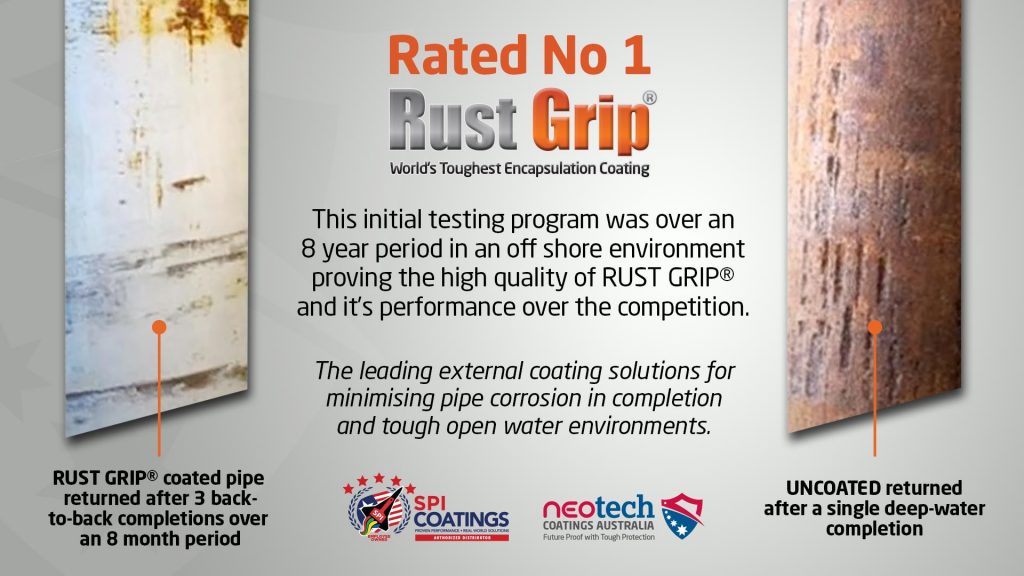 Hot Pipe Coating test
A test on a heating pipe showing the powerful properties of ceramic insulation technology. Part of the pipe is painted with our Superior Products ceramic coating to show the comparison of the thin insulative film. Footage shows pipe reducing from 232°C (450°F) to 35°C (95°F) during application.
Working with SPI Coatings systems, NEOtech Coatings providing leading innovative insulation and corrosion coatings with proven success in the oil, gas and mining industry worldwide. Customers who've used our coatings worldwide include:
Saudi Aramco Oil
Chevron Pacific
Halliburton
Century Drilling
Caltex
Origin Energy
Schlumberger
Beverley Uranium Mine
Paladin Energy
Conoco Phillips
Benefits to the energy and mining industry
Superior eco product that lessens the burden on the environment
Reduces Corrosion Under Insulation (CUI)
Reduces energy and maintenance costs while increasing comfort in buildings
Insulates freezers or refrigeration units to reduce costs and product loss
Reduces fuel consumption, equipment maintenance, down time, man hours, and product loss when applied to refrigerated trucks
Protects goods by blocking solar heat on long haul trailers designed to carry perishables
Corrosion coatings that have passed over 15,000 hours of testing
Reduces risk of condensation on cold water pipes
Insulates oil and gas storage tanks to prevent evaporation and heat build-up.
Blocks solar heat on air conditioning unit outer casings to prevent reductions in efficiency from heat build up inside the housing
Provides a fire-resistant coating for substrates. Super Therm® has a "0" fire and smoke spread and will not contribute to flame spread.
Worldwide use of coatings from Australia to Japan, Europe to USA, Saudi Arabia to South America.
With the many and diverse mining activities in Australia SPI Coatings have provided solutions to some of the biggest mines including Moomba and Beverley Uranium mine.
Australian Mining Review
Tough Coatings Used Around the World
NEOtech Coatings Australia offers a range of core coatings solutions that have been individually tried and tested across every continent globally in partnership with the likes of NASA and Chevron.
Working with the U.S. based developer and manufacturer Superior Products International, II Inc. ("SPI"), NEOtech Coatings provides leading innovative heat block and corrosion protection coating solutions with proven success in the oil, gas and mining industries worldwide.
Australian Mining Review spoke to Director of NEOtech Coatings Shane Strudwick and SPI International Sales Manager Arin Shahmoradian about how these coatings are improving energy efficiency, safety and environmental outcomes while saving time and money.
And while these coatings deliver outstanding results on their own, Shane and Arin explain how the main point of difference lies in how the products work together as a system to solve even the most difficult problems in the toughest industrial environments.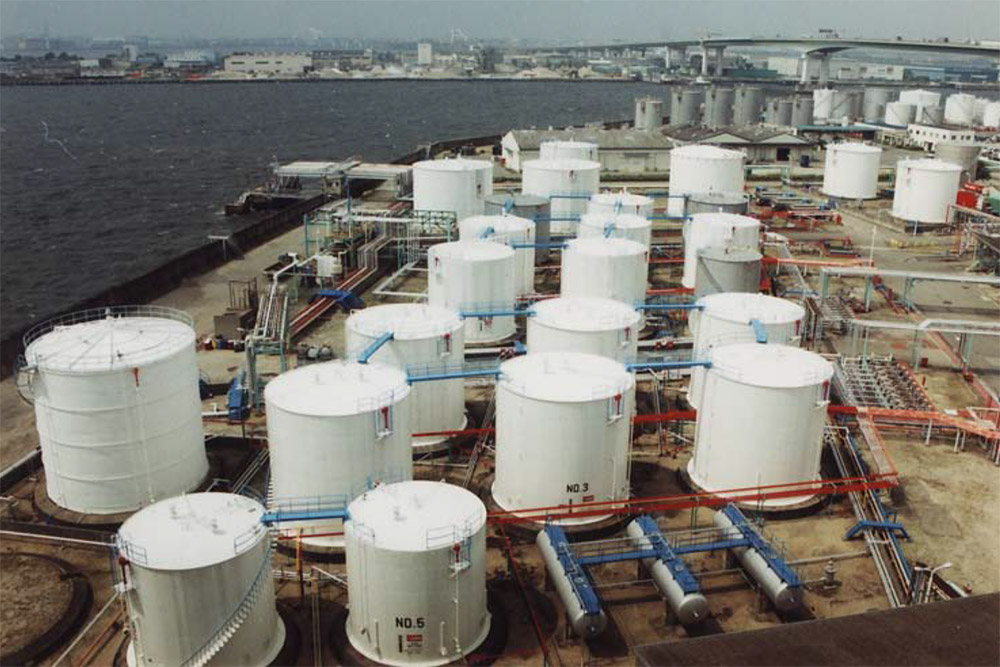 A whole surface of a tank (1,000KL) in Hokko Terminal (Japan) had coated with Cool Therm (Super Therm® in Japan) in 1996, and we had recognized the beneficial effects. Therefore all of the 39 tanks in Hokko terminal (30,000KL) were coated with solar heat block coating.
The maximum effect is that VOC emission in the atmosphere has been reduced strongly. This is because a temperature in the tanks are kept at a low temperature constantly by full coating with Cool Therm (Super Therm®), and breathing of tanks are depressed.
Moreover, relating to cooling tanks and refrigerated storage s coated with Cool Therm (Super Therm®), the effect of freezing have risen by 20 percent. The temperature in the tanks were controlled by using electricity and water before, but it is not needed any more after coating. Cool Therm (Super Therm®) is the superior eco product which lessens the burden on the environment.
The tank coated in 1996, which were recoated with top coat only in 2009, the solar heat blockng effect is still continuing, and the durability is demonstrated. We are promoting solar heat block coating of tanks and storages as part of environmental protection > Read More
Rio Tinto Containers Protected in the Pilbara with Super Therm®
Aramco Oil and Gas: Jyaymah NGL Spherial Tanks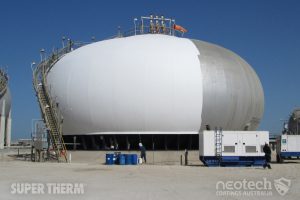 In the Natural Gas tank fields, the sun radiation (UV, Visual and IR) waves heat the skin of the tanks causing a critical increase in psi pressure inside the tanks that causes flaring. Most all flaring is burned off with a constant flame. This, in itself, is dangerous and is a concern for the safety engineers more so than the loss of gas. Super Therm® was applied to a full tank to compare directly to the identical tanks around it being the same size and shape.
In November the ambient was 32°C. The uncoated tank surface was 50.9°C while the Super Therm® coated tank surface was 35.1°C or near 15°C surface temperature difference. The Super Therm® tank allowed the interior temperature to drop low enough to stop the blow-off or reduce the pressure to stop the flaring. This was very significant in employee protection but loss of gas.
NOTE: These readings may vary in different locations, weather conditions or climates.
Evaporation Loss of Oil Storage Tanks
In summer, solar radiation, which has an intensity of 1.373 kW/m2 at the earth's atmosphere surface, causes the surface temperature of oil storage tanks to rise. As a result, the light hydrocarbon components of oil vaporize in the space between the oil and the tank roof, a phenomenon known as evaporation loss. Oil evaporation loss reduces the quality of the oil and pollutes the environment. Despite its importance, the literature on oil evaporation loss is limited (source).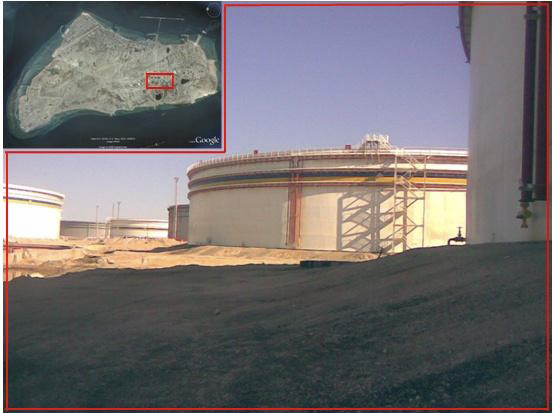 It is generally accepted that the evaporation loss of oil storage tanks depends significantly on solar radiation and local climate conditions. The total evaporation loss of gasoline from storage sites and service stations throughout Thailand is estimated to be 21,000 tons/year. In the Shanghai area of China, the evaporation loss of gasoline and diesel oil from a 5000 m3 oil storage tank in the summer is 350 and 20 kg/day, respectively, and the evaporation loss of other oil products is somewhere between these two figures.
During the three summer months, the value of the annual evaporation loss from 40 crude oil storage tanks with a capacity of 1 million barrels in Khark Island, Iran, with the present type of coating (absorptivity a ¼ 0.3) is 8000 barrels. Clearly, reducing the evaporation loss of oil storage tanks is of particular significance for nonrenewable energy conservation and environmental protection.
Super Therm® at just 0.25mm has a U value of just 0.559 W/m2/K therefore reduces the solar thermal absorption and reduces significantly the evaporation of oil and flaring, which reduces CO2.
Also oil storage tanks are exposed to corrosion from acid, alkali and salt solutions; moreover, salt fog corrosion is a common and destructive cause of atmospheric corrosion on the seashore. One way to prevent or retard corrosion on oil storage tanks is to paint them with a Rust Grip® that has very good chemical resistance and salt spray resistance.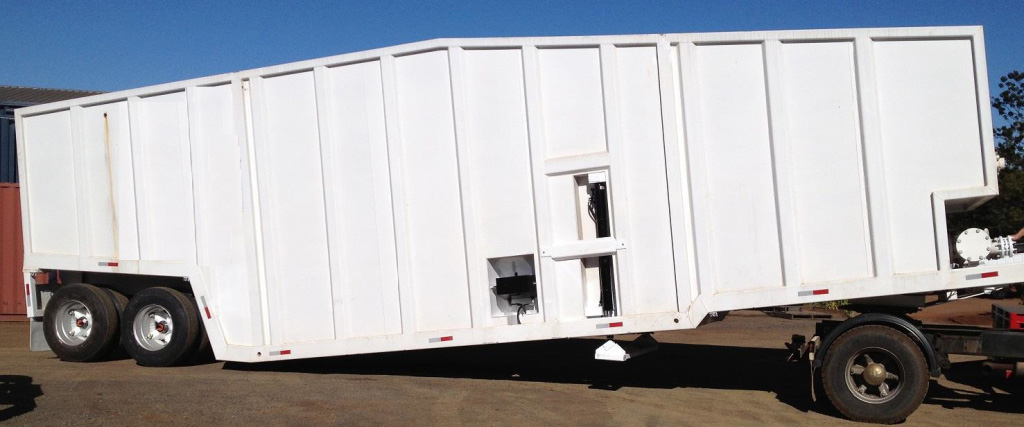 In 2001 Century Rig 3 had a hot water problem at Moomba Oils field in South Australia. They used a steel Frac tank (water storage) 35 ft long x 15 ft diametre and a small storage tank at the kitchen (6 ft X 6 ft square 3 side and the top only).
Both the hot and cold water temperature was 46°C. The ambient day temperature was 44-48°C and the night temperature was 32-36°C. Staff and crew could not have a shower as the water was too hot. They would sit on the floor with the shower rose up high hoping that the water cooled as it reached them. Super Therm® cooled the tanks to 24°C passively for better well being of staff and crew. Read the case study >