Government
NEOtech Coatings offer a range of tough industrial coatings that help future proof government assets and infrastructure. As energy prices may rise and unprecedented global temperatures are rising, the Australian Government response is it's working towards a net-zero 2050 emissions target. In the meantime, the question becomes where's the opportunity to protect ourselves from future extreme heat events which also passively reduces energy consumption while minimising the urban heat island effect and Australia's CO₂ emissions.
Cool Roof Studies
City of Adelaide Cool Roof Trial 2022-2023
In April 2022 the City of Adelaide engaged NEOtech Coatings to apply Super Therm® Ceramic Cool Coating as part of their Cool Roof trial on two buildings in the southern Adelaide parklands.
As an example, a netball clubrooms had a dark, Deep Ocean Colorbond® roof. On a 25°C day the external roof temperature was 53°C. The other building had a lighter Surfmist® roof and recorded 45°C. The heat loads into the metal roof and transfers into the building, pushing up the need for air conditioning.
The roofs were pressure cleaned and repaired in a day and the Super Therm application was applied the next day.
After application with Super Therm® on a 27° day, the netball clubrooms roof was a very cool 23°C compared with previous high of 53°C on the uncoated roof. This 225% improvement means it was much cooler inside the building as there was a tiny amount of heat loading into the roof space and traditional insulation.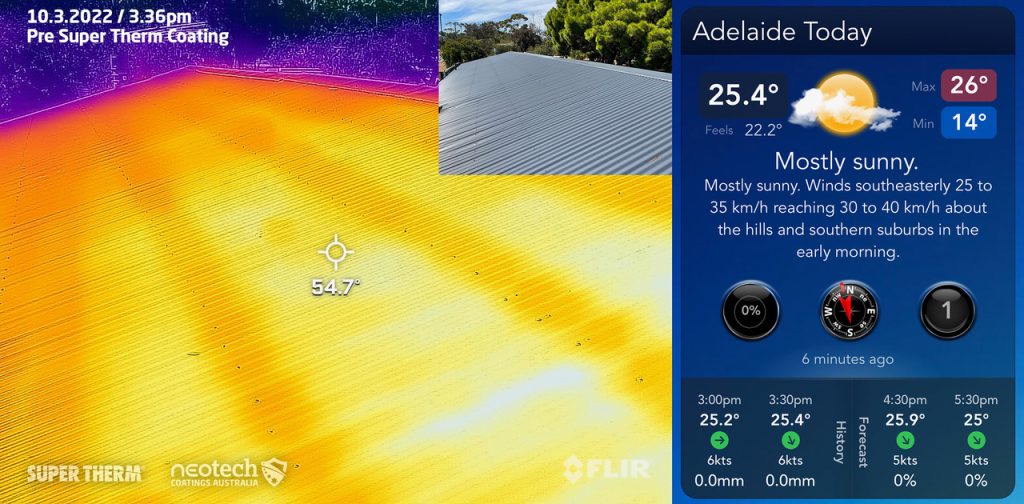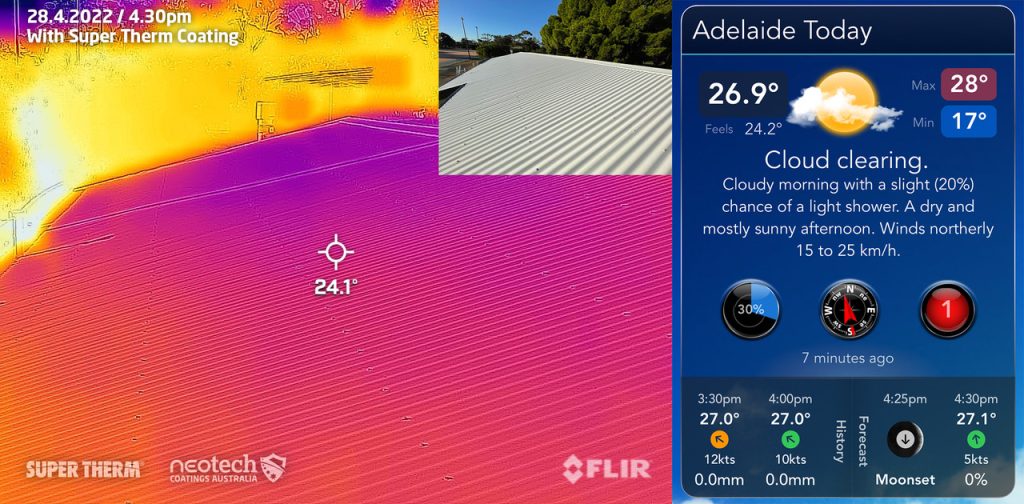 The University of Adelaide is independently researching data as part of the cool roof trial. Based on urban heat mapping and testing sensors before and after application, they are collecting data both on the roof and inside with a final report post summer 2022/23. More >
MEDIA
Cool roofs and how to get them:
City of Adelaide Council trials a space-age ceramic coating as temperatures skyrocket
The Fifth Estate, 17 May 2022
Example of Small Local Government savings with Cool Roofs
Council building size: Approx 980sqm
Energy spend 2019 $1,173,000 and 2018 $1,105,000
Power? Gas? Fuel? other energy spends – Carbon offset
Imagine saving 20-30% on energy use (DEO) – eg $351,000 (1 year)
New / upgrades to buildings $2,579,000
kWh per building
Passive insulation makes money and enhances solar value. Less consumption = more for the grid to sell
Corrosion and maintenance costs reduced to replace roof