Wineries
Passively block 96.1% of heat in your winery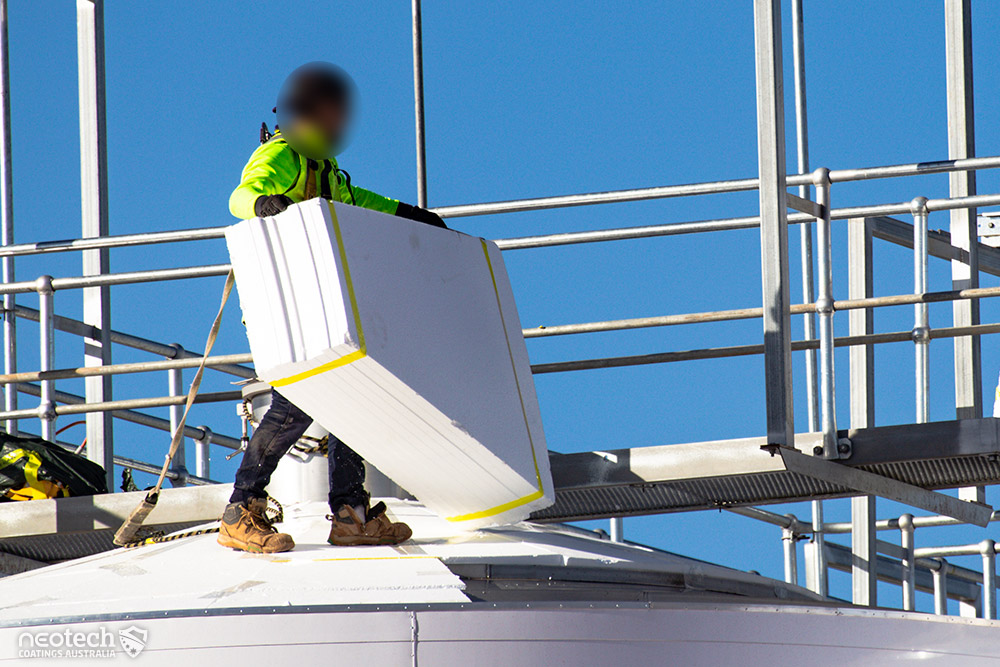 Wineries today are driven by a desire to protect the environment, improve community experiences and reduce the bottomline. Growers are embracing sustainable vineyard practices in their winemaking practices which translates into economic savings. The application of energy-efficient "cool roofs" helps achieve energy-reduction goals and reduces winery running costs.
Whether you're building a new winery or refurbishing an existing facility, sustainable winery design through cool roofs leads the list of practices that can be implement easily and simply to make a positive difference. The incentives for winery owners to foster environmental stewardship also showcase socially responsible leadership and financially rewarding.
The cool roof coating of Super Therm® is a global leader that blocks 95% of solar heat. This reduces the amount of heat-absorbing light and infrared heat and creates a cool roof by reducing the heat load. Cool roofs reduce heat absorption and therefore cooling costs.
Working with a coating like Super Therm®, finding other natural strategies where possible can help blocking sunlight from building surfaces can dramatically reduce cooling loads. Plant trees along the north and west faces of the winery. Install a wall trellis system to grow vines and shade the wall, or design a sunscreen that both shades the wall and ventilates heat away from its surface. These strategies can additionally reduce cooling costs.
Air movement from a fan coil unit that cools the above ground barrel room dries out the barrels and increases evaporation. To counteract this, many winemakers humidify their spaces, which can have its own detrimental effects. A barrel room that doesn't need cooling will not promote evaporation. Just one barrel of wine or 25 cases saved from evaporation returns profit directly to the bottom line.
5 Benefits of a Cool Roof in Wineries
Reduced energy consumption
A cool roof reflects the sun's rays, transferring less heat to a building's interior and reducing the need for air conditioning, especially during peak periods when energy demand is high. A well-protected roof reduces winter heat loss and summer heat gain – is a strategy that will decrease energy consumption. Using less energy not only makes wineries a more efficient business but also a more responsible one, relieving pressure on the power grid and helping prevent energy shortages and blackouts.
Lower lifecycle costs
Cool roofs are high performance roofing systems have a favourable cost impact over time. Reduced energy demand translates to lower power and utility bills – a real benefit during hot summer months when air conditioning can be a buildings largest expense. The quality cool roof membrane is an exceptionally tough, long-lasting material that resists leaks and requires virtually no maintenance, saving winery owners time and money on repairs and replacement. Even after factoring in higher material costs, studies show a cool roof nets Australian winery owners an annual savings.
Environmentally friendly
Sending less roofing waste to landfills, combined with a cool roof's lower energy usage, decreases greenhouse gas emissions, reducing a wineries carbon footprint and lessening the buildings environmental impact.
Improved health and comfort
How people feel inside is just as important as how a roof looks outside. A cool roof leads to a cooler building that is more comfortable to occupants, helping prevent heat-related illnesses and deaths. A cool roof also reduces the amount of heat transferred from the building to the air, lowering urban air temperatures and helping reduce the urban heat island effect that causes cities to have unhealthy air quality – a serious health risk that can lead to breathing difficulties in people and pets.
Increased durability and longevity
A cool roof has a 30+year lifecycle with a higher fire, wind and weather resistance. Reinforced for exceptional strength and durability, a quality roofing system holds up to all types of weather, including high winds and extreme heat temperatures. It maintains consistent, watertight integrity, keeping moisture out while reflecting ultraviolet (UV) and infrared (IR) radiation, protecting all roofing components from deterioration. Lower expenses and greater comfort over a longer life add up to significant value for winery owners, making one of a buildings largest investments one of its smartest.
Wineries require substantial amounts of electricity to maintain the stable temperatures necessary for the fermentation of wine during the autumn harvest and crush. The cooling costs linked to the proper storing of wine once it is produced can also be substantial, especially during the hot summer months. Cool roofs are part of a wide-ranging benefits of energy efficiency measures that reduce cooling costs for quite some time.
Wineries are exposed to many environmental conditions. Many wineries in Australia struggle with managing heat and look for better protection for their wines in their warehouse storage through the reduction in maximum internal temperatures.
The reduction of temperatures also reduces the demand for air conditioning and more efficient operation of wine chiller units. The application of Super Therm® will produce significantly lower temperatures than previously recorded in your warehouse and winery along with improved comfort at the public cellar door.
Particularly during the summer months you can expect between 20-50% air conditioning usage reduction. This brings long term benefits in power savings and environmental benefits along with improvements in the work environment.
Prepares for Fires with Class A Fire-Rated Cool Roof Technology
Bushfire Defence – Class A Fire-Rated coating
Non-combustible roofing materials are one of the most important factors for structure survival during a bushfire. The selection of a Class-A Fire-Rated roof coating is an important safety decision for structures located within the bushfire zones. Super Therm® is a great defence from bushfires as it has been tested and rated by NASA as a Class-A Fire Rating. They make for an easy solution to defend your winery from bushfires. Super Therm® can be tinted to light colour Colorbond® colours to provide reduced energy use benefits and environmental protection.
Insulate Frozen Pipes and Pumps
Many wineries contain pipes that may have condensation. In some cases pumps and the polyethylene pipes have about 7-8 centimetres or 3 inches of ice over them. Preventing condensation on cold surfaces is another application recommended for insulation coatings like Super Therm. For example, if a cold pipe exists in a warmer space with humidity, condensation will form when the temperature of the pipe surface is below the dew point. A cold substrate with an insulation coating installed will present a warmer surface to the moist air and can prevent condensation if it is above the dew point. Mitigating condensation on cold metal surfaces can also play a role in preventing corrosion.
Solution
Use salt on the ice and hot water, when the ice was removed use sandpaper to roughen the pipe
Applied 2 coats coat of Moist Metal Grip
Applied 1 coat of Super Therm® and over coat this with 1 coat of Enamo Grip white as the dress coat
Consider: For extra toughness add in Rust Grip at the start…really strengthens in the concrete.
This works perfectly and you will be able to observe the reduction of the condensation.
Insulation and Corrosion protection for Telfer Chilled Water Clarification
The SPI products may be used as an insulation coating system to be applied to the austenitic stainless steel chilled water lines. The coatings could cover all flanges, valves, all protrusions, pipe supports cleats and nozzles including PE (polyethylene) / SS (stainless steel) connecting flanges where the PE comes out of the ground this insulation will also adhere to the polyethylene pipes that join with the stainless steel.
All the coatings are applied by spraying directly on to the pipe and fittings this insulation system will not have any seams and is totally sealed against air, moisture, and heat.
If the pipe needs to be inspected at any time all that is required to is to cut the insulation coating exposing the area to be inspect and to seal it again reapply the coatings and you will still have the permanent seal the whole system is UV resistant and is not effected by the elements.
All coatings are applied on site and no pre-work off site is required. Clean and prepare the pipe and fittings and apply the coatings as listed.
Coating Products
Rust Grip® – one part polyurethane – DFT 100 microns
HPC – water base – DFT 15 mm
Super Therm® ceramic heat block coating – DFT 450 microns
Enamo Grip – DFT 200 microns
Total DFT – 16 mm
Solutions
With this insulation system the fluid will be kept at a constant 4°C
There is 0 flame spread in case of fire
Maintenance is easier to manage
Lasts over 10 years
Reduction of energy costs
With the above insulation system no cladding clips, mesh or vapour barriers are required
The rock wool, mesh and cladding allow air to be trapped inside and this causes condensation and potential corrosion problems
Winery Floor and Cool Room Heat Management
Often wineries also have condensation build up on floors. You will not be able to see any reduction of the condensation until the internal floors are fully insulated.
The floor needs to be prepared by grinding the area (Profile) for inspection to see what order problems are underneath the paint
Apply 2 coats of Moist Metal Grip as the base
Apply 3 coats of Super Therm (minimum). Check with manufacturer SPI Coatings on regards to the amount of coating the archive the insulation required
Apply 2 coats of Enamo Grip 5000 White as the top coat including NON-SKID as there is foot and trolley traffic
After the area has been insulated and all the moisture is out of the underside of the concrete slab and the area is dry then Interlock could be applied to strengthen the concrete.
If a cool room wall is against the external wall with windows, the wall and windows need to be coated with Super Therm®. Cool rooms normally have a maximum temperature only be to – 2 or 3°C.
---