Super Therm® – The Original Ceramics Thermal Insulation Coating since 1989

---
---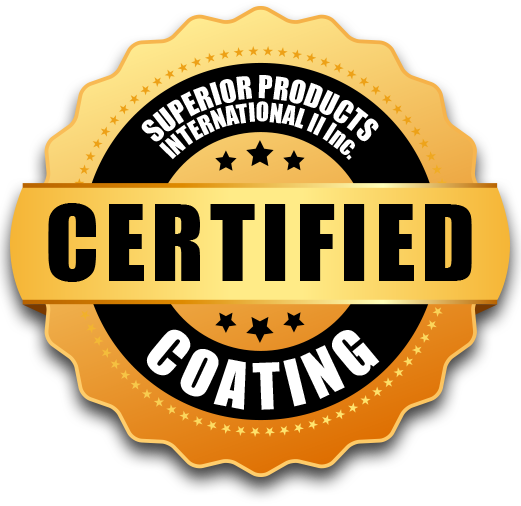 Super Therm® blocks 96.1% of the thermal heat and reduces up to 20-50% (Industry tested) in energy use for over 34 years!
Blocking the initial heat load is the "key" to controlling
thermal flows. Don't just reflect, block heat too!! Super Therm Blocks Heat!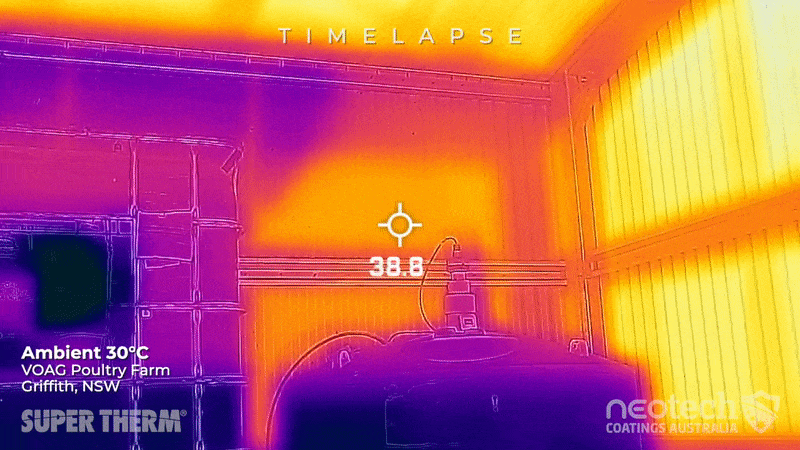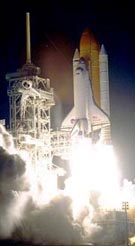 Super Therm® was developed as a ceramics solar heat block coating. In collaboration with the NASA, J.E. Pritchett created a water-based paint composed of four ceramic compounds embedded in a foundation of four resins. Super Therm® wasn't a spin off coating…it's the Real Deal!
Creation and progress of Super Therm® was achieved in NASA when trying to develop a heat shield for space shuttles that thanks to the advanced ceramics solar heat block technology resisted extreme heat fluctuations (see the Super Therm® story and science).
On the basis of this, the manufacturer SPI II Inc. USA decided to collaborate in developing of their main product Super Therm® with the research centres at NASA. Successful development of the heat block coating with inimitable characteristics succeeded in particular thanks to collaboration of the scientists and ceramic engineers from Marshall Space Center (NASA). After 2 years of testing of more than 4000 different kinds of ceramic components 3 ceramics with the greatest ability of radiation reflection and the smallest heat conductivity were ultimately selected.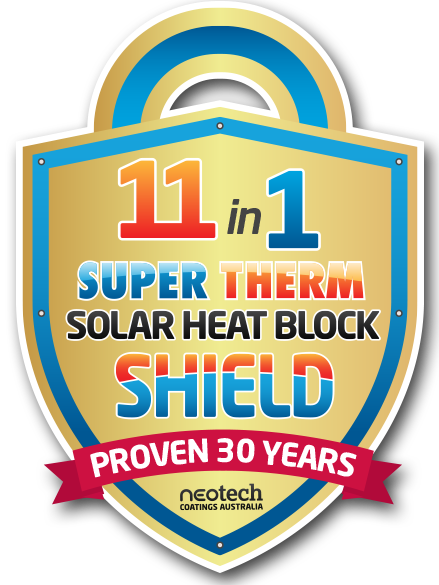 The ceramics used in Super Therm® do not conduct heat It is a thin insulation thermal coating. After testing up to 100°C the performance was the same. Super Therm® Blocks Heat Load!
Physics show that ceramics melts at thousands of centigrade unlike metal, plastics and fibreglass and ceramics do not release poisonous chemicals. Ceramics are a natural insulator.
Later research proved inevitability of blocking also infrared radiation. Therefore the fourth ceramic membrane was added. Applying knowledge from space environment, a unique ceramic solar heat block coating for civil usage was created – Super Therm®.
Super Therm® thermal insulation heat block coating manufactured by SPI II Inc. accomplished their most important task – the coating provides not only heat reflection like other synthetic "solar reflective paints" on the market but also blocks 99.5% infrared heat! View NASA Testing results.
Stop the heat, get cool and reduce energy…
Aged Care Facilities
Car Sales showrooms
Data Centres
Distribution Centres
Education
Factories
Hospitals
Leisure Centres
Manufacturing
Offices
Plant Rooms
Shopping Malls
Sporting Clubs
Storage Units
Supermarkets
Workshops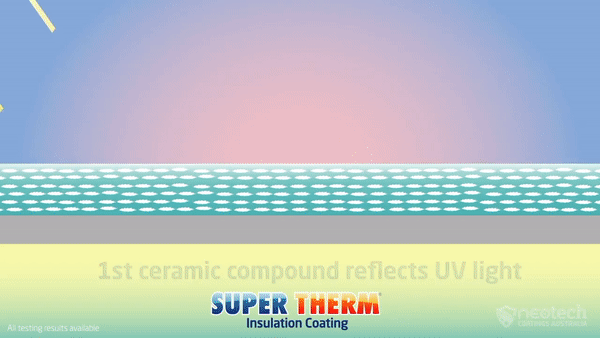 Super Therm® Specifications
| | |
| --- | --- |
| Total Solar Reflectance (TSR) | 96.1% |
| Solar Reflectance Index (SRI) | 105 |
| Litres to Weight ratio | 1.53 – very high |
| Emissivity | .91 |
| Solar Absorption | .039 |
| Colour | Egg Shell White |
| Tintable | Yes |
| Texture | Silky Matt |
| Water Based | Yes |
| Maximum Surface Temp. Application | 65°C |
| Minimum Surface Temp. Application | 5°C |
| Spread Rate per litre | 2.4m2 @ 450µ wet |
| Thickness in Microns (µ) Wet | 450µ |
| Thickness in Microns (µ) Dry | 238µ |
| Coat System | 1 Coat |
| Primer Required | No |
| Application | Airless, Brush, Roller |
| Expected Lifespan | 30+ Years |
| Shelf life | 3 Years |
| Maintenance Program Required | No |
| | |
| --- | --- |
| Fire Rating | Class "A" by NASA |
| Acoustics Rated | Yes – 50-68% |
| Condensation Control | Yes |
| Safety Data Sheets | Yes |
| Formulation | 4 Micron sized ceramics |
| Binding | Urethanes & Acrylic |
| % by Solids | 70% |
| % by Volume | 54% |
| Low VOC grams per litre | 67 |
| Perm Rating | 8.8 |
| Australian Warranty | 20 Years* |
| ISO Current | Yes |
| Year Developed | 1989 |
| Used Australia since | 1995 |
| Manufactured | Kansas, USA |
| NASA Development | Yes |
| EPA Approved | Yes |
| FM Approved | Yes |
| UL Approved | Yes |
| Department of Energy Tested | Yes |
0.0 m2 / 2.4 m2 / litre = 0.0 litres / 18.9 litres per 5 Gallon pail @ 250 microns = 0.0 pail + 0.0% for profile = 0.0 pails / 0.0 litres * Profile % based on corrugations and like profiles 20% extra as a guide. Brick mortar 15% extra. 10% for shipping containers profiles.
The entire cool roofing industry has had a blindspot because it's been asking the wrong question. The wrong questions will always give you the wrong answers. The industry and academia have been looking at heat load and solar absorption and ignoring it. By asking the right questions from the start we've been able to develop a very cool coating product none of our competition want you to know about. What we're really talking about is Heat Neutralization of solar heat. Blocking the heat from loading and transferring. If anyone talks to you about SRI, reflectivity or emissivity also find out if their paint or coating blocks the heat. Proven since 1989, Super Therm® blocks the thermal heat load…avoiding the heat stroke!
Block 99.5% of infrared heat and 96.1% overall!
Our mission to neutralize passive heat as much as possible in an environmentally friendly way and Super Therm® is without doubt the most effective and longest lasting ceramics thermal heat block coating on the market today! Super Therm® also enhances the natural heat-shedding effect known as passive cooling. It is a passive cooling coating that reflects infrared heat off a surface and can cool the space without releasing additional heat to the environment. It provides daytime radiative cooling and turns any substrate into a passive cooling material with superior cooling performance. It's the ultimate thermal neutralizer.
What is Super Therm®?
Original Ceramics Thermal Coating
Super Therm® Ceramics Thermal Coating neutralizes heat. Time and time again since 1989 it's blocked solar heat and our quality, independent verification by leading laboratories sets Super Therm® apart from our competitors.
Super Therm's very high 96.1% Total Solar Reflectance and very minimal energy absorption it has the ultra rare validation of its integrity:
Super Therm® is a water-based thermal heat block coating (thicker than a heat reflective paint) which contains 4 specific ceramics that work together unlike any other product on the market – two micron sized ceramics are reflective for UV and visual light, the third blocks the infrared solar heat energy and the fourth acts as a non-conductor for emissivity to stop solar heat load making it a safe, high performance and effective energy friendly solution. The ceramics have been tested to block:
99% of Ultraviolet Radiation (UV)
92% of Visual Light (Short Wave Radiation)
99.5% of Infrared (Long Wave Radiation)
Block heat load non-conductor
At the foundation Super Therm® harmonises a unique combination of highly effective aliphatic urethanes for toughness and durability, elastomeric acrylics for elasticity, and resin additives which creates a moisture and ultraviolet barrier. The last polymer additive ensures a slow drying time to prevent cracking as well as adding a silky/matt finish.
The ceramics/resin combination has been shown to reflect both heat and fire, withstand elements for over 34 years, endure 180°c temperatures, bend 180° without cracking, and resist water and ultraviolet light in the toughest environments.
With a Total Solar Reflectance of 96.1 out of 100 it's supreme for fire prevention, mould prevention, moisture control and reduces sound globally unlike any other.
With the rise of cool roof coatings/paints globally naturally more products, companies and players will jump on the bandwagon. The industry will say 'cool roof coatings can significantly reduce energy consumption and save money' but there's a lot more to it for value, quality, longevity, application and results. Established evidence and science is essential!
Environmental benefits of Net Zero Emissions Target Coating
Super Therm® is truly a timely, Energy Star and environmentally-friendly solar heat block coating that addresses both stopping heat and fire protection with minimal effort in application labor, making it ideal for a wider market use. The EPA (Environmental Protection Agency – USA) has recognised the environmental benefits of Super Therm® for reducing energy consumption and resulting pollution from energy consumption. It also creates a net benefit for the reduction of the Urban Heat Island effect.

Key Features and Benefits of Super Therm®
TSR 96.1% of Heat Load (passively reflects and blocks the absorption of most solar heat back to space)

99% of Ultra Violet Radiation (UV)
92% of Visual Light (Short Wave Radiation)
99.5% of Infrared (Long Wave Radiation)

20-50% energy reduction as tested by the USA Dept of Energy
Only coating developed with NASA
NASA Tested and approved with Class "A" Fire rating – No fire spread
Fire tested passed NATA Lab – Australian laboratories
30+ years lifespan with ongoing USA test
20 Year Application Guarantee with Approved Applicator in Australia
Works even when dirty – white paints have been tested reduce reflectivity by 30% within 1.5 years
Single coat wet 425µm (micron) easy application (mostly no base or priming coat required)
54% solids by volume – no need for 2 applications or priming – it's not a paint; but a thick coating
Tested successfully at 23, 50, 75 and 100°C
Energy Reduction = Reduced KW power & electricity costs
Safe and non-toxic for humans & animals
US Department of Agriculture approval for use around food and potable water
EPA approved
Over 9.3 million m2 applied across Japan
Energy Star

,

LEED

and

CRRC Rated
Water based
Mould and Mildew resistant
Moisture resistant
Easy to apply by airless, brush, roller
You will not find another product that can genuinely verify that it repels solar radiated heat, reflects convective heat and resists conducted heat. This solar heat load prevention on roofs and walls greatly reduces temperatures and stops heat entering a building, therefore electricity bill reduction through reduced KW power use and better comfort, well being and profitability.
Super Therm® resists the loading of surface solar heat over the envelope of a building to stop heat load before it starts.
With Super Therm®, you can combat visual, ultraviolet and infrared light as the radiational heat load. It is an environmentally safe and advanced scientific formulated ceramics solar heat block coating stemming from developments with NASA's space agency
5 Key Benefits of High Performance Super Therm®
1. Reduce your energy costs with clients showing ROI within 3 years*
2. World's only solar heat block coating Tested and Blocks 96.1% of solar heat!
3. Proven to last over 34 years
4. Prevents thermal shock protecting your assets,
reduces fuel consumption and running engine costs
5. Environmentally friendly, safe and easy water based application. EPA & USDA approved!
The Ideal Solar Heat Block Solution!
Set your air conditioner to 25°C. Every degree you lower the thermostat drives your bill up by 6% – e.g. 20°C = 30% more!
Con Edison, NY.
Super Therm® reduces temperatures therefore giving a 20-50% (Industry Tested) increase in energy efficiency by reducing heat load and therefore less air conditioner power consumption to keep your environment cool.

Super Therm® has been thoroughly tested and proven. It has been used by many multi-national organisations and governments which have applied millions of m2 around the world since it was first released in 1989. It has continued its long lasting, award-winning, proven success for over 30 years and the benefits, environmental rewards and sustainable results are comprehensive.
Sony Koda reduced 75% energy consumption

Above: Nissan Factory, Yokahama, Japan: 165,000m2
| | | |
| --- | --- | --- |
| Application for Sony Koda | May | June |
| Before Super Therm® applied | 3,767 KW | 5,647 KW |
| After Super Therm® applied | 519 KW | 1,896 KW |
| TOTAL KW REDUCTION | 87% | 67% |
Source: Daiko Shokai, Japan | See more Japanese Case Study results (pdf)
The basic principles of Super Therm® solar heat blocking properties are high-performance thermal reflection + low absorptive emissivity + high radiative emissivity + conductive resistance = the incredible thermal solar heat block of Super Therm®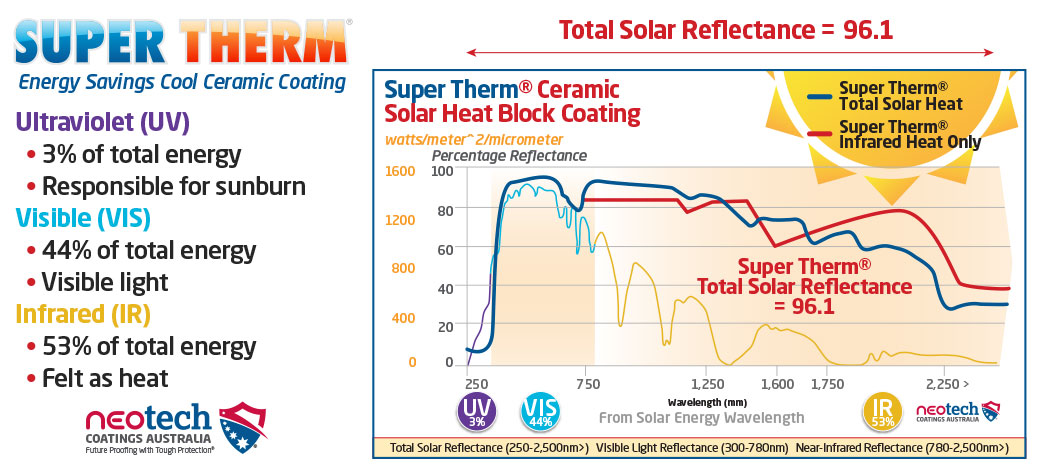 Super Therm® greatly reduces the roof temperature, improves the work environment and increases the efficiency of air conditioning. In cool environments it also keeps heat inside a room in winter, so it reduces the energy consumption throughout the year.
Performance Durability is Outstanding
There are many "reflective coatings" that have an initial reflectivity of 80 to 90%, but lose reflectivity by 20% in 1 to 2 years. As a result, the temperature reduction effect is lost. Even when the Super Therm® surface becomes dirty, it does not affect the room temperature reduction effect thanks to the effect of special ceramics proven for over 30 years. Compare Super Therm® to reflective coatings test.
The SPI Coating System of Super Therm® provides solar heat block against radiation heat transfer and conductive heat transfer, blocks the absorption of moisture, air infiltration, condensation, and mould and mildew, and is a fire resistant coating with zero flame spread and zero smoke.
Safety
Harmlessness
Super Therm® is accepted by the USDA as a non-toxic coating in terms of food sanitation, and it can be used in food factories, dairy factories, and on the interiors of stockbreeding buildings. The quality tests of water in Japan also prove its harmlessness. The EPA (Environmental Protection Agency – USA) has recognised the environmental benefits of Super Therm® for reducing energy consumption and resulting pollution from energy consumption.
Non-Toxic
Super Therm® is classified as the highest class "K" with zero off-gassing in the flammability test at NASA (Marshall Space Flight Center). Super Therm® does not emit any toxic gases in fire.
Nonflammable
The burning test by Japan Railway Rollingstock and Machinery Association for railway vehicle (8-135K) proves that Super Therm® is nonflammable. Super Therm® is classified as the highest class "A" rated having "0" flame spread on all three samples in the flammability test at:
---
Moisture Barrier
Super Therm® is not hydrophobic because it is water based, however the resins dry and form a moisture block and passed the 80 km/hr wind driven rain testing and other hydro testing to block moisture migration through the film. Super Therm® is a water barrier (not just a moisture barrier) to block and stop any moisture from humid air or rains from touching the substrate to prevent any development of corrosion. With a permeability of 8.8, Super Therm® can breathe air, but not allow moisture to enter and allow moist air to the surface.
0.0 m2 / 2.4 m2 / litre = 0.0 litres / 18.9 litres per 5 Gallon pail @ 250 microns = 0.0 pail + 0.0% for profile = 0.0 pails / 0.0 litres * Profile % based on corrugations and like profiles 20% extra as a guide. Brick mortar 15% extra. 10% for shipping containers profiles.
---