International Organisations that use Super Therm®
Q: Who uses Super Therm®?
Some major multi-national organisations and governments use and apply Super Therm® and other coatings with some outstanding case studies from Japan.
Canon
Wal-Mart
Daihatsu
Paramount Pictures
Seiko
Exxon-Mobil
US Federal Highway Department
Matsushita
NASA
Mitsubishi
Department of Defence
Murata
Sony
Saudi Aramco Oil
Sumitomo
Toshiba
Toyo Tire
NEC
Yamaha
Yokohama Tyre

Super Therm® is used around the world so you can be sure its proven, scrutinised and tested with outstanding results
Super Therm® has a 70% market share in Japan, is used widely in Europe, South East Asia, the Middle East and Australia. Through 20+ years of application and testing, Super Therm® has proven to be the most effective solar heat block and weatherisation coating on the market.
World wide markets include:
Asia: Japan • China • Taiwan • Korea • Malaysia • Singapore • Indonesia • India
Europe: Italy • Germany • France • Belgium • Netherlands • Turkey • Greece • Spain • Russia • Ukraine
Middle East: Saudi Arabia • UAE • Oman
South America: Venezuela • Colombia • Brazil • Argentina • Chile
Central America: Mexico • Panama • Puerto Rico • Costa Rica
Africa: Egypt • Nigeria • Tanzania • South Africa • Angola
Australia • New Zealand • Mexico • Canada • U.S.A.
Nissan 75% energy reduction with Super Therm®

Nissan Factory, Yokahama, Japan: 200,000m2
| | | |
| --- | --- | --- |
| Application | May | June |
| Before Super Therm® applied | 3,767 KW | 5,647 KW |
| After Super Therm® applied | 519 KW | 1,896 KW |
| TOTAL KW REDUCTION | 87% | 67% |
Source: Daiko Shokai, Japan | See more Japanese Case Study results (pdf) | Japan Case Studies
Reducing the Air Conditioning Load in Japan with Super Therm®

S Corporation was one of the first manufacturers who obtained ISO14001, and they have been active in the environmental and green manufacturing process. They are engaged in the CO2 reduction to fight global warming. Super Therm® was selected as a part of their activities to reduce CO2 by reducing the energy consumption of air-conditioners.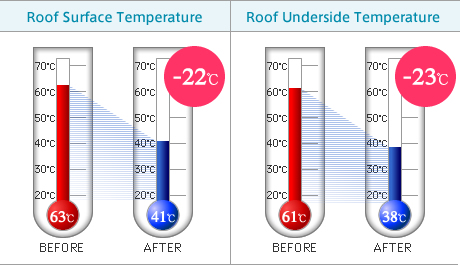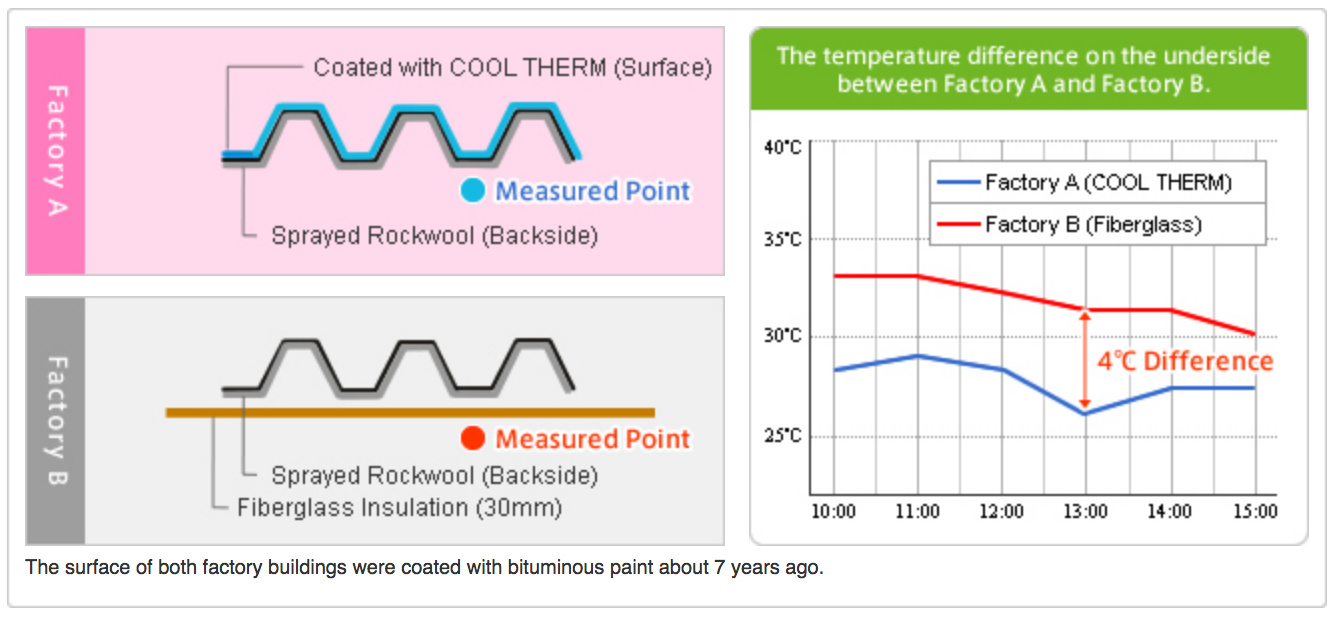 The underside temperature of Factory A with Super Therm® was 4 to 5℃ lower than that of Factory B with traditional materials.
| | |
| --- | --- |
| Energy Reduction Amount | $134,436 Australian dollars (11.05 million Yen) per year |
| Pay back period | 1.06 years |
Result: The initial cost difference was paid off in about one year with Super Therm® energy reduction effects.
Source: Daiko Shokai, Japan | See more Japanese Case Study results (pdf)
The same room temperature effect after 10 years with Super Therm®

Before the application there were days when the room temperature in the 2nd floor exceeded 37 to 40℃, but after the application the room temperature was reduced to 33℃, and the work environment was improved. The room temperature reduction effect is maintained at the same level even after 10 years.
The room temperature measured in August 1996, right after the application was 32.9℃ when the outside temperature was 36℃. Ten years later in August 2006, the room temperature was still 33℃ when the outside temperature was 36℃. Super Therm® maintains the same temperature reduction effect after 10 years.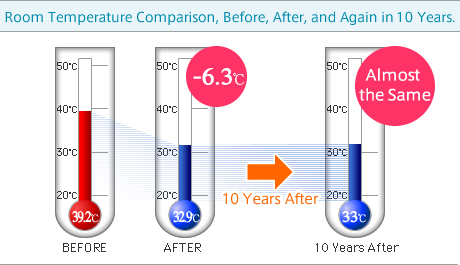 Source: Daiko Shokai, Japan | See more Japanese Case Study results (pdf)
Improving the Work Environment with Super Therm®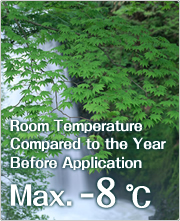 The warehouse was hot inside due to the heat entrance from the roof in summer, and they were looking for a solution to improve the work environment. Super Therm® (Cool Therm in Japan) was selected to reduce the room temperature and to improve the work environment.
In the comparison with the uncoated building (export warehouse) with the same building structure, the max. room temperature reduction was 5.1℃. The workers recognised the great effect, as well, so they are planning to apply Super Therm® to the export warehouse where they measured the uncoated result this time.
They record the room temperature of the same building on a constant basis, and according to their records the temperature reduction compared to the year before the application was -8℃ (Max).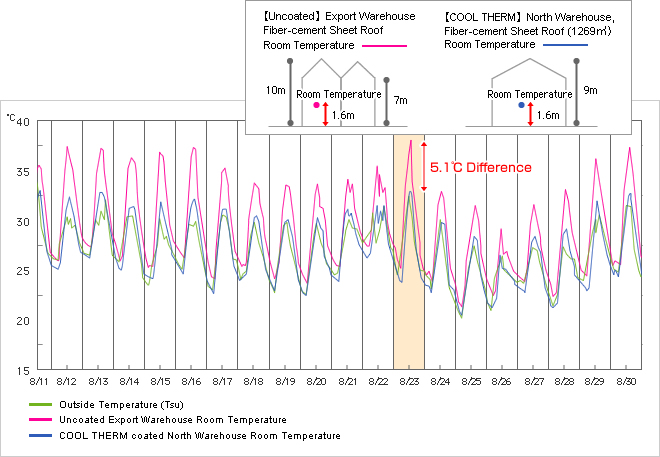 Source: Daiko Shokai, Japan | See more Japanese Case Study results (pdf)