Bridge Corrosion Protection
Curtin University of Technology research suggests that corrosion may be costing the Australian economy more than $30 billion each year, much of which is preventable. Corrosion can result in terrible tragedies such as train derailments, oil spills, collapsed bridges, gas shortages and severe power outages. That is more than $1,500 for every person in Australia each year (Curtin University).
Buildings and structures that incorporate concrete and exposed metal are subject to corrosion. The nature of corrosion varies based on the type and location of the structure. Globally, corrosion-related catastrophic failure of infrastructure has been most visible in the collapse of bridges. There is a history of bridges that have failed due to corrosion, frequently with a loss of life. Examples include the Mianus River Bridge (Connecticut, USA, 1983), the I35 Mississippi River Bridge (Minneapolis, Minnesota, USA, 2007), and the Ponte Morandi (Geneva, Italy, 2018). Fortunately, in Australia and New Zealand there have been no examples of catastrophic corrosion-caused infrastructure failure.
The impact of corrosion is not limited to major infrastructure. It also impacts on residential buildings throughout both countries. While many investigators have researched the causes, impacts, remediation and prevention strategies for corrosion in the construction industry, there are no comprehensive details associated with the costs associated with corrosion. The cost of corrosion-related maintenance of infrastructure (e.g. bridges) in Australia is currently estimated to be $A8 billion (ACA).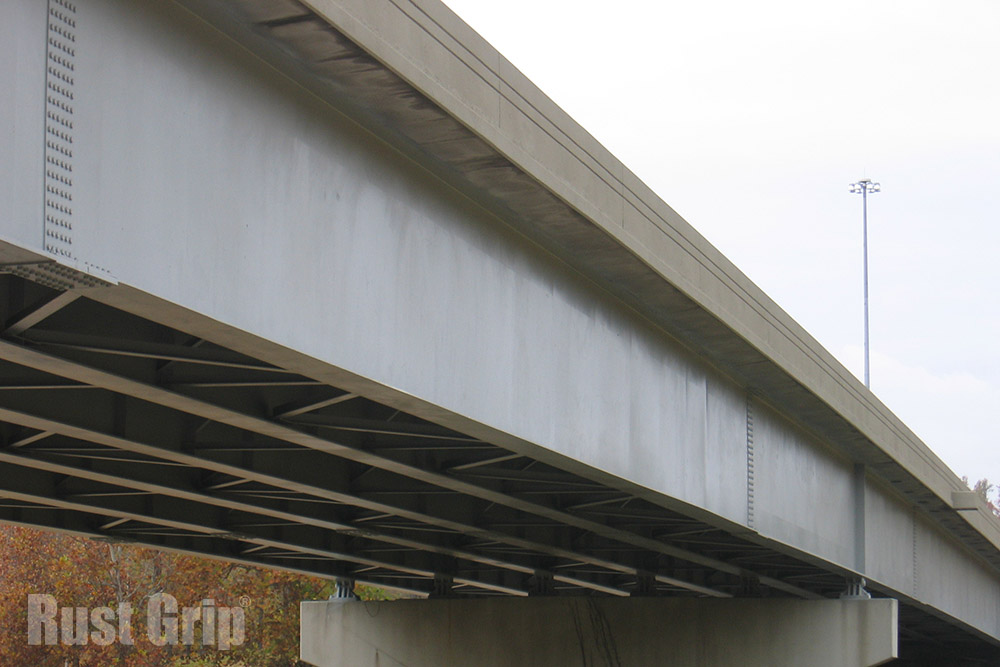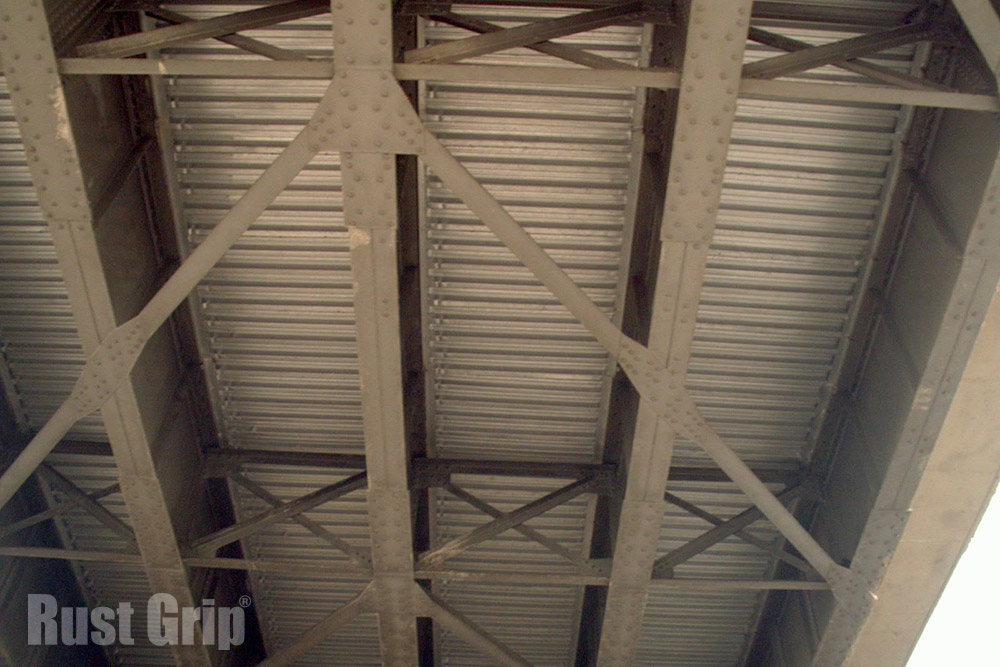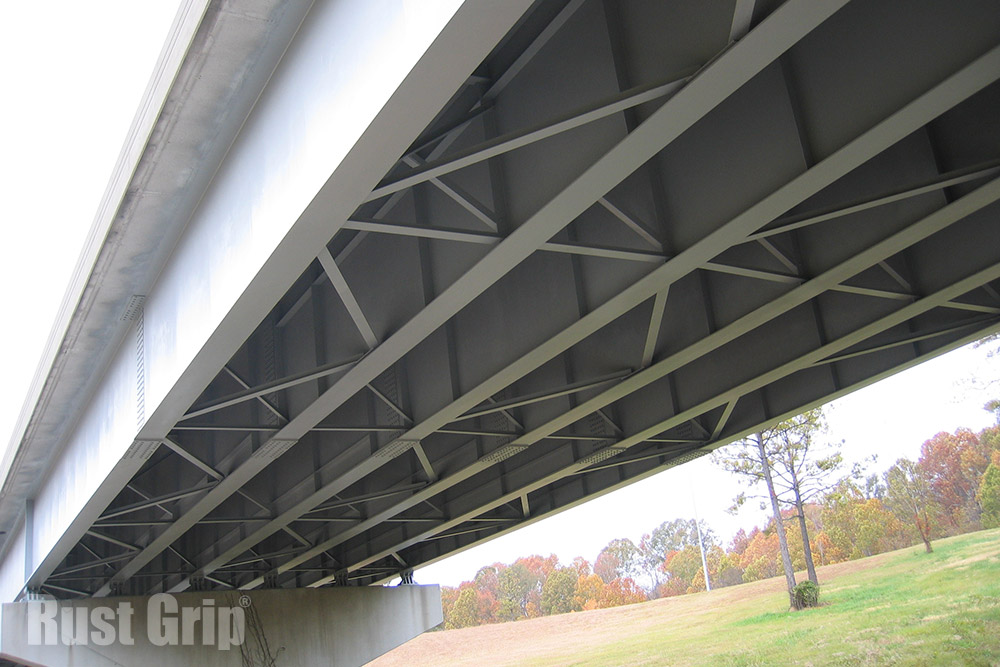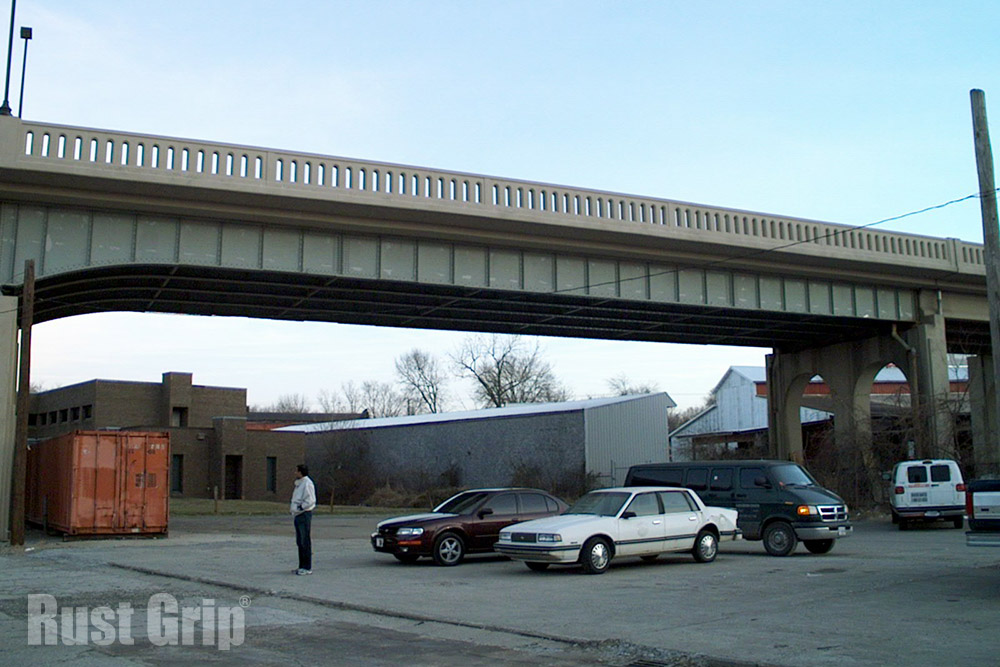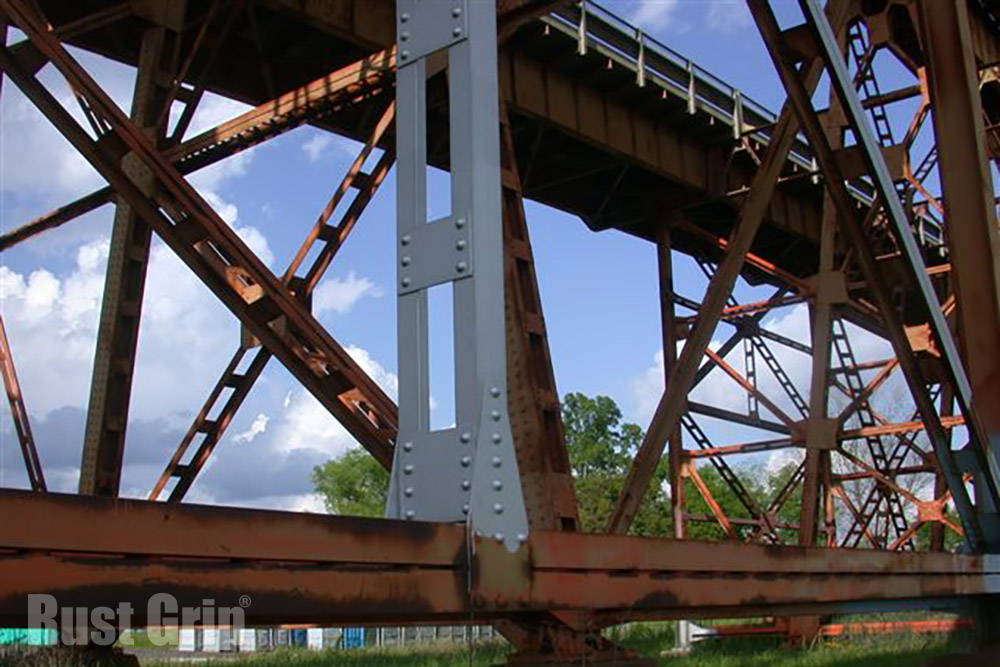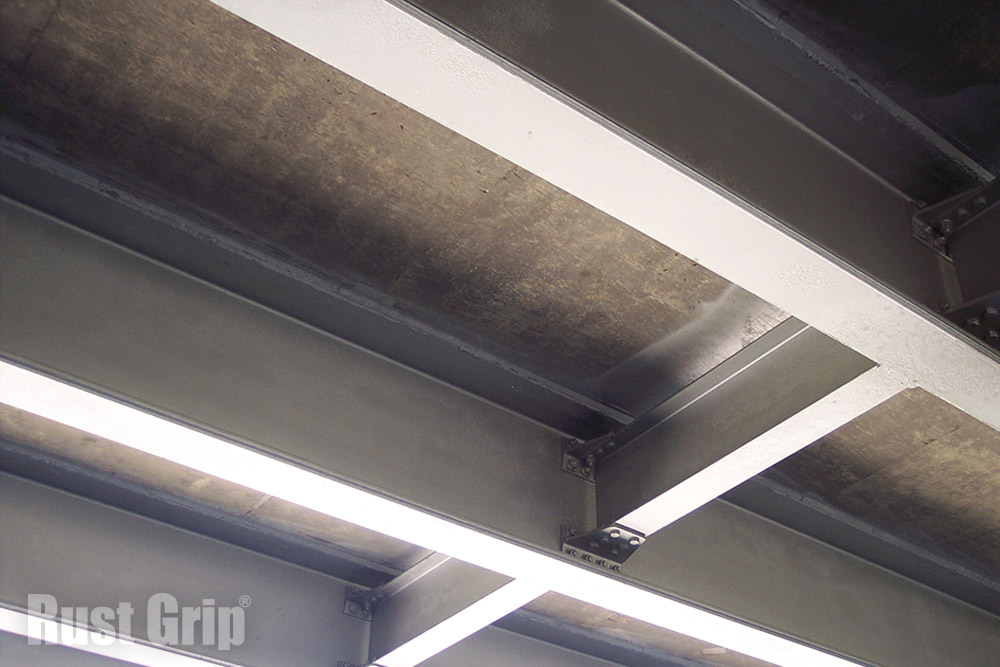 Based on the field inspection and laboratory testing, RUST GRIP® is deemed a suitable coating for the protection of steel superstructures coated with lead based coating system in fair to poor condition as long as the substrate is prepared properly and the coating system is mixed and applied in strict accordance with manufacturers recommendations (view report).
Gadsden Truss Bridge – Gadsden, Alabama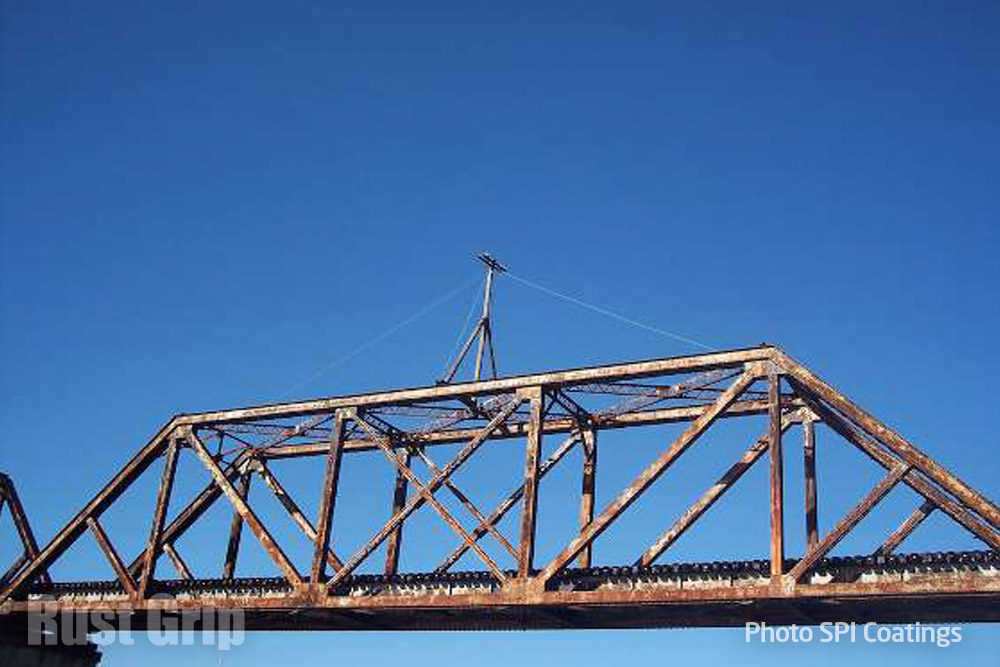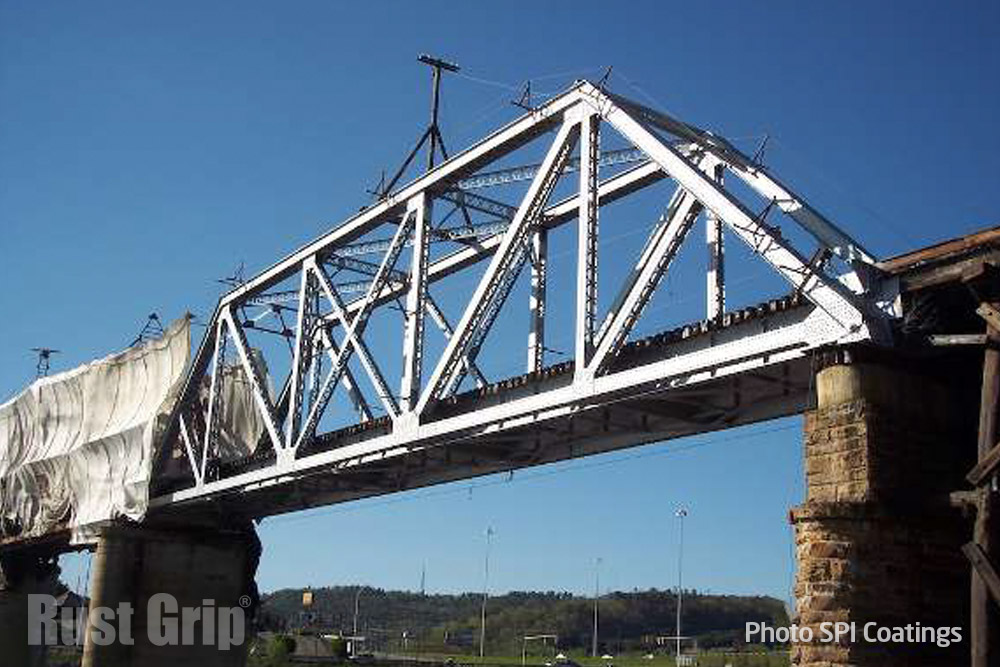 This 200m (660') truss bridge over the Coosa River located in Gadsden, Alabama contains lead-based paint.
The lead-based paint was encapsulated with RUST GRIP® for this particular project to meet the grant budget requirements.
1. Completed the bridge project in 30 days with very minor traffic disruptions
2. Approval from the U.S. Army Corp of Engineers to catch the lead-based paint in tarps so that it could release the water back into the river
3. The lead based paint was placed in containers that were picked up by an Alabama state approved hazardous waste management company that collected and disposed of the waste according to local, state, and federal laws
4. The project was completed without any environmental or safety violations utilising RUST GRIP®
The City of Gadsden is very pleased with the results.
Shane Ellison, Assistant to the Mayor, City of Gadsden
Unfortunately funding for bridge maintenance and repairs is not adequate and agencies must decide which bridge structures will receive funding for rehabilitation and which will be deferred. This means the list of deferred bridge maintenance projects grows yearly and bridges continue to deteriorate which is decreasing their service life expectancy and public safety. This is where RUST GRIP® is able to help.
RUST GRIP® is not your typical polyurethane
RUST GRIP® is an aluminium metallic-based, moisture-cure polyurethane, encapsulating coating
RUST GRIP® has been patented protected and developed with special additives allowing the coating to penetrate, encapsulate, and then harden
No other general category, moisture cure urethane has similar capabilities, longevity and performance
U.S. Patent (Patent #5,695,812) – RUST GRIP® can be used as an encapsulant of lead-based paint, asbestos and other bio-hazardous materials
RUST GRIP® is designed to be applied directly over existing flash/surface rust to provide the best profile for the coating to penetrate, encapsulate and lock the existing rust and surface tightly
Surface flash rust provides a profile and bond to the metal surface of the substrate
RUST GRIP® penetrates deep into the pores of the existing substrate to encapsulate, then swells to anchor into the surface profile and seals to a minimum 6,780 psi surface tensile strength (ASTM E 1795)
Pull test results in the field and lab average 1200 psi and in the field over blasted surface at 2200 psi. Extremely tough, anchors itself inside the pores of the metal surface or surface rust to block moisture and air from developing corrosion. Simple to use and extremely effective against all corrosive environments. Applied only to completely dry surfaces.
This moisture-cured polyurethane coating has been used successfully in the harshest environments; chemical fields, oil fields, oil rigs, and in areas that demand resistance to the corrosive effects of day-to-day exposure. RUST GRIP® is tested to encapsulate toxic elements such as existing lead-based paint, asbestos and other biohazard materials. Passing 15,000 hours of ASTMB117 with the Top Score of 10 at only 6 dry mils and with scribe 500 hours, no blistering.
RUST GRIP® is easy to use and stops the progression of rust and corrosion, while protecting the substrate far longer than conventional, surface gluing, industrial grade rust inhibitors. With minimal preparation and no white sand blast- ing of the surface, RUST GRIP® applies with one coat, "two applications," and penetrates deep into and seals the pores of the surface to become part of the surface profile.
Within an hour of application, RUST GRIP® begins to cure, pulling moisture from the air and microscopically swelling into the individual pores of the substrate as it hardens. This moisture absorption anchors the coating and seals against any possibility of outside air, moisture or minerals from entering the pores and attacking the surface and causing further corrosion or penetration of any kind.
RUST GRIP® is tested to encapsulate:
Rust
Bio-hazardous materials
Economic benefits of RUST GRIP®
ONE-COAT PAINT SYSTEM: By replacing the traditional three-coat system with a one-coat system, RUST GRIP® will reduce product, equipment, and labor costs
ELIMINATE SANDBLASTING: With its ability to encapsulate lead-based paint and to be applied directly over existing paint and/or surface rust, RUST GRIP® will reduce surface preparation costs (SSPC-SP2 vs. SSPC-SP10)-Leg of 190 bridge, Louisiana (pull before 100psi – after RUST GRIP 580psi).
ENCAPSULATE LEAD-BASED PAINT: With its ability to encapsulate lead-based paint, RUST GRIP® will eliminate the need to monitor and maintain bridges coated with the traditional overcoat method
RUST GRIP® – Easy-to-prepare and easy-to-apply while at the same time extending service life
RUST GRIP® – Attains Higher Pull-off Strength Than Current Bridge Coating Systems
RUST GRIP® – Withstands extreme temperatures and harsh chemical and salt environments
RUST GRIP® – Can be applied for less than the total cost of traditional coating systems, quicker and safer
Rust Grip® has the ability to protect against mould and mildew on surfaces that are prone to dam- age from prolonged exposure. Rust Grip® creates an unsurpassed protective surface, proven time and again through on-site evaluations and real-world applications.
Patented encapsulation of bio-hazardous materials
Pull testing avg 1480 psi
Exceptional adhesion: ASTM 5B rating
Surface tensile strength: 6,780+ psi
Withstands temperature up to 600°F (315°C)
Certified penetration of 18 layers of existing lead-based paint
Endures 29,700 rub cycles without exposing existing lead-based paint
Passed 15,000 hour salt spray test
Test "5" on Flame Spread (0-25 Class A)
Meets EPA Guidelines
Certified water barrier: ASTM D6904 and ASTM D7088 hydrostatic & wind driven rain
Over 15 years of successful use on oil rigs and pipe lines
Rust Grip® can protect and seal surfaces of steel, aluminum, concrete, wood, fiberglass, and other substrates. Rust Grip® will seal out moisture and air with a permanent membrane that stops penetration and deterioration, blocking chemical pollutants that cause corrosion and deterioration.
Rust Grip® is reviewed and approved by these organisations:
USDA Product Safety Branch
DNV (Det Norske Veritas)
Louisiana Dept. of Transportation
Georgia Dept. of Transportation
IMO (International Marine Organisations)
ABS (American Bureau of Shipping)
US Coast Guard
Tennessee Dept. of Transportation
University of Kentucky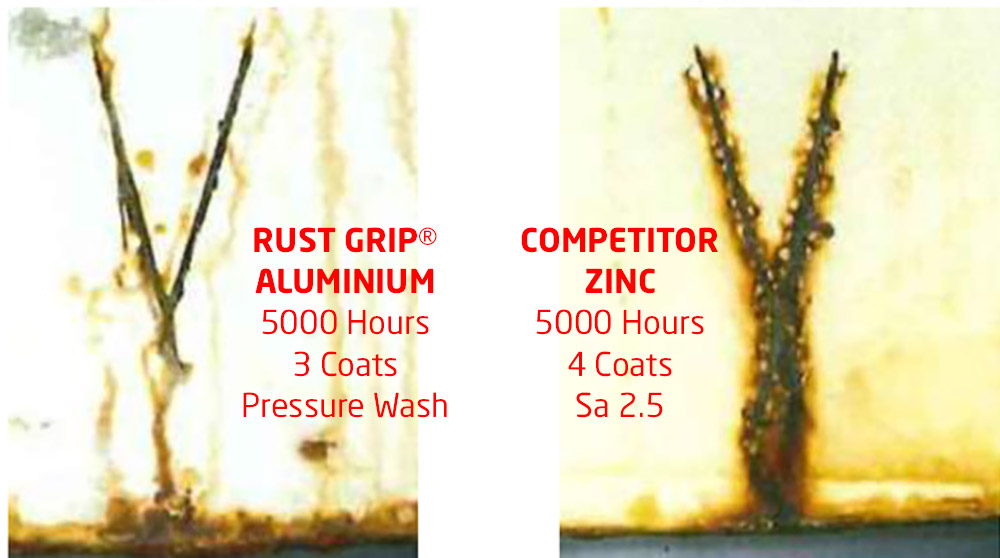 Traditional concept of corrosion control
All corrosion coatings in the market are TOPICAL coatings – do not penetrate the surface
TOPICAL coatings adhere to roughness on the surface layers like a GLUE and are susceptible to attrition and loss of adhesion over time
Oxidation and acid rain can enter and set off corrosion even though the surface coating remains intact
Surface developed flash rust before coating was finally applied – coating was not designed to penetrate and encapsulate
Topical coatings allow corrosion to develop inside pores – corrosion develops in six (6) months to two (2) years
Traditional bridge coating systems (TOPICAL coatings) perform optimally at SSPC-SP10 (Near-White Metal Blast Cleaning) surface preparation – requires abrasive blasting to abate the substrate and prepare surface
Dangers of abrasive blasting and other blast media practices are well documented
Serious adverse environmental impact – air, water and soil contamination, worker exposure, pollution and noise
Near-white metal blast produces a minimum of six (6) and up to eight (8) pounds per square foot of spent abrasive
Four (4) million square feet of paintable surface can generate anywhere from 13,000 to 21,000 tons of spent abrasive
Contact NEOtech Coatings regarding RUST GRIP®