Bus Heat Protection with Super Therm®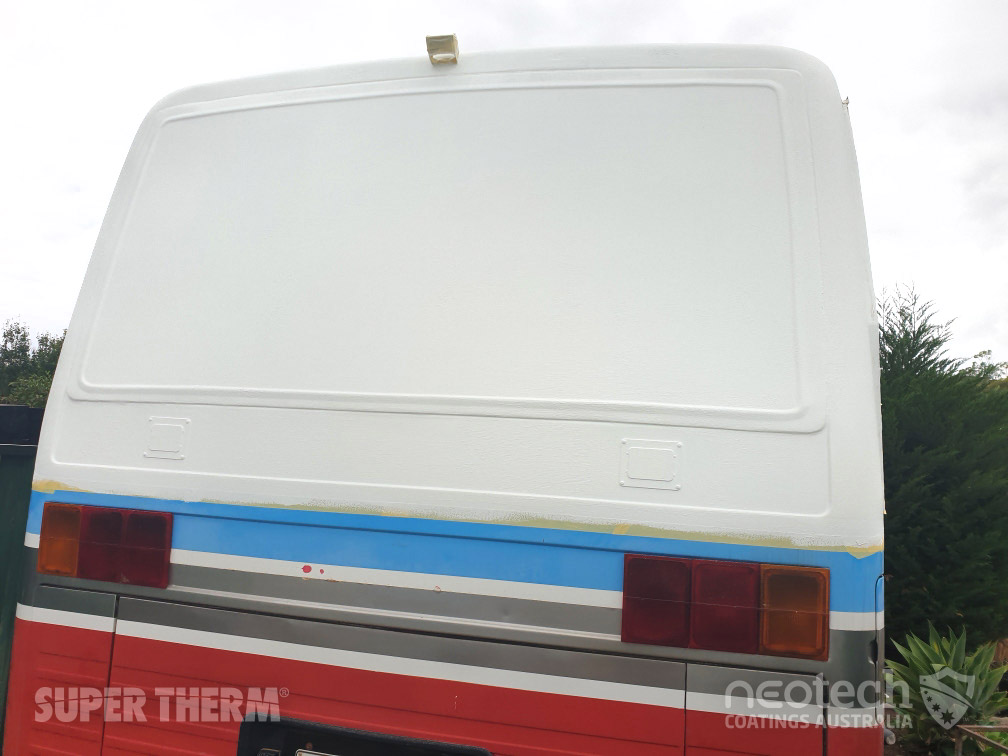 NEOtech Coatings Australia helps bus owners save money, energy, time, CO2 and improves personal comfort with Super Therm®. It's perfect as a bus solar heat block coating solution for Australian owners.
Quite often we are approached by customers to utilise Super Therm® on their bus roofs. Super Therm® isn't a paint and needs to be applied to the correct thickness for the correct amount of ceramics to work. This coating is a fantastic solar heat protection for buses for many reasons:
Easy to apply by roller or brush (2 coats) and airless at 425 microns wet, 250 microns dry
Moisture barrier
Mould and Mildew resistant
Reduces condensation
Cool to touch as it stops heat load into the substrate
Reduces corrosion when applied at correct thickness (corrosion must be treated prior to application)
Works even when dirty – white paints have been tested reduce reflectivity by 30% within 1.5 years
30+ years lifespan with ongoing USA test with minimal thermal barrier loss
Energy Star, LEED and CRRC Rated
Water based and safe
NASA Tested and approved with Class "A" Fire rating – No fire spread
Can be applied to the floor as a thermal barrier from ground heat and heat loss
Can be applied to engine bays to reduce heat transfer into the bus
There are plenty of forums that struggle to comprehend how Super Therm® works and easily say 'no, that's not possible'. You'll even find media articles that negatively comment on the ceramic solar heat block coating because customers have incorrectly applied it or they just resist the possibility of it working. However, Super Therm® is an outstanding, long term solution to solve solar heat penetration issues for buses, trucks or any transportation.
Self application tips
NEOtech Coatings Australia sells Super Therm® in small decanted quantities of:

5 litres (12m2)
10 litres (24m2)
18.9 litres (45m2)

Super Therm® can be tinted to different colours however you do lose thermal efficiency once you move away from white
NEVER dilute Super Therm® it will not work as outlined…it is a pre-formulate coating
The texture once applied is a matt ceramic, not shiny and can mark easily. If you require a gloss protective finish, you can apply Enamo Grip over the top as an epoxy protective coating or utilise a recommended vehicle epoxy coating.
Contact us for sales or any questions regarding Super Therm® we're very confident you'll find its the best solution!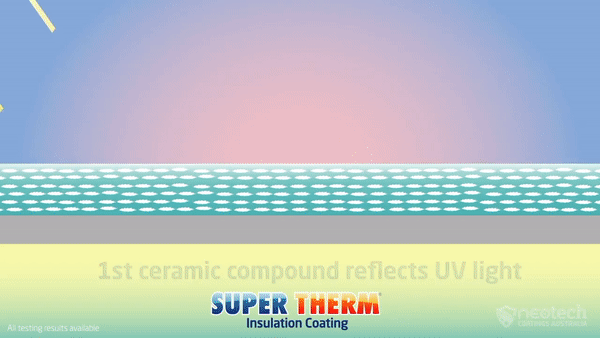 Super Therm® for Better Bus Services in Mexico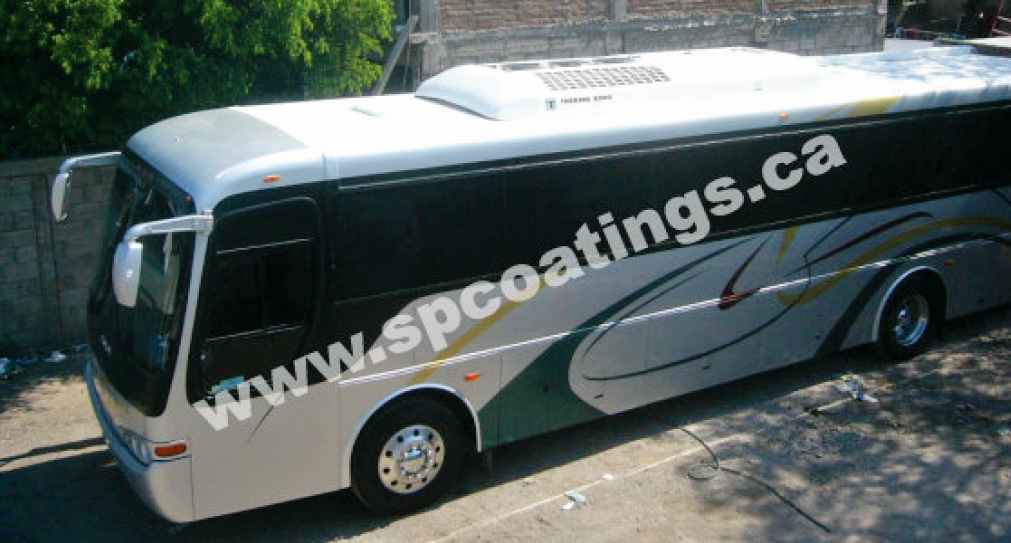 From the observations and remarks the applicators can conclude the following:
Before coating with Super Therm®, the roof's temperature and the interior temperature were much higher.
After application of Super Therm® the roof's temperature was significantly lower than before application. Without Super Therm® the roof's temperature rose to 90.1ºc, after Super Therm® the temperature only reached 46.2ºc. This proves Super Therm's strength in reducing heat transfer (Refer to Graphic 2.4).
As a direct result of application of Super Therm®, the temperature inside the bus decreased 8ºc, always tending to equalize itself with the outside temperature during the test (from 7 a.m. to 1:30 p.m.) (Refer to Graphic 2.5).
The Super Therm coated roof absorbed 46.27% less heat than the non-coated roof (Refer to Graphic 2.4).
With Super Therm®, the Thermo King unit only needed 33.4 minutes to reach 29ºc, 45% less running time than without using Super Therm®. (Refer to graphic 2.6).
Given the need to put the bus back onto its route, the testing and temperature results taken from the Super Therm® bus were done within one day of application. Super Therm® typically takes 7-10 days to fully cure and thus even more favorable results might be seen after full cure.
The Thermo King unit coated with Super Therm® became 30.5% more efficient.
---
Buses were coated with Super Therm in Forli, Italy.
There was a dramatic reduction by 13% in the roof temperature and the uncoated bus took 20 minutes extra in running time to reach the same internal temperature of the Super Therm® treated bus that was closed and not running.
Super Therm® improved the efficiency of the air conditioning system resulting in significant savings in time and energy in lowering the internal temperature of the bus to acceptable temperature levels (starting from a parked bus with the engine off).
Significant savings in comfort and fuel > More >
Ultra Sound Testing Super Therm® Coated Trailers
Stoughton Trailers Inc. is the only North American Trailer Manufacturer to utilise state of the art Ultra Sound techniques to provide leak free products to the Van Trailer and inter-modal Container market.
Our verification tests conducted on a Van Trailer with an aluminum roof coated with Super Therm® shows that the unit prior to the first application of the Super Therm® coating had an average decibel reading of 38. After the first application of Super Therm®, the average decibel reading was 25 and after the second and final application of Super Therm®, the average reading dropped to 12 decibels. Read More >