Novel Below Grade Insulative Coating System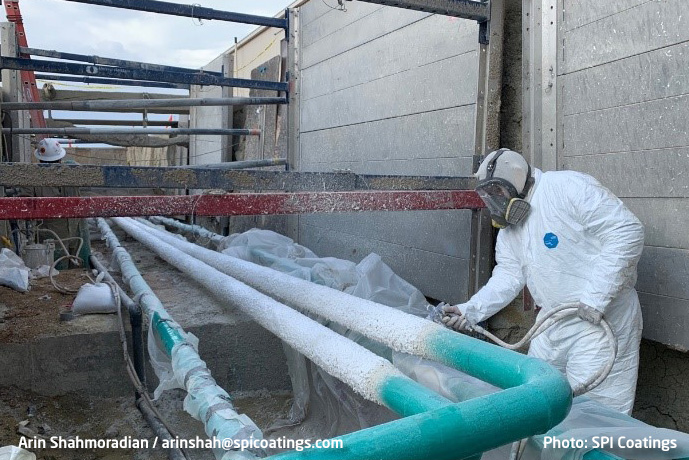 A game changer for below ground piping!
On December 13th, 2021, a paper titled Insulative Coatings – Fit for Purpose was published and presented by Arin Shahmoradian at the 2021 SSPC Coatings+ Show in Phoenix, Arizona, USA.
SPI Coatings in cooperation with the largest interstate pipeline operator in the U.S. has developed a ground-breaking below grade insulative coating system. The new solution consists of an acrylic based insulative coating applied over a fusion bonded epoxy, wrapped in proprietary polyester mesh for structural strength, then top coated with a marine grade epoxy to seal the entire surface.
Conventional below grade insulation materials suffer from cathodic shielding. Laboratory and field testing proves HPC + Moist Metal Grip coating system does not cause cathodic shielding. SPI Coatings below grade insulative coating system is now a proven alternative to conventional jacket insulation, providing superior insulation and corrosion protection. This coating system can also be shop applied, making it a game changer for both below and above ground piping.
The SSPC presentation also highlights new ways of applying both our thick film (HPC) and thin film (Super Therm) insulative coatings to combat both process heat and solar heat related challenges. Additional case studies applications including above ground pipes, tanks, vessels, are also referenced in the presentation link below. Over the past 20+ years, our global team of distributors have developed new coating systems to protect a variety of assets across multiple industries.
HPC to insulate underground heated pipes for Natural Gas and oil companies to do several things:
Insulate the pipes where the wrapping of the pipes cannot insulate very well. Wraps allow moisture to load and contact the pipe surface.
By using HPC, the anodes used to control corrosion are able to work correctly. The Standard Wrap type insulations must have metal jacketing or protection around the wrap material. This metal jacket does not allow the anodes to control the electrical currents used by the anodes to protect the pipes from developing corrosion.
HPC is over wrapped with our polyester mesh and Moist Metal Grip to protect from water and moisture. This system does not interfere with the electrical currents the anodes need to perform while this system blocks corrosion development.
Insulative Coatings Fit for Purpose – SSPC Coatings+ 2021 – by Arin Shahmoradian (SPI)
Abstract: Corrosion Under Insulation (CUI) is a very serious problem impacting the oil and gas, petrochemical, power and heavy industries. Due to the high costs associated with CUI, many industries have begun abandoning conventional jacket insulation. Recent advancements in trade association standards have helped engineers select, apply and inspect different types of insulative coatings in lieu of conventional jacket insulation.
New insulative coating standards by NACE are helping to minimize corrosion costs while simultaneously improving insulation efficiency with a side benefit of personnel protection. However not all insulative coatings are made to address the same challenges.
By differentiating between process and solar heat, engineers can correctly specify insulative coatings which are fit for purpose. This distinction can also help determine the correct application thickness, method and cost. The choice of thickness and type of insulative coating is critical for the end users to receive the perceived benefits they wish to achieve. In the quest for insulation optimization, a variety of insulative coatings are now a proven alternative to conventional jacket insulation.
Insulative Coatings Fit for Purpose SSPC Coatings 2021 Presentation Agenda
Fit For Purpose – Process Heat Vs. Solar Heat
Conventional Insulation – Corrosion Under Insulation
BP Review – Insulation Optimization Tactics
Sample Applications – Thick Film Vs. Thin Film
Testing Methods – Process Heat Vs. Solar Heat
New Testing – Cathodic Shielding
New Applications – Below Grade Piping
LNG – Boil-off Reduction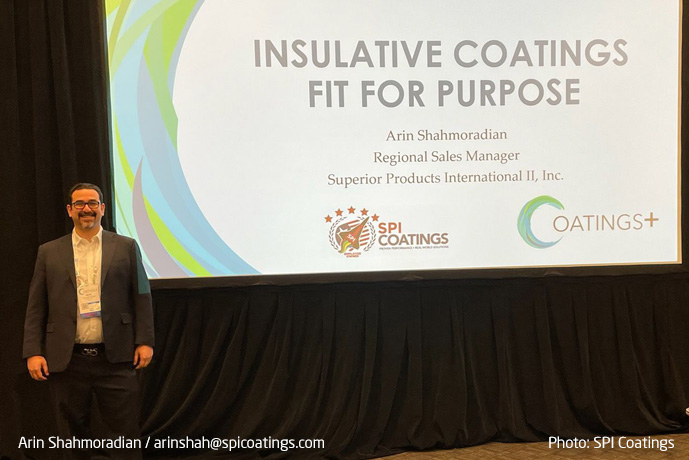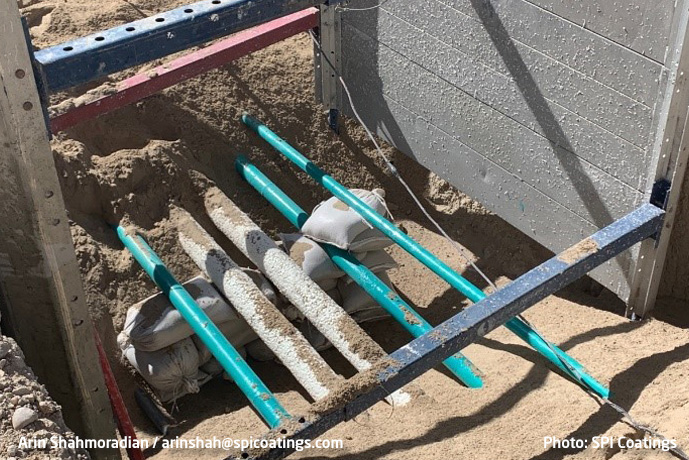 For more information contact Arin Shahmoradian at arinshah@spicoatings.com
Superior Products International II, Inc. / 10835 W. 78th St, Shawnee KS 66214 USA / +1 (913) 962 4848
www.spicoatings.com