Chicken, Poultry & Broiler Shed Heat Protection
Super Therm® can protect chickens in many ways.
As recommended by Poultry Houses: A Guide To Designs, Systems, Sizes & Structures – from the Big Book Project, heat is proving to be one of the major issues facing chicken farmers and chicken growth in Australia.
The idea is that the poultry housing provides the following benefits for the chicken (which the chicken couldn't have gained otherwise in it's natural environment):
Solar Heat block management
Consideration to relative to solar heat transfer into the building from exposed roofs or sidewalls. Pullet-rearing areas should always be located upwind from adult birds.
Lowering of death rate of chickens due to heat exposure
Increased weight gain of chickens from healthier environment
Stops condensation
Reduces energy cooling costs
Environmentally friendly
Stops Mould and Mildew
Consistent and drier environment
Fireproof, does not burn or smoke
Easy application
No re-insulation costs
Lasts over 20 years
No bacteria or disease borne bacteria growth
Protects the roof from thermal shock
PROJECT: Super Therm® on Poultry Houses
Fact: Reduced attic temperature by 16.7°c (30° F)

Benefit: Death rate of chickens dropped by 75%

Fact: Chickens were heavier at the end of growth season

Benefit: more case value per bird

Fact: Current insulation materials become loaded with moisture form condensation and must be replaced every 5 years. Super Therm® eliminated condensation and will perform for 20 years without concern for reinsulation

Benefit: Saves the cost of reinsulation 4 times over 20 years of the life of the house, insulation materials and labour savings. Example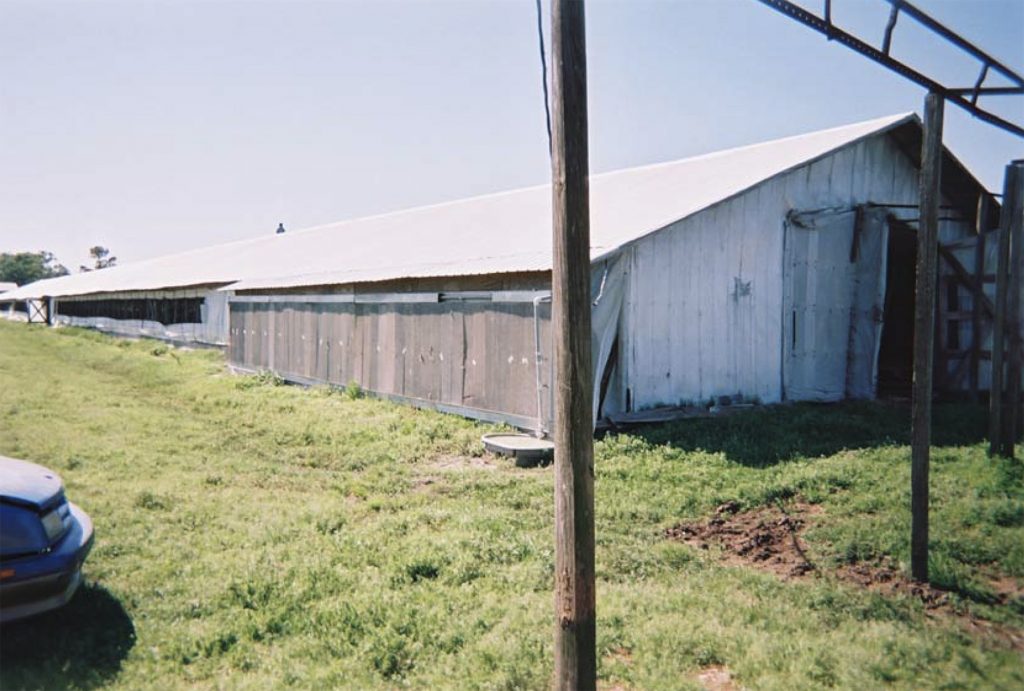 Super Therm® applied to the roof of a 1485 m2 poultry house in Providence, Florida. Super Therm® was used to coat the chicken sheds to reduce interior temperature, eliminate condensation and it can perform for 15 years without re-insulation. Super Therm® reduces attic temperatures by 16°C (30°F), which helps to reduce the death rate of chickens by 75% > Learn More >
By Sandy Ueffing, Agricultural Sales Representative for Superior Performance Coatings, distributor Eastern Canada. I am writing as I have a great deal of knowledge on the use of Super Therm® on poultry barns as I have overseen the coating of several poultry barns with Super Therm®. I worked for several years in the poultry feed industry before moving on to Superior Performance Coatings, so I have gained different insights from producers > Learn More >
Super Therm® applied to the roof of a 1850 m2 poultry house in Niagara Falls Canada, to help reduce the temperature. Traditional insulation material being used in the houses become loaded with moisture from condensation and must be replaced every 5 years and potentially causing corrosion under insulation (CUI). Super Therm® coated houses eliminate condensation and will perform for 20 years without concern for reinsulation. Super Therm® reduces the HEAT ISLAND EFFECT > Learn More >
We did test with Gagle Foods which is a large Chicken farm. We coated a test building with Super Therm® and reduced the temperature inside the barn by 28°F during the summer. So, during the summer, we could stabilize the heat and the chickens ate more and gained weight faster. Then they checked the interior temperature during the winter months. What was found was that the body heat from the chickens was not lost through the seams of the metal roofing because the Super Therm® had sealed it and as the metal warmed, the heat did not escape from the metal as fast. Whereby, the body heat was captured inside the poultry barn to the point that the heat never was used through the winter months > Learn More >
There's a letter from Perimeter Industries in Alabama from 1996 who coated a chicken house and left 3 uncoated:
Size: 1858 m2
Day temperature outside and ambient inside Super Therm® house: 32-35°c
Inside chicken house before coating with Super Therm®: 51-57°c
After coating with Super Therm® key points:
First 6.5 pound (2.9kg) chicken recorded
Average chicken weight 5.5 to 6 pounds (2.4 to 2.7kg) – including chickens from 3 uncoated houses
Average weight improvement 8-18%
Moisture/Condensation has stayed out of the house
---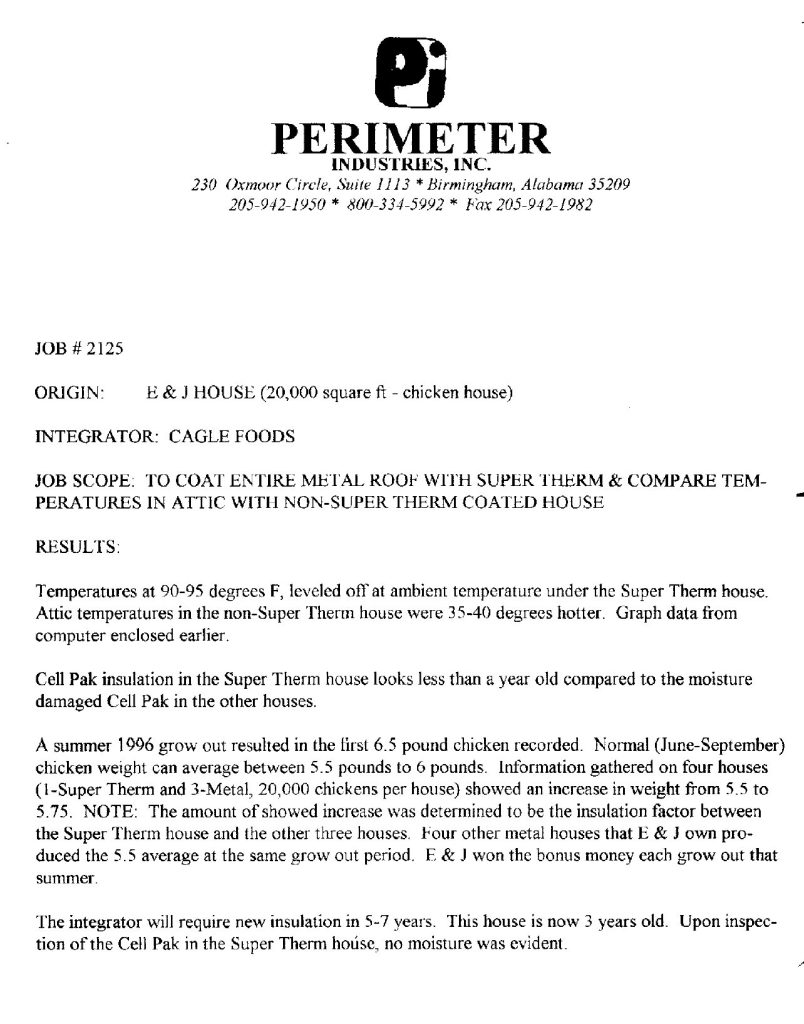 Naturally Super Therm® has far reaching benefits for every industry and solves many issues regarding genuine insulation coatings because it blocks 96.1% of solar heat, pretty much leaving internal temperatures ambient. This saves power, creates comfort and protects the structure from thermal shock.
With a Total Solar Reflectance of 96.1…stop the heat, cool your livestock and put more money in your pocket!
---
---
Super Therm® blocks 95% of solar heat and reduces up to 20-50% (Industry tested) in energy use; the global ceramic coating solution for over 30 years